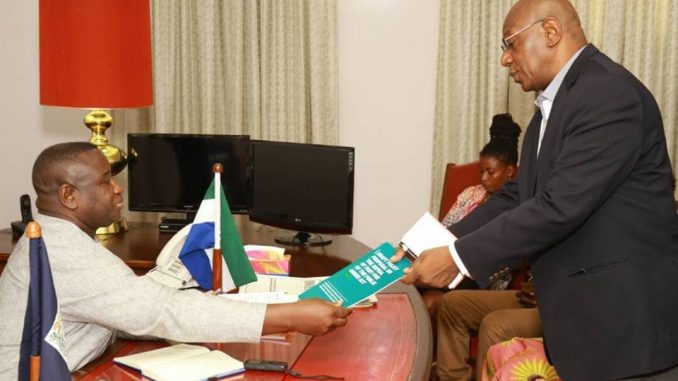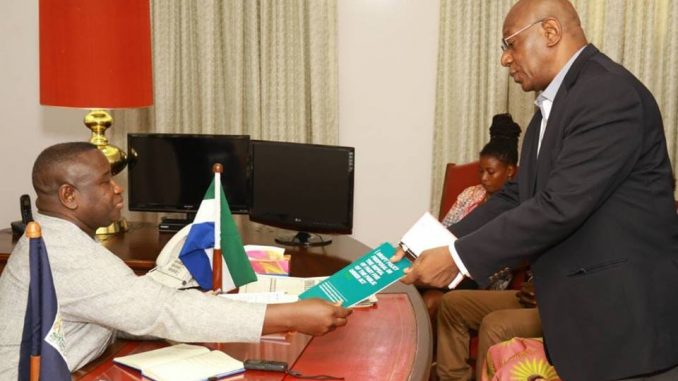 State House, Freetown, Sierra Leone, Monday 21 May 2018 – His Excellency President Julius Maada Bio has received executive members of the Sierra Leone Association of Journalists, SLAJ, at State House where he reiterated his Government's commitment to repealing the criminal libel law.
He referred the visiting-rights-based group to his Party's 2018 New Direction manifesto, pointing out instances where the 1965 law, that criminalises free speech, had undermined creativity in arts and stifled growth in journalism.
The New Direction manifesto states: "Low private investment in music and the performing arts is due to a combination of factors including the weak policy and legal environment, particularly the seditious libel law".
"The media is an important component of society that plays a critical role in the democratic process, especially in deepening transparency and accountability in public institutions," the President stated, adding that journalists should be given the free space to operate by creating the right environment for private sector investment in the media.
He said he was hopeful of a future that would help restore the pride of the trade and promote professionalism in the practice of journalism.
"We are committed to providing annual subvention to SLAJ as promised and open up possibilities of a sustained dialogue with relevant authorities on ways to ensure respect for privacy of people and minimise malicious attacks by some sections of the media," he said.
On his part, president of SLAJ, Kelvin Lewis, thanked the President for the audience, adding that the association was very excited at the show of political will and prospect of expunging the seditious libel law.
He said they were determined to work with the Government to abolish the law and also promised that measures were already in place to maintain professionalism among journalists.
Mr Lewis also presented President Bio with a document he said was a well-researched report proposing a pathway to the collective effort at repealing the obnoxious law.
"Mr President I want to plead that your good office creates a specific chapter in the national constitution that will handle the media and its related issues. We have made this proposal during the constitutional review process but to our greatest dismay it did not appear in the final Government whitepaper," he explained.
For any enquiries contact:
State House Media and Communications Unit
Freetown
+232 (88) 269282