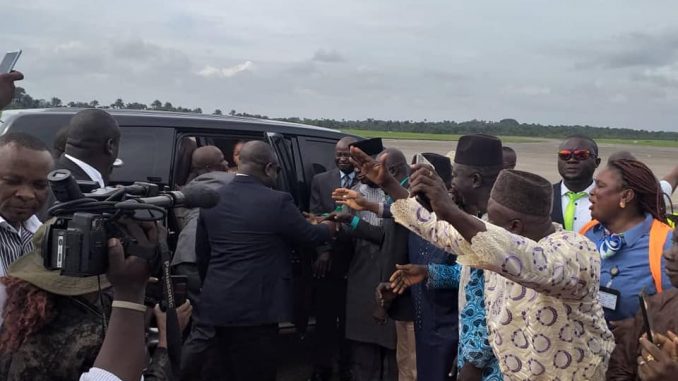 By Alimamy Issa Kamara
President Maada Bio returned home yesterday, after he sneaked out of the country without communicating anything with the citizens of Sierra Leone, staying away for almost three weeks and leaving huge speculations about his whereabouts and reasons for his unexplained absence. 
Sierra Leoneans  speculated that he had been taken abroad for medical treatment for an undisclosed "health challenge". The rumours festered for two weeks before Bio's Deputy High Commissioner in the UK,  Agnes Dugba Macauley and his State House Press Secretary Kekehtorma Sandy , intimated in different press statements, that Bio was taking a long-earned and deserved rest /vacation in London. Yet neither of them  posted  pictures or footage of him going out of Sierra Leone or arriving in his preferred destination in a foreign land. Why do a president have to sneak his way out like a  thief?
Macauley and Kekehtorma did not seem to even know what was going on as two days later the President's photos appeared of him making a vacation tour of Kenya.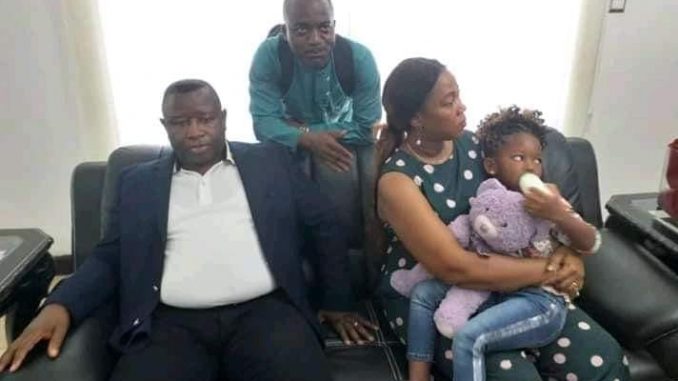 His prolonged absence without leave ( AWOL )  caused tensions back home where calls had grown for him to either return or resign. The health of President bio has been a sensitive issue since he took up office in a controversial manner; because he had been showing signs of an obese president who really needed medical help with regards to his weight and his struggling to walk upright with his feet.
The SLPP are good at producing Presidents who usually end up becoming residents of another nation while still in power (a case in point Late Pa Kabba was ruling Sierra Leone from Guinea). But now People do refer to President Bio as the "fly fly bird" president. He is always traveling. Sierra Leoneans are getting tired and frustrated of having a part-time President, who has spent most of his time traveling up and down without bringing anything back home that will enhance the livelihoods of the common men and women out there. Sierra Leoneans are getting fed up with a freelance President. Sierra Leoneans are getting worn out of a private-citizen President.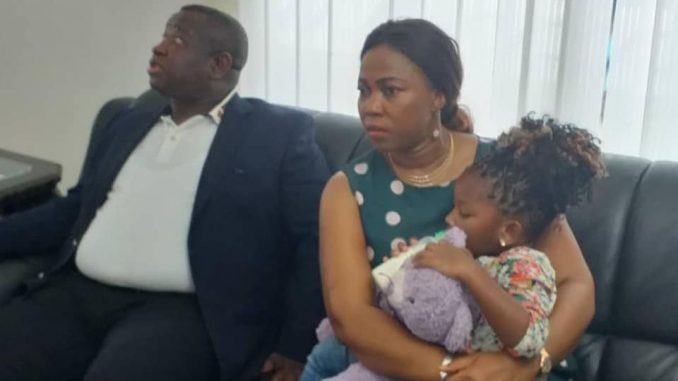 Yet many have their doubts simply because it has been proved over and over again that this Paopa administration headed by Maada Bio are nothing but a nest and brood of pernicious and pathological liars.
They lie as if there is no tomorrow and consequently they have  their few gullible folks who believe anything that these Paopa administration say including the assertion that the President is still well and hearty, or while he was away he is running the affairs of the state from his sick bed/vacation medical environment in England and Kenya.
If he is hale  and hearty now , the people of Sierra Leone should know exactly what had afflicted their president that  he had to sneak  out at the middle of the night without any communicating his departure  and his whereabouts , his condition or   PROOF OF HIS VACATION TIME away from home.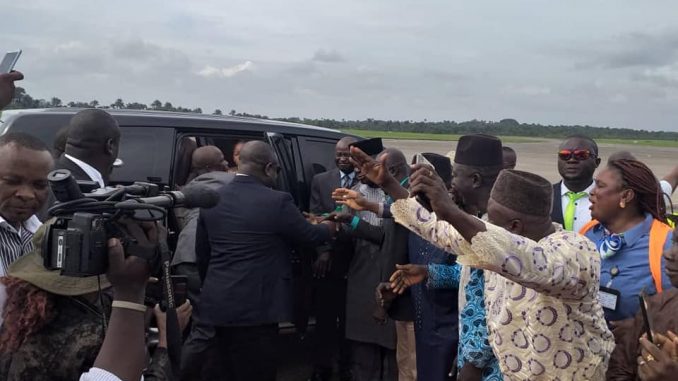 Anything short of treading one of these two paths is not only dishonorable but also utterly reprehensible and amounts to nothing less than a glaring and singular insult to the collective sensibilities of the Sierra Leonean people. Simply put, we have a right to know the truth.
The use of lies, deceit, secrecy, subterfuge and disinformation in the administration of this SLPP Government,  coupled with the promotion of indiscipline, the encouragement of impunity, the disobedience of court orders, the undermining of the rule of law, the destruction of democratic institutions and the lack of fairness and justice are the worst forms of corruption.
Sadly , this government, more than any other in the history of our country, is guilty of each and everyone of these grave charges. This is deeply troubling and it gives us cause not only for concern but also deep introspection.
After all,  we do not operate a monarchical  system of government in Sierra Leone and the  Paopa guys should know that Bio is not a King. He does not have any "divine rights" and he is not a deity or a ruler with absolute powers.
He is simply a democratically-elected President who is bound by the rules and conventions of the constitution and who is meant to be nothing more than a servant of the people.
We deserve far better than that and we have the right to be told the truth no matter how bitter that truth may be.
The fact of the matter is that anyone that believes anything that this evil government tells them is truly lost.
This Paopa administration is a government of liars who are sustained by lies, who live by lies and who will die by lies. Their spiritual foundation and the very essence of their being is built on nothing but two-facedness and mendacity. – And even as our people are dying of hunger all they do is just tell us one lie after the other. Their shameful and glaring incompetence in managing the economy and neither do they display any remorse for their inability to protect the people that they were elected to serve and defend is just heart-wrenching.
What a terrible plague and affliction has befallen our nation. That plague and affliction is known as Julius Maada Bio and his clandestine Paopa tribalistic cabal of sinister and byzantian tormentors.
May God deliver Sierra Leone from their evil claws and mendacious clutches.
©️Alkay