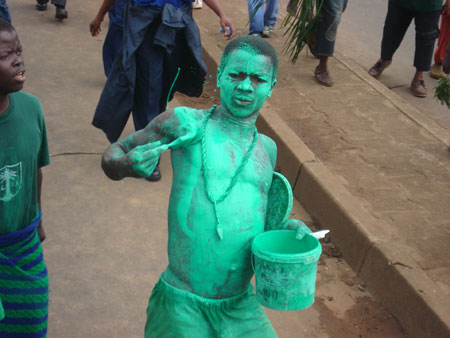 By Mohamed Sankoh (One Drop)
The Pyrrhic victory of the ruling All People's Congress (APC) in the recent by-election in Constituency 066 in Bumbuna, Tonkolili District, is now making SLPPers to be quixotic. Why shouldn't they have all the reasons in the world to be tremendously romantic with lofty but unrealisable hopes of retaking State House after the 2018 General Elections? Why shouldn't they rejoice when they have made a rare inroad in one of the political bastions of the APC?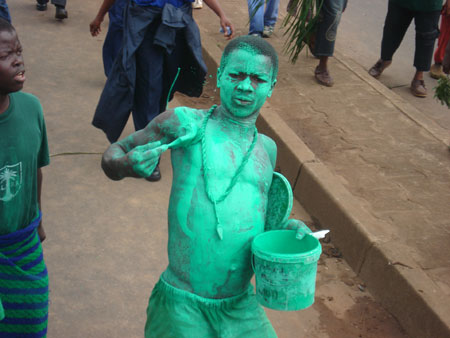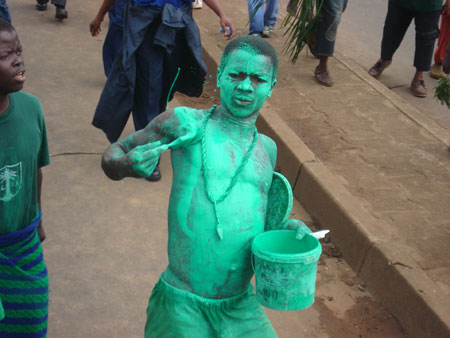 In 2012, the SLPP reportedly had about 8% in that portion of the country's electoral map. Now they have in-roaded (is this another One Dropian dropped word?) with 39%. What does that tell critical minds in the APC? It should tell them that some people are either not paying attention to commonsensical issues within the party or are not doing their duties very well. Also, it should send a signal to President Ernest Bai Koroma that some of those he trusted with party issues have been nakedly lying to him with the frequency with which they breathe air!
And because of that Pyrrhic victory by the APC in the recent by-election in Constituency 066 in Bumbuna, some idealistic members of the Sierra Leone People's Party (SLPP) now believe that their "Regime Change" programme is in top gear. Because of this idealistic belief, they have teamed up with their SLPP-leaning Civil Society Organizations (CSOs) and some international institutions counterparts, based in the country, to frighten the electorate that a Regime Change is in vogue. And even one of the flagbearer aspirants of the SLPP is now reportedly telling his supporters in the south, particularly those in Moyamba and Pujehun, that it is now a democratic tenet for a political party to be in power for just two terms, and that the International Community is preaching and supporting that standpoint.
Well, one cannot stop an idealist from dreaming. Equally so, one cannot stop a pathological liar from lying. And one should not deny clowns their abilities of provoking laughter even where such laughter could be out of place. But I will now conceptualize this issue of Regime Change in a sort of One Dropian style.
To all intents and purposes, there is no national Constitution in the world that places a term limit or limits on political parties generally. Term limits are only constitutionally placed on an individual when s/he automatically assumes the Presidency of his or her country. Therefore, it is constitutionally mandatory for President Koroma to pass on the baton to his successor after the next Presidential election. But it is not constitutionally mandatory that the APC should only rule for two terms. A political party could unbrokenly rule a country for more than 58 years as it is currently happening in Malaysia (the ruling United Malays National Organization (UNMO) has been in power since Malaysia became independent in 1957). Or a party could still be running the show for more than two terms as it is now happening in Rwanda (Paul Kagame's Rwandan Patriotic Front has been in power since 1994).
So the Regime Changers, both in the SLPP and CSOdom, are getting it all wrong with their parochial definition of "Regime Change". The conditions that provoked a Regime Change in 2007 are no longer present in Sierra Leone. One might want to argue that things are hard, generally, for a lot of people in the country. But economic hardship is not something that is peculiar to Sierra Leone alone. And even unemployment is now a global problem as even advanced democracies are also battling with it. Corruption is also a challenge but that doesn't mean the current Koroma-led government has not been doing something about it.
But for the Regime Changers, one of their cardinal arguments is that because the SLPP ruled for just two terms so should the APC. But one thing they are wilfully feigning ignorance of is the fact that, through customs and conventions, the APC is destined to rule and the SLPP is designed to be in permanent opposition because of the country's political demography. Unlike the SLPP, the APC has never lost free and fair elections since 1967 saved for the 1996 James Jonah arrangement with the National Provisional Ruling Council (NPRC 2) of Julius Maada Bio, and the Tejan Kabbah doctored 2002 elections.
And before the 2007 elections, the SLPP had nothing to convince the electorate with to vote them again to office. The infrastructures in the country were in states of disrepair; morale in both the Republic of Sierra Leone Armed Forces (RSLAF) and the Sierra Leone Police (SLP) was hyper-low; the Civil Service and national institutions created by the SLPP were all highly tribalized, and the SLPP's Presidential candidate was not only tainted with everything that was wrong with the SLPP but was suited only for the circus.
But the story today is different. Despite there are some challenges, Sierra Leone, as a country, is thrice better than it was in pre-2007. Today, Sierra Leoneans could be proud of being Sierra Leoneans because the transformational clairvoyance of President Koroma and his APC-led government is giving them hope for the future. Even in their quiet moments, opinionated pessimists could acknowledge to themselves that the APC-led government of President Koroma has transformed the country into something unimaginable in pre-2007 Sierra Leone.
So, a forward-looking regime like the APC-led government couldn't be changed just for the wishful thinking of few "internet nationalists" (to quote President Koroma), idle WhatsAppers, and some donor-glutton CSOs. The Regime Changers should be mindful that for the APC, politics is not a game of musical chairs but one of permanence! What the Regime Changers should know is that for every step they take; the APC both as a party and government will take three! The Regime Changers should know that theirs is a mission of futility.
And what I would also like the Regime Changers to know is that there would be a regime change. Surely, no doubt. But it will be a change from one APC leader to another APC leader. So, in disrobed language, the issue of a Regime Change will be an internal APC affair not a change from one political party to another as some idealistic SLPPers are thinking.
medsankoh@yahoo.com/+232-76-611-986