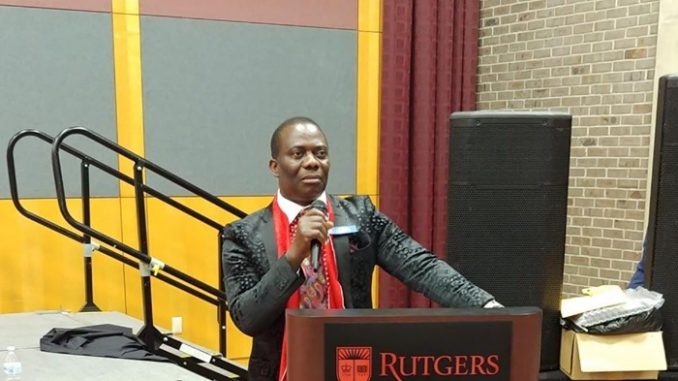 Inauguration Speech by Mr. Alimamy Turay, Re-elected President of the APC New Jersey Chapter delivered during the Executive Inauguration Ceremony at the Rutgers Students Centre , New Brunswick, New Jersey on Saturday July 20, 2019.
Theme: "APC Back to Power."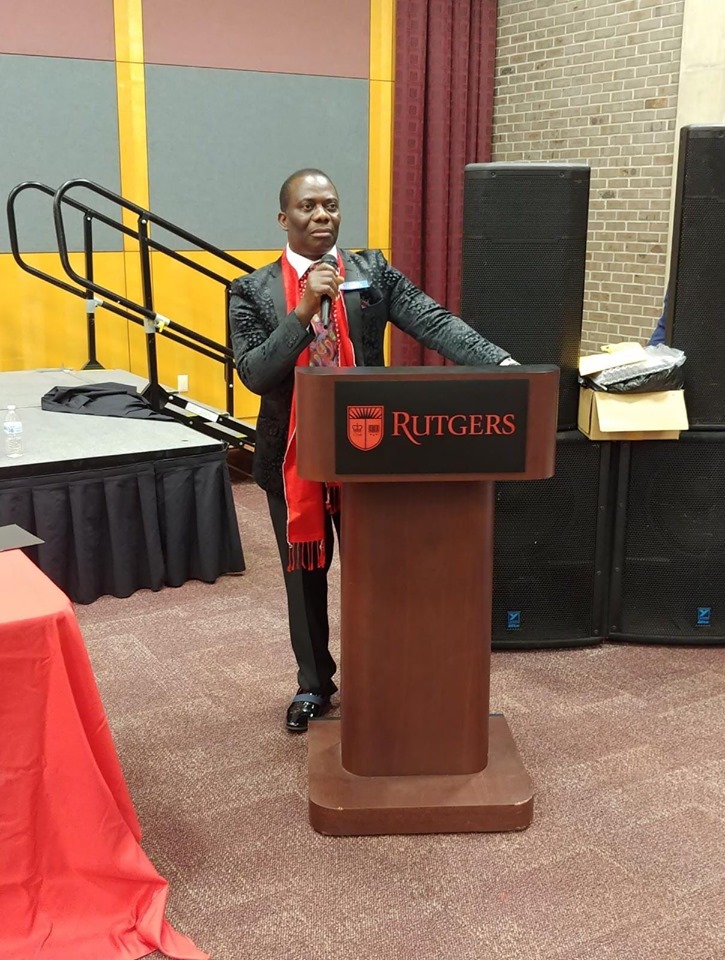 Inauguration Speech by Mr.
Alimamy Turay, Re-elected President of the APC New Jersey Chapter delivered during the Executive Inauguration Ceremony at the Rutgers Students Centre , New Brunswick, New Jersey on Saturday July 20, 2019
.
Theme: "APC Back to Power."
Before giving my inaugural address, let me take this opportunity to thank the Almighty God, for giving me a beautiful life that includes the love of my life Mariatu Turay and our three lovely children.Thank you Mariatu for the all the support, tolerance and love.
Mr. Chairman and executive of the APC USA Branch, with special recognition of the APC Diaspora Coordinator, the Women's wing, the Youth League, the Chapter Presidents and their entourage, the advisors of the APC NJ Chapter, the former Chairmen of APC USA, the former Presidents of our chapter, the SLPP Party, the NGC, the C4C and other political parties in Sierra Leone, the Democrats, the Republicans, the APC New Executive and the Organizing Committees, our Christian and Muslim brothers and sisters, my family, friends of APC and Comrades all, it has been a privilege to have lead this Chapter over the last three years. I am proud of our achievements as a Chapter. it is therefore with absolute humility that I say I am prepared to lead APC New Jersey Chapter once again for another term in pursuit of the vision  and aspirations of the membership.
I want to thank the members of APC New Jersey, for re-electing and bestowing confidence in me to lead this Great Chapter once again.
It is the continued co-operation and partnership between the membership, the executive of this Great Chapter of ours that give me the belief that we have the capacity to achieve great things. I therefore stand here with full confidence to tell the world that the best is yet to come.
To achieve the best, we as a collective body need to thrive towards exellence and every comrade in this room and most of those that could not be with this tonight night, have a vital role and the responsibility to move the Party towards that direction.
I want Comrades to ask themselves the question what it means for them to be an APC member or supporter?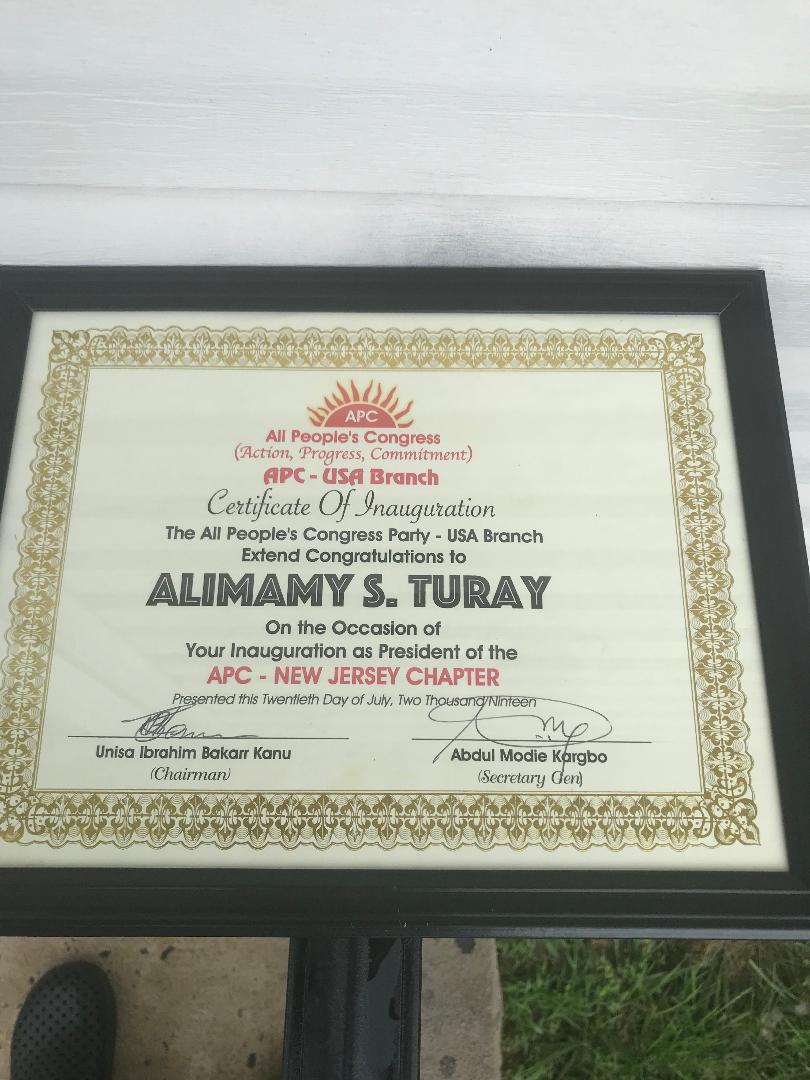 I believe the roles have changed and presently the only reason for being APC is to see APC BACK TO POWER in 2023.
Everyone of us do have unique talents, strengths and skills that when put together in a productive way would definitely make us unstoppable and a sure bet to winning the next elections.
As APC supporters in the U.S. and diaspora, we have the unique responsibility to lead by bright example; let's do our job as Chairmen, Chapter Presidents, and executive members. We need the collaborative effort to ensure that we continue to institute the APC philosophy, which is no doubt the best for Sierra Leone.
Time is of the essence, and our people continue to experience degenerative economic conditions in Sierra Leone since the new administration came to power. Everyone comrade needs to do whatever little to help our the APC return to executive governance.
I know most people would be thinking of how they could help? well let me help you:
As a member,
You need to pay your dues every month;
Attend meetings and APC functions in the U.S.
Defend the image of the Party at all times;
Partake in constructive dialogue of ideas;
If you are not a registered member, be advised to register with your home state or find a Chapter nearest to you and do all of the following I previously listed.
As a loyal comrade, you should be in position to manage your emotions or feelings. Let's get along with each other and move on for the progress of our party and country.
In politics, it is always about collective responsibilities, shared credits and equally, shared blames. We all rise or we all fall together. Therefore if you are a member or even a sympathiser of the APC, it is in your best interest to see the APC succeed. This is why it is also very important and a  necessity for our leaders to do the right thing for our party and country everyday and always.
We in the Diaspora should work in partnership with our leaders in Sierra Leone.  We should avoid the politics of prolonged anger; yes we can be angry, but let not the wrong doing of a comrade give you pause in your support of the party.
Time is running out fast. We need to engage in reconciliation with each other. Comrades, let us be steadfast in our love and loyalty for the APC party. Let us engage in structural reforms in partnership with key stakeholders of our party. We need to demonstrate love and friendship in our party. Doing so will guarantee us victory in 2023.
Tonight, if you feel the same passion that I have, if you feel the same energy that I have, if you feel the same hopefulness that I envisage, if you have the same confidence that I have, if we reconcile and work together, I have no doubt that we will overcome this tough political battle we are confronted with and go back to power in 2023.
Thank you all.
Faithfully written and delivered by
Mr. Alimamy Turay
President, APC New Jersey