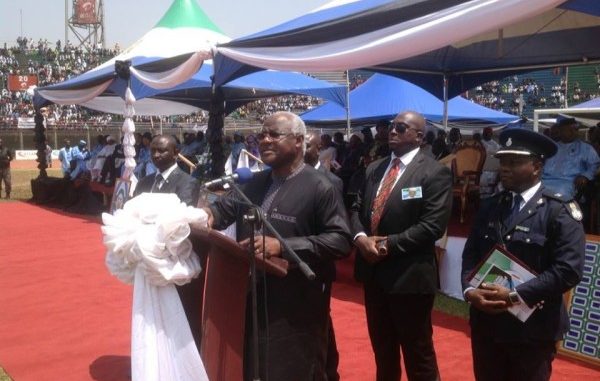 Tribute by President Dr. Ernest Bai Koroma during the Funeral Ceremony For the Late Alhaji Dr. Ahmad Tejan Kabbah, Former President of the Republic of Sierra Leone on March 23, 2014 at the National Stadium, Brookfields, Freetown
Courtesies
We are gathered here today to honour a man who truly deserves honor, His Excellency Alhaji Dr. Ahmad Tejan Kabbah, the first president of the second Republic of Sierra Leone. He was a great Sierra Leonean, a man who stood tall at critical moments of our country's recent history. In honoring him today, we are also identifying with his actions for peace during the civil war; we are also affirming his dedication to a democratic vision for this country; and we are commemorating his achievements as a political leader, as a high level international civil servant with the United Nations, and an international statesman leading elections observation missions all over Africa.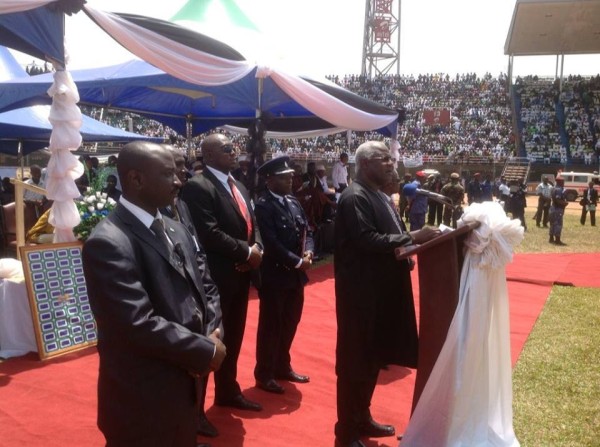 PHOTO : ANTHONY DAWONDE
In 1996, our national aspirations for democratic civilian governance and hopes for peace were placed on the shoulders of this gentle giant, this tall man with a graceful demeanor, a man whose words showed a mark of civility, tolerance and experience; a man whose serene personality was what the country needed as a symbol of hope and perseverance in a most trying time in the country's history.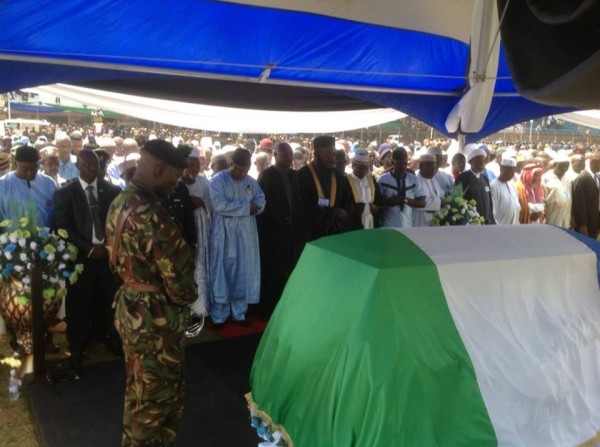 PHOTO : ANTHONY DAWONDE
That was a period of enormous suffering in the nation, and Pa Kabbah, exiled to Guinea, became the suffering President. The world rallied behind him to end the suffering of his people, especially so after the near destruction of our capital city, Freetown in 1999. It could be very painful for any patriotic leader to see his capital city in flames, especially a city where he grew up, a city where he went to school, and a city that he had looked forward to for a peaceful retirement from an illustrious international career. But destiny had pushed him to lead the nation's emancipation from the sufferings of war. He carried on that leadership role with dedication; he built alliances with leaders of all political parties, with civil society activists, with loyal soldiers of the Sierra Leone Armed Forces and members of the CDF; he stood up against extremists; he fought the good fight; he sought a common ground; he reasserted our common bonds, our common friendships; our religious tolerance, and our better aspirations for democracy and peace.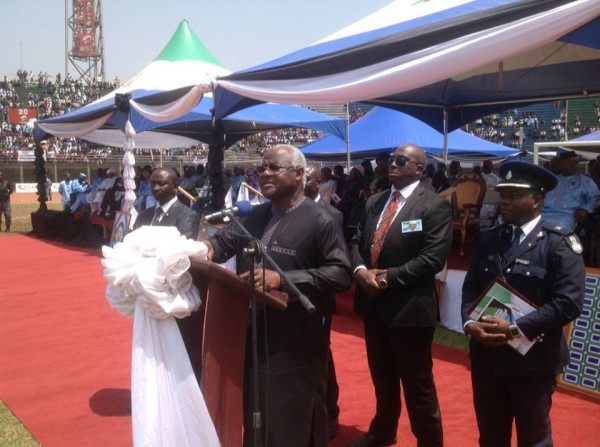 PHOTO : ANTHONY DAWONDE
The whole world answered to his call for support on behalf of the people of this country; and with the strength of the world behind him; with the sacrifices of our Nigerian, Guinean and ECOMOG brothers, with the support of the United Nations, the United Kingdom and other friends of this country, the war was ended in 2002.
Today, our nation mourns the loss of this great symbol of perseverance against great odds. But even as we mourn, we must also give thanks to Al Mighty Allah for a life well lived; a life that also symbolized our nations' noble struggle against adversity, war, military dictatorship, extra judicial killings and human rights violations.
Today we have with us friends of Sierra Leone who have always stood with this country through thick and thin. We are comforted by the presence of some foreign dignities. You have been great brothers, sisters, and friends of our country; you contributed greatly to the peace we now enjoy in this country. We salute you for your support during the presidency of our fallen leader; we salute you for continuing to stand with us, and we call upon you to be witnesses unto our re-affirmation of our nation's commitment to peace, democracy and prosperity.
This re-affirmation is in honour of Pa Kabbah's legacy. When he returned home from international service, it was to retire in peace in the land that he loved, a land that was on the verge of a return to democratic multi-partyism in 1991. A new constitution had been drawn up; multiple political parties were being formed and elections were being scheduled. But war and military dictatorship engulfed the nation, and Pa Kabbah was thrust by destiny to postpone his retirement and reclaim the nation from military dictatorship and war. He fulfilled this destiny, and in 2007, he regained a well-earned retirement in a peaceful and democratic Sierra Leone.
A man who fulfilled his national destiny is worthy of great honor. Pa Kabbah persevered along the way to fulfilling this destiny: he lost his dear wife, but he reacted to this great loss as a man of faith and belief. I call upon all of us to mourn our late President with the faith he displayed when he lost his wife; with the dignity he showed when he lost his sons during his retirement. He was a man with a will of overcoming adversity. He exemplified it in both his public service and his private life, and I call upon all of us to emulate this courage as a tribute to his life's work.
Pa Kabbah's positive demeanor must be entrenched amongst all who want to be part of a Sierra Leone that shall always honor his achievements, a Sierra Leone that is a beacon of perseverance, peace, democracy and development. A Sierra Leone that is on the verge of transformation.
Today, His Excellency Alhaji Dr Ahmad Tejan Kabbah is joining the ranks of the fallen leaders of independent Sierra Leone: Sir Milton Margai, Sir Albert Margai, Justice COE Cole, Dr. Siaka Stevens and Dr. Joseph Saidu Momoh. We pray for God's mercy on all these great Sierra Leoneans. May Allah's infinite mercies abide with you, our dear President Kabbah, we will always remember you in our prayers for peace and dignity in this country. Our prayers are also with you, dear relatives of our departed President, the nation mourns with you; mother Sierra Leone shares your grief on the loss of your husband, your father, brother, uncle, in-law and grandfather, but the great example of his perseverance in the face of adversity, his ability to overcome great odds, and his love for, and dedication to, this nation shall abide with the citizens of this country for ever.
— in Freetown, Sierra Leone.