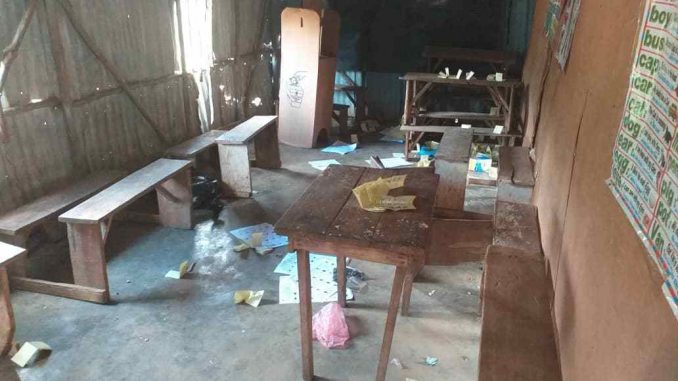 By KABS KANU
The National Elections Commission ( NEC )  yesterday cancelled the results of the Western Area Parliamentary Constituency 110 Bye-elections. The reason given by the Chairman of the NEC  was that violence erupted in Centre Code 15086 at the Sarah Modern Preparatory School, which according to the Commissioner adversely affected the outcome of the polls.
But the decision brought widespread protests from Sierra Leoneans who felt that the NEC Chairman cancelled the result because the opposition All People's Congress ( APC ) won the elections, amidst reports that it was SLPP  supporters led by a notorious thug called ARATA  who deliberately attacked the polling station,  which is an APC  stronghold,  to give the NEC cause to cancel the elections.
Again, many Sierra Leoneans wondered why the whole results were nullified when the legal action permissible by law was to cancel results only in the affected polling station and order a rerun for that station.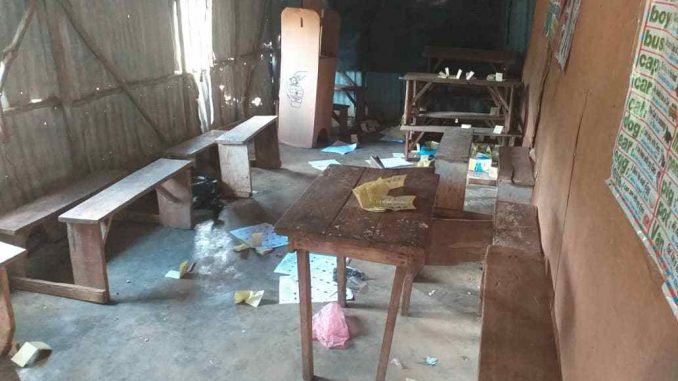 The Chairman of opposition National Grand Coalition ( NGC ), Dr. Kandeh Yumkella swiftly condemned the action by the NEC in a tweet while the main opposition, the APC  released a public statement in which they protested that  the NEC Chairman's action "is the highest degree of provocation and injustice" and they threatened that "The APC will explore all options available to us to ensure that such gross abuse of power and disenfranchisement of our peaceful and law-abiding members is not allowed to continue unchecked in Sierra Leone. " The APC  feels more aggrieved by the fact that the Sarah Modern Preparatory School polling station is located in a rabid APC  stronghold and the act definitely would not have been mounted by APC  supporters.
Many other Sierra Leoneans took to social media to vehemently condemn the SLPP Government , the NEC  and even the Police while one predicted that the NEC Commissioner, Nfa Allie Conteh, will die with his eyes open.
Sierra Leoneans protest that this is a sad rejoinder to the destruction of the country's democratic traditions since President Maada Bio came to power last year.
SAM JAY, a social media commentator fumed : "Sad day for our democracy as the corrupt Nfa Alie has again taken orders from above! I have been saying this at all time that Julius Mada Bio is not good for Sierra Leone. You all can see the way the country has been divided less than two years into his presidency. The guy lack all quality to unite this tiny country."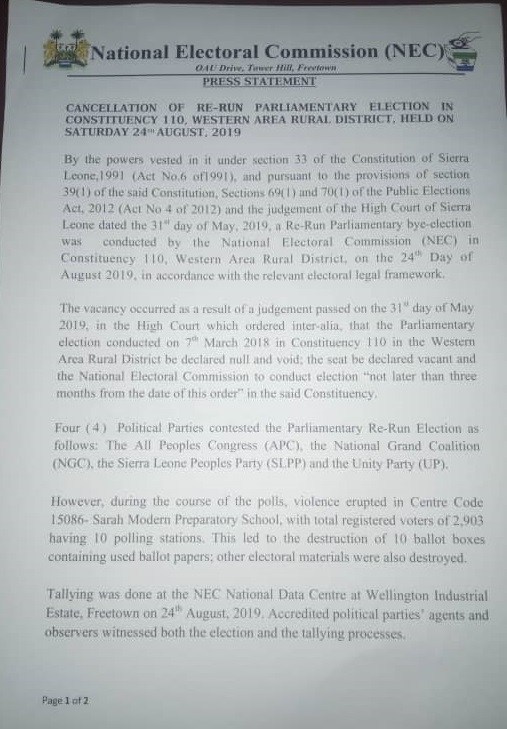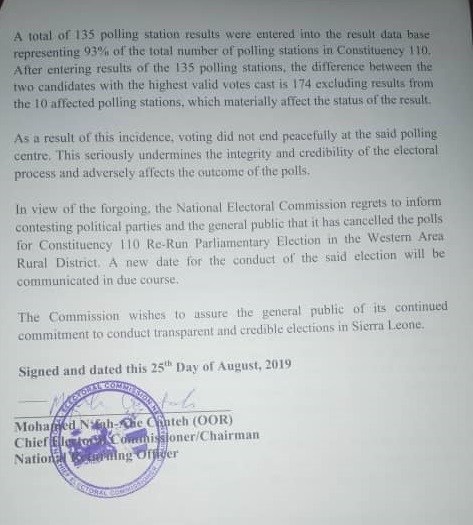 Alimamy Issa Kamara The SLPP administration are rebranding our country into a laughingstock. They lose, they send in the thugs, then they cancel; they lose, they cause commotion, then they canceled again, until they win by all means necessary (Democracy by force).
National Elections Commission has cancelled the re-run by-election results which the ruling party was losing. NEC says this is because one polling centre out of 135, was affected by violence. Any sane person would have only cancelled the results of that one centre and organise the rerun within a week. But no. NEC boss N'fa Alie Conteh, cancelled the whole results from all the 135 polling stations even those not affected by violence.
Would NEC have done the same if the ruling party was the one leading? Or would it have just announced the available and undisputed results?
Politics in Sierra Leone and Africa is about access to resources and distribution among one's tribesmen and friends. So it is always a life and death matter.
Sierra Leone continues to slide down the path of conflict because of the stupidity and greed of the predatory elites in powerLike
Mohamed Boye Jalloh Cannot agree with you more my brother.
N'fa Ali is a complete mess.
Complete waste of tax payers money.
Who is Fooling Who: NEC or You?
Femi, I just saw your post. Thanks for your courage. You are right to pray for Salone. I am in Bo for a Parliamentary Leaders Retreat, sponsored by the EU and Westminster Foundation. Another politically correct event masking the deep divisions, injustices, and falsehoods that belie our political system.
Today we witnessed another diabolical attempt by NEC to kill the democracy that has been nurtured, and built in our country through the blood and sweat of many, especially those who lost their lives during the decade long civil war. After the Tonkoh debacle a few months ago, today NEC demonstrated further contempt for the Sierra Leonean people. Today was daylight robbery.
I have always said that institutional corruption is worse than just stealing money. So who is fooling who, NEC or those of us who pretend not to see no evil and hear no evil. Or could it be our moral guarantors who choose expediency and pseudo-stability to kick the can down the road for the next set of diplomats who will be here in 2023. Or is it YOU? Yes you, the Sierra Leone, complicit in your own servitude but pretending to be above it all. Thanks Femi, at least you tried to make a difference. NEC says, Salone Man Munkuh.
NEC knows that last year they nullified countless stations to arrive at their final election results (including dividing the balance 25% by 2). They even did recounts of many stations. Is a recount of 1 out of 135 polling stations so complicated. It only takes 1 hour. NEC knows those who paraded with thugs and disrupted the polling center. There is countless video evidence. So Who is fooling who?
Some have asked what does the law say? The point of law matters but the damage to democracy is bigger. Elections are expensive. NEC is in fact entrenching the two party system to squeeze out newer parties because Alusine and Alasan have their retinue of hundreds of former and current MPs, Ministers, diplomats, contractors, and civil servants who will fill their coffers for a rerun. Can others afford all these reruns when people are struggling to meet their basic needs.
A president Bio, you dae dissapointing our people, those who trusted you and were ready to forgive and forget to give you a chance. Everything is on standstill(freedom, democracy, economy, business, school results,your presence in the country, social activities, bread and butter, electoral credibility, employment ) This is so painful Mr president.