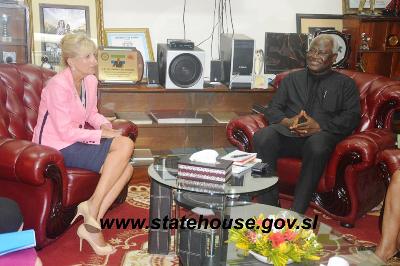 By State House Communications Unit
The Second Lady of the United States of America, Dr. Jill Tracy Biden has paid a courtesy call on President Dr. Ernest Bai Koroma today 7TH July, 2014 at State House Freetown.
Dr. Biden's visit to Sierra Leone is centered on the empowerment of women and girls' issues, reflecting her long commitment to female initiatives in her country.
Welcoming the U.S Second Lady, President Koroma said that Sierra Leone has an excellent relationship with the United States of America, observing that both countries have enjoyed strong bilateral and multilateral cooperation over the years.
The President also noted that Sierra Leone has enjoyed a lot of support from USAID and other non-governmental organizations in the US in the areas of food security, education and maritime protection among others. "The joint maritime exercise that we have been engaged in has helped to protect our territorial waters and increased the revenue generated to government," he said, and stressed that both governments have worked jointly in fighting, protecting and preventing drug trafficking on the high seas.
President Koroma commended the U.S for reestablishing the Peace Corps Service in Sierra Leone which has made serious impact in the country, adding that Sierra Leone looks forward to their help in the on-going transformation of the country, especially in the educational sector.
In the area of gender, President Koroma disclosed that government has created the appropriate enabling legal environment in the name of the three Gender Acts to protect their persons, especially within their communities and marriages and emphasized that the enactment of the Sexual Offences Act will go a long way in minimizing offences against women an
"We have also set up government institutions, with a ministry responsible for gender affairs, the parliamentary committees also charged with the responsibility of coordinating gender affairs and various structures right down to the local levels that are working on gender issues, and developed a national action plan for implementation of Resolution 1325," the President explained.
President Koroma expressed belief that by guaranteeing education, protecting women and opening up opportunities for them to participate in governance and increasing access to finance will help to address the issue of inequalities as contained in the country's Agenda for Prosperity.
The President went on to state that as a show of commitment to gender and women's empowerment, government has ensured to mainstream gender issues in all of the eight pillars with a main pillar specifically assigned to deal with how we further promote women and empower girls' education.
He also expressed profound satisfaction over the performance of women in public offices, noting that giving them opportunities will create a lot of dividend as a lot more will happen, particularly so when "we have targeted ourselves to transform this country by 2035".
Dr Jill Biden in response, thanked President Koroma for receiving her delegation and observed that there were many strong women at the reception held in her honour at the Radisson Blu, Mammy Yoko Hotel on her arrival in Freetown.
She said that her main reason for visiting Sierra Leone is because of President Koroma's support for women's rights. "I am an educator, so I am still teaching as education is at the root of it all, and I think we have to educate young girls and willing to empower them."
Ambassador for Global Women's Issues at the State Department, Mrs. Catharine Russell, appreciated President Koroma's personal leadership and government's commitment toward women's empowerment.
Mrs. Catharine Russell likened President Koroma's commitment of pushing women's issues to that of President Obama of the United States. "I was reminded when you were talking about President Obama who always said a country can only go ahead when the women get ahead, and you were sounding very much like him," she said.
She observed that the US delegation is struck by such commitment to gender issues and stated that they are very impressed by the personal leadership of President Koroma, and went on to state that this is critically important not only to the country but also across Africa.
"People across the continent really look forward to Sierra Leone to see how well you are supporting your women and girls and I think it is very impressive''.
Earlier on arrival at Lungi International Airport, Dr Jill Biden and her delegation was given a warm welcome led by the Resident Minister – North, the Mayor of Makeni City, traditional leaders and representatives of women's groups.
 d girls.