By State House Communications Unit :
President Ernest Bai Koroma Tuesday 7th July 2015 promised to provide more bus services in the next six months to adequately address road transport problem in the country.
The president was speaking during the commissioning of the new one hundred buses at the Queen Elizabeth II Quay, Cline Town Freetown, where he entreated all to know the uses are not only here but will be at the disposal of the public. President Koroma expressed his displeasure at the long queues of commuters at bus stops in Freetown and its surroundings and registered government's commitment to effectively addressing the challenges in the public sector transport in the country.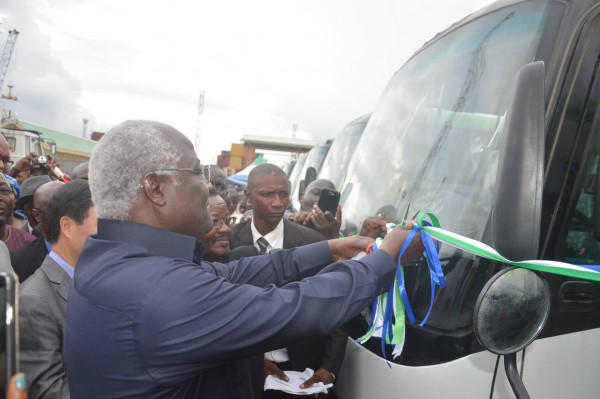 As a responsive and a sensitive government, President Koroma reaffirmed that government is focused on alleviating the crisis on public transport and committed to do more for the people of Sierra Leone. He instructed National Commission for Privatization to fast track the procurement processes of more one hundred buses to enable government fully address the challenges in the public sector transportation.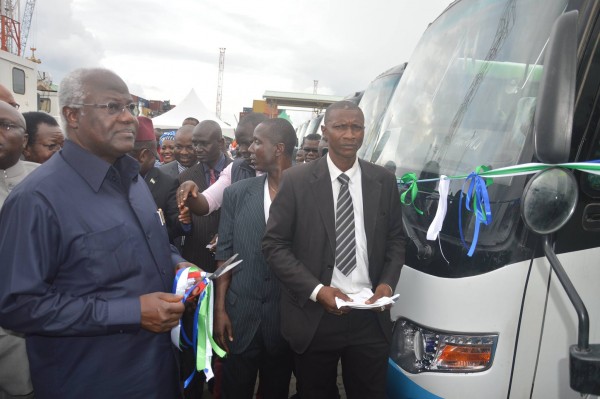 In a stern warning to staff and management of the Sierra Leone Roads Transport Corporations, the President cautioned that; "It is no longer be business as usual," President Koroma noted that the buses must be seen as seed investment and must be able to buy more buses without recourse to government adding that an efficient system must be established for sustainability. In as much as government is responding to the cries of the people, President Koroma entreated all Sierra Leoneans to take good care of the buses saying that it is the people's property and the quality of life has to be determined by the citizenry.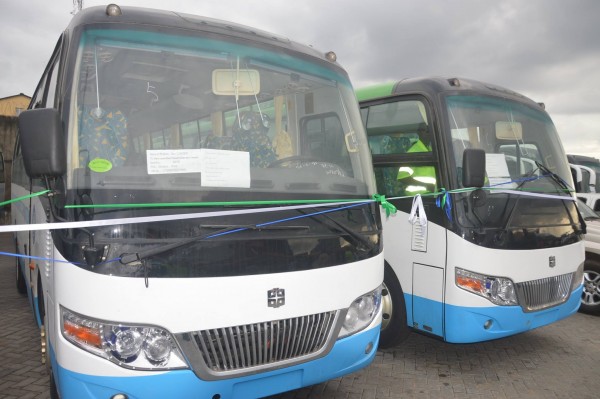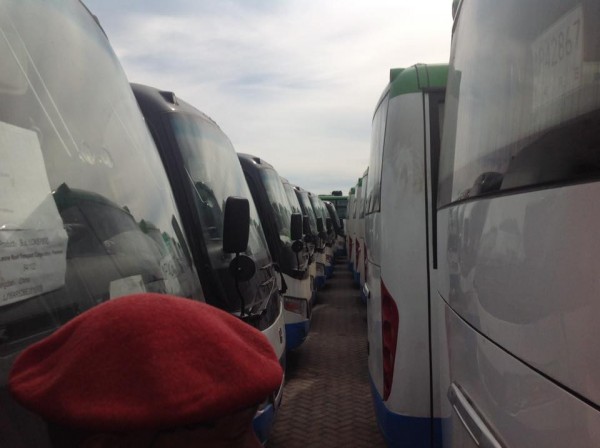 "This is out property and we must change our attitudes and take good care of the buses." he stressed. The President furthered that government will be establishing a school bus service starting with the capital and be replicated to the districts.
Vice President Ambassador Victor Bockarie Foh had commissioned five new commercially viable patrol boats.
Transport and Aviation Minister Hon. Leonard Balogun Koroma said Sierra Leone has taken off with the Agenda for Prosperity as the buses will revolutionize the transport sector, with the twelve million Dollars investment, that also make provision for two mobile garages, a year's warranty, three years spare parts maintenance and an accompanying technical team from China that will transfer skills to staff.
He extolled the NCP being up to the occasion adding that passengers will continue to benefit from the services through a super agents to purchase and sell tickets. Mr. Koroma disclosed plans by government to invest in more buses, putting up an efficient and effective system that will guarantee effective service delivery.
The Ambassador of the People's Republic of China to Sierra Leone HE Zhao Yanbo underscored the huge importance President Koroma's government attached to infrastructure especially roads, observing that a lot of roads have been constructed in the country by the current government.