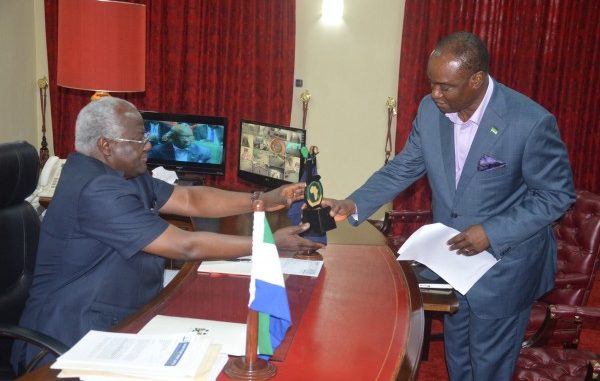 By State House Communications Unit
At the just concluded 25th Ordinary Session of the Assembly of Heads of State and Government of the African Union in Johannesburg, South Africa, President Dr Ernest Bai Koroma was awarded a trophy for his tremendous efforts in promoting women's empowerment and participation in governance. The trophy was presented to the president by the Minister of Foreign Affairs and International Cooperation Dr Samura Kamara Wednesday 24 June at State House, Freetown.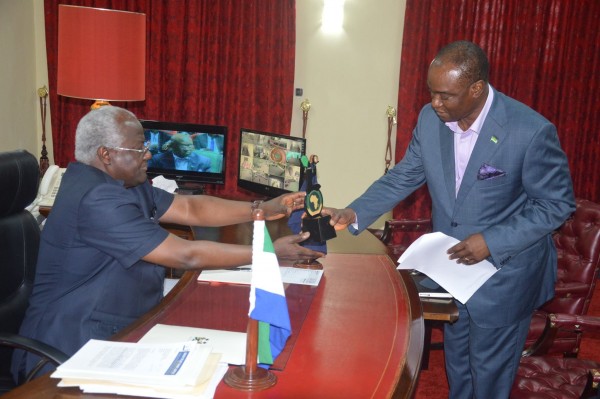 Receiving the trophy, President Koroma expressed huge delight and noted that government will do more in addressing women's empowerment and development in Sierra Leone. He highlighted legislations such as the three Gender Acts, sexual offences Act as well as initiatives in agriculture, health and the Free Health Care as indication of efforts geared towards empowering women across the country.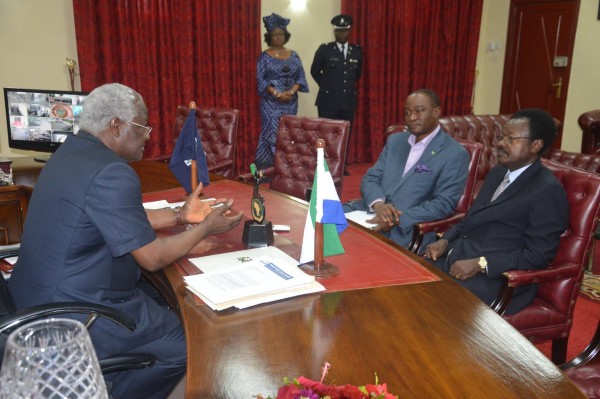 The president pointed out that the trophy has imposed additional responsibilities on government, and as a nation to continue to redouble efforts in the empowerment of women across the country. With this, he said, all legislations pertaining to women's empowerment and development will be enforced and government will continue to increase the participation of women in governance. President Koroma therefore dedicated the trophy to the women of Sierra Leone.
Presenting the trophy to the President, Dr Samura Kamara explained that political leadership, regional integration, economic empowerment, food security, agriculture, health, Women and the Media among others were some of the thematic areas used to award the trophy.