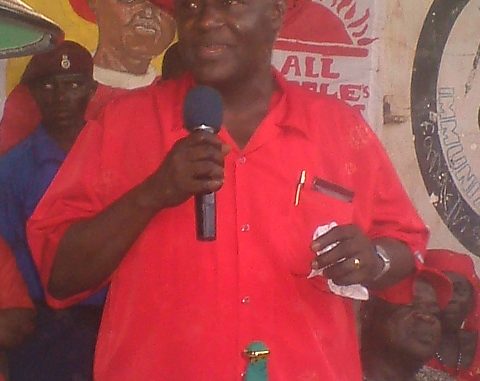 Sunday September 9, 2007
Provisional results from the APC Command Center and independent radios show that the APC Presidential candidate, Ernest Koroma, has shot into the lead in Sierra Leone's presidential runoffs. Despite bitter complaints  and threats at LEONENET and the pro- SLPP  forums against Cocorioko for reporting it , the truth of the matter is that President Koroma is leading once again.
The Editor of this newspaper , KABS KANU and Khadija Sesay spoke directly with the APC Command Centre  in Freetown –They are tallying the results as they leave the polling stations after being counted – and their reports are thus : APC  is winning in Bonthe , with margins larger than Charles Margai's recent victories.
The APC  is also slightly leading in Kono , whereas in Bo, the SLPP has won quite a number of constituencies but with smaller  margins that suggest that the APC  is eating into the Charles Margai votes that the SLPP  hoped to sweep to win this election. The SLPP  is also winning in Pujehun but with slim margins.  In the North and the West, the APC  is winning big.
Ms. Saudata Sesay, one of the APC  officials told this Editor and Khadija Sesay that the APC Leader, Ernest Koroma, will protest the Kenema and Kailahun votes ."He will do it not because of the votes but on principle –That all parties deserve the right to be given equal opportunities to vote everywhere ", she said.
The SLPP  has to sweep the Charles Margai South/Eastern votes  and make some strong showings in the West to stand any chance of pulling off this election  .
5:56:02 PM EDT
UPDATE FROM KENEMA : Interview with W.J .Smith

Posted by KABS KANU on September 08, 2007 at 16:25:31:
I just got off the phone with Mr. W.J. Smith, the APC National Secretary General. He complained that there was massive rigging .
"Since there are only 2 candidates, the ballot is smaller this time , like a receipt book. They were cutting 3,4 to 5 and giving them to their people to do multiple voting. They had a sign language. When their own people come, they are chewing gum or diamint.That is how they know he or she is one of them. They will tear out 3,4 5 ballots and give them to the person."
"We caught them out by sending our own person with him chewing rubber mint or diamint. They gave him 4 ballots. We have reported them to the Assistant Inspector General, Elizabeth Turay and the UN Representative Mr. Benjamin. They have promised to investigate."
Also, the Electoral commissioner ( East) told our agents to stand 400 yards away , which was against the guidelines. I confronted him about this .
COCORIOKO : Have they started counting :
ANSWER : We told our agents not to sign them. There is no way we are going to accept the results after such massive rigging.
READ THE REST IN COCORIOKO
:52:38 PM EDT
UPDATE FROM KONO : COCORIOKO interviews Ms. Yeyeh Sam-Sumana
Posted by KABS KANU on September 08, 2007 at 16:05:57:
I just got off the phone with Ms.Yeyeh Sam-Sumana , sister of the APC running mate. She said the polls were peaceful in Kono and she was very thankful to the Police and the army for their excellent work.
QUESTION : How did your brother's party fare ?
Yeyeh Sam-Sumana : This time , we thank God. But the counting is going on and I dont want to give you any false figures. However, in the constituencies where they last beat us heavily, this time it is only by 3-5 votes. In the places we beat them, we are winning and the votes are higher for us this time.
QUESTION : WHO DO YOU THINK WILL WIN ?
YEYEH : From what we have seen so far, APC might pull off Kono , by the Grace of God. But as I said I don't want to give you false figures yet. If you call me tomorrow, I would be able to give you the real figures
QUESTION : Why do you think APC might pull it off in Kono ?
YEYEH: You must be here to understand. First, we can tell from the people leaving after voting. Secondly, you can know when most of the voters are your own . ALSO, UNLIKE THE LAST ELECTIONS, WE DON'T HAVE MANY VOIDED VOTES THIS TIMES, ONLY 3-4 IN SOME PLACES WHEREAS IN THE LAST ELECTION, IT WAS IN HUNDREDS.
QUESTION : Was there any violence ?
YEYEH : There was no violence. The Police and the ARMY DID WELL
COCORIOKO : Ok, Yeyeh, we will call again tomorrow for the latest .Thanks for this interview.
YEYEH : Thank you too