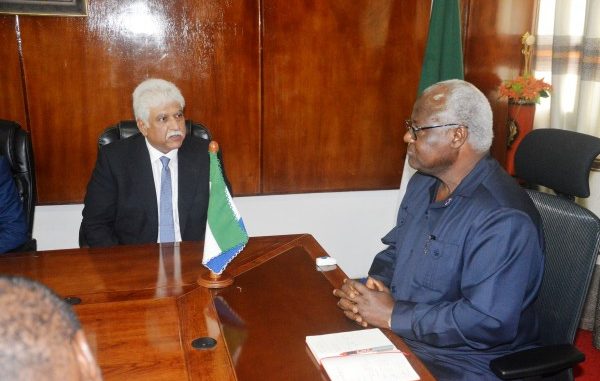 By State House Communication Unit
airtel vp visitsHis Excellency President Dr Ernest Bai Koroma Tuesday 22 March 2016 received in audience the Vice President and Chief Executive Officer of Airtel Africa who also doubles as Sierra Leone's Consul in India, Mr. Rakesh Bharti Mittal at State House in Freetown.
The meeting was to inform the head of state about the current implementation of a $78m power transmission project in the country, the transformation of Airtel into Orange, among other projects.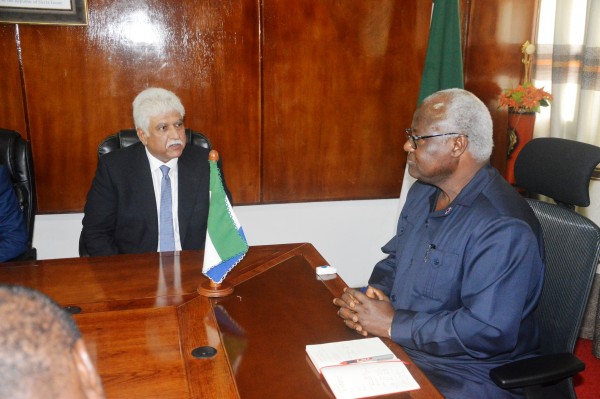 Welcoming the delegation, President Koroma extended his profound thanks and appreciation to the government and people of India for the warm hospitality accorded him and his entourage during the India-Africa Forum Summit held last year.
The president expressed hope that discussions and meetings held with business executives during the summit will be translated into good ventures, stating that government is working towards building a national grid to support other sectors. He encouraged Mr. Mittal to secure a package to look at the area of investment which his company is interested in.
President Koroma described the Airtel-Orange deal as a laudable venture, saying that there will be no vacuum as government is set to ensure that every partner complies with the law and do the right thing.
Vice president Bharti Enterprises thanked President Koroma for receiving him at State House after the India-Africa Forum Summit and announced the ongoing implementation of a $78m power transmission project for Freetown which has already been approved by the Indian Government, amongst host of other deliverable programmes for Sierra Leone.
The meeting was attended by the Minister of Foreign Affairs and International Cooperation Dr Samura Kamara, outgoing Minister of Information and Communications and now Special Adviser to the President Alhaji Dr Alpha Khanu, Minister of State Ministry of Finance and Economic Development (MoFED), Mr. FBL Mansaray, Presidential Spokesman Abdulai Bayraytay and other senior officials of MoFED.