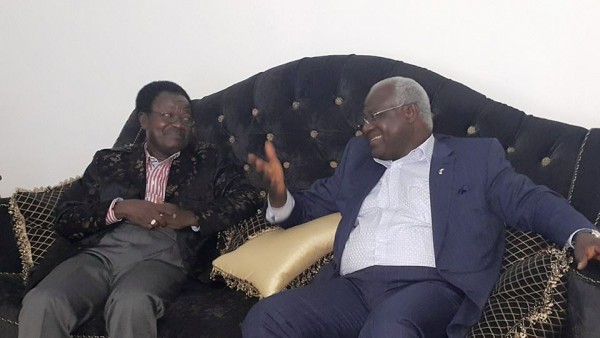 By State House Communications Unit :
Monday 20 April, 2015 – President Ernest Bai Koroma Sunday 19 April returned to Freetown following a six-day working visit to the United States of America. During his visit the president together with his Liberian and Guinean counterparts, Elen Johnson Sirleaf and Prof Alpha Conde had fruitful discussions with US President Barack Obama on the response to the Ebola epidemic and post-Ebola recovery. President Koroma also had discussions with US Under Secretary of State, USAID Acting Administrator Alphonso E. Lenhardt, UN Secretary General Ban Ki-moon, with Congresswoman Karen Bass; he attended a luncheon organized by Corporate Council for Africa, participated in the World Bank Group and International Monetary Fund Spring Meetings, and visited the US department of health.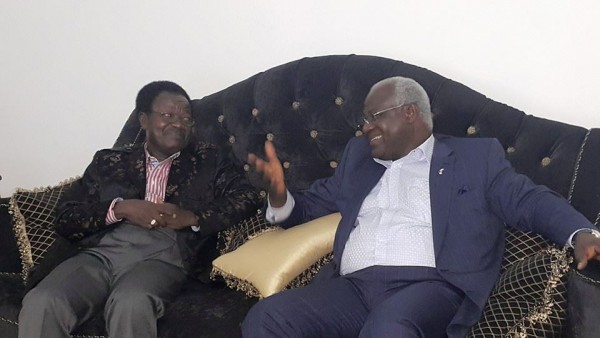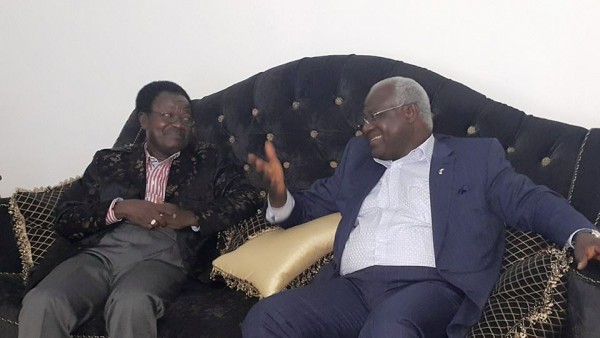 PRESDENT KOROMA ( RIGHT ) AND VCE-PRESDENT VCTOR FOH ENJOYING A HEARTY MOMENT
As a result of President Koroma's visit, Sierra Leone, Liberia and Guinea are to benefit from huge international support for the region's post-Ebola recovery programmes targeting the health, education, social protection and private sectors.
At a farewell cocktail dinner given in honour of outgoing President of the African Development Bank (AfDB) Dr Donald Kaberuka, President Koroma praised Dr Kaberuka for being the first to visit the Mano River Union (MRU) at the time when others were running and staying away. "Your message to the world to isolate the virus and not the countries became the rallying point for the world to come to our support. You did not only become the advocate against international isolation, you also took the lead and matched that powerful message with actions by releasing the much needed resources to battle the epidemic," he said.
"Sierra Leone", Dr Koroma furthered "will remember your inspirational leadership in defeating the outbreak, the continued support we receive from the AfDB for the post Ebola recovery and the flagship water and sanitation project which has greatly bolstered my government's effort to restore pipe borne water and increase access to safe water and sanitation to my people."
President Koroma received a warm welcome at the Lungi International Airport on his return to Sierra Leone on Sunday 19 April, 2015.
In a press conference at the Presidential Lounge, Lungi Airport to an audience which included the Vice President Victor Foh, cabinet ministers, senior government officials, paramount chiefs and journalists, President Koroma spoke of the significance of his visit and the position taken by MRU member states in their efforts toward post-Ebola recovery. He mentioned the assurances of President Obama and pledges made by the World Bank and other international agencies, including USAID to support the recovery needs of the three countries worst-hit by the Ebola epidemic.
The president reiterated the need for vigilance and to avoid complacency at all cost as Sierra Leone and its neighbours are not out of the woods yet.
President Koroma will leave again tonight to attend the Asia-Africa Summit in Indonesia where he is expected to showcase Sierra Leone's potential as a destination for investment in, for example, tourism, agriculture, and mining.
SHCU©2015