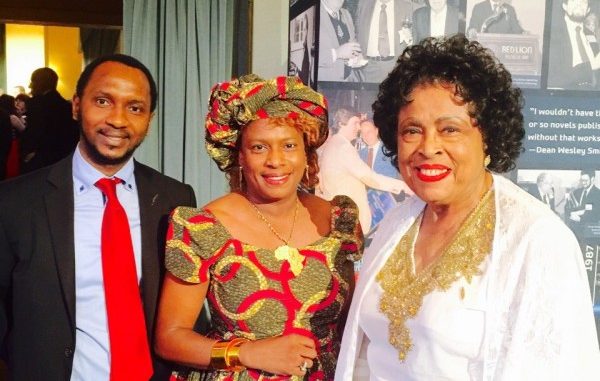 By Carmen Barth
As part of her mission to seek out inspiration and opportunity for her home country, Sierra Leone's Goodwill Ambassador Isatu Timbo attended the 31st Annual L. Ron Hubbard Achievement awards on Sunday, April 12, 2015 at the prestigious Wilshire Ebell Theatre in Los Angeles, California.  The annual event also celebrated the winners of the L. Ron Hubbard Writers and Illustrators of the Future Contests (www.writersofthefuture.com) before a packed hall of over 1,000 guests and hundreds more from around the world who were logged on to watch the event as it streamed live.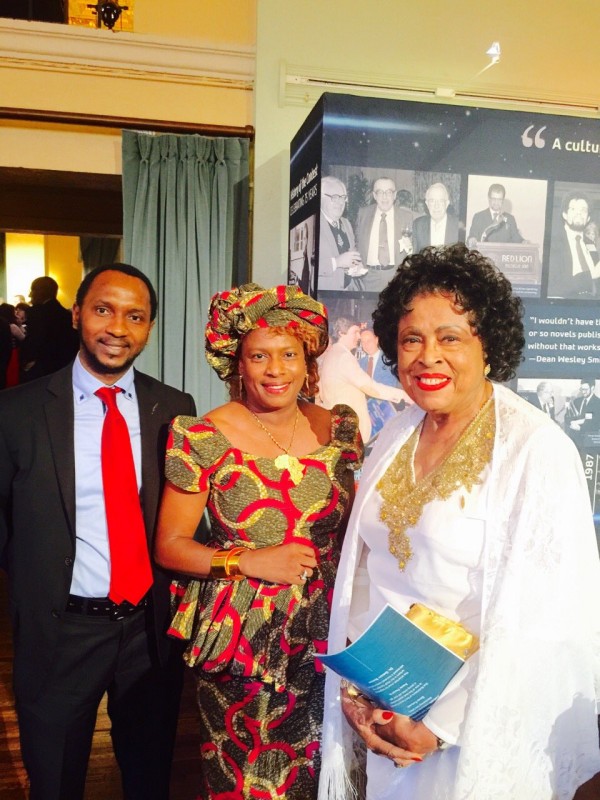 FROM LEFT : MR. BAH, GOODWILL AMBASSADOR TIMBO AND CONGRESS WOMAN  DIANE WATSON
"It was an inspiring, educational, breathtaking evening," Ms. Timbo said of the awards ceremony. "We all have to thank L. Ron Hubbard for giving tomorrow's writers the power of the pen.  Mr. Hubbard started this for the world and look what he created that we are all enjoying today."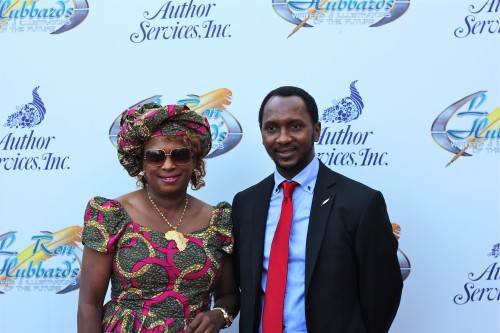 AMBASSADOR TIMBO AND MR. JUMA BAH 
Ms. Timbo said that she looks forward to spreading word of the contest in Sierra Leone to give its writers the chance to participate. "This contest is very important because art is like education," she explained. "As L. Ron Hubbard said, art is something you have to experience.  You can imagine it and give it to the world."
The night's keynote speaker was Mr. William Pomerantz, Vice President Special Projects Virgin Galactic, who after talking about the dreams as a youth of working in a spaceship factory, and then later in life being told that his dreams were impossible stated, "I owe a huge debt to you and to those who have come before you. It was through science fiction that I learned that optimism, and through science fiction that I reclaimed it rather than falling victim to that jaded skepticism of our modern world."  He concluded by congratulating all the evening's Contest winners.
Winners of the Contest made it further than some several thousand others who entered the international competition, and saw their stories and illustrations published in the bestselling Science Fiction anthology series – L. Ron Hubbard Presents Writers of the Future Volume 31 now available online at Amazon.com, Kobo.com and BN.com and soon to be available in print wherever books are sold.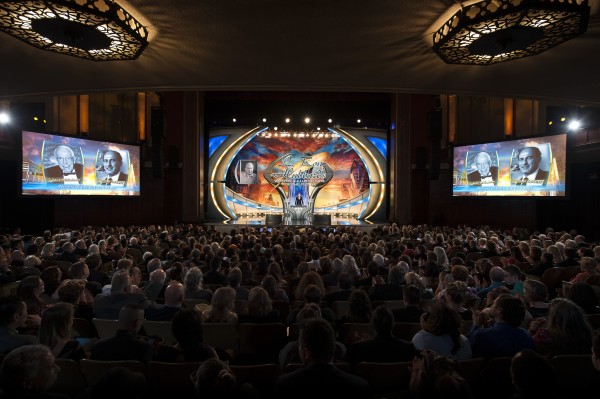 With writers and illustrators coming from all walks of life, the winners attended a week-long workshop taught by contest judges — including New York Times bestselling authors David Farland (Runelord series) and Kevin J. Anderson (Dune series), World Fantasy Award winner Tim Powers (On Stranger Tides, adapted as the 4th Pirates of the Caribbean film), multiple Hugo and Nebula award-winner Orson Scott Card (Enders Game), multiple Hugo and Nebula award-winner Robert J. Sawyer (Flash Forward and The WWW Trilogy), Hugo and Nebula award-winning author Larry Niven (the Ringworld series), and internationally acclaimed artists, Cliff Nielsen (cover artist for Chronicles of Narnia), Dave Dorman (Star Wars character designs) and Larry Elmore (Dungeons & Dragons art design)—each one an experienced professional in the field providing sound advice based on hard-won experience.
Each writing and illustrating contest winner was presented their trophy by contest judges at the ceremony and combined cash prizes and royalties of over $30,000, and their story with artwork published in the L. Ron Hubbard Writers of the Future Volume 31.
The Writers of the Future writing contest (www.writersofthefuture.com) was initiated by L. Ron Hubbard in 1983 to provide a means for aspiring writers to get that much-needed break. Due to the success of the Writing Contest, the companion Illustrators of the Future Contest was created in 1988.
The intensive mentoring process has proven very successful.  The 368 past winners of the Writing Contest have published 838 novels and nearly 4,000 short stories. They have produced 27 New York Times bestsellers and their works have sold over 50 million copies.
The 298 past winners of the Illustrating Contest have produced over 4,500 illustrations, 356 comic books, graced 594 books and albums with their art and visually contributed to 36 TV shows and 46 major movies.
For more information and to see the awards ceremony online, go to www.writersofthefuture.com
###