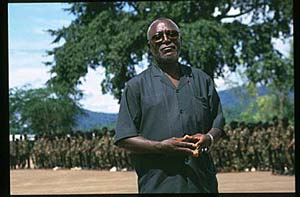 Hinga Norman

BE IT KNOWN TO ALL THAT we have received with disbelief news of the arrest
of people peacefully demonstrating today 10th March 2004 in Freetown in
support of Chief Sam Hinga Norman and other detained Heroes of our Country.
We wish to condemn in no uncertain terms, this shameful action on the part
of the authorities in Sierra Leone. We view this action as an infringement
on the Constitutional and democratic right of all Sierra Leoneans to
assemble and demonstrate peacefully.
This action employed by the authorities in Sierra Leone today brings into
question their commitment and belief in genuine democratic principles and
the rule of Law.
It is regrettable that a government in whose cause thousands of our
compatriots perished is today acting in ways that can only be  reminded of
previous despotic regimes of the AFRC/RUF we thought we had jettisoned.
We want the international Community to make it abundantly clear to the
Sierra Leone government that their behaviour is unacceptable, and for them
to understand that they bear the fullest responsibility for the safety of
those peaceful citizens whose democratic rights have today been trampled
upon.
We further call on the Sierra Leone government to immediately release all
those who have been arrested.
Finally, we wish to express solidarity with our compatriots who have
summoned the courage and patriotic stand by coming out to show their support
for Chief Sam Hinga Norman and other detained war heroes.
Harold Bundu Saffa
(Secretary).
_______________________________________________________________