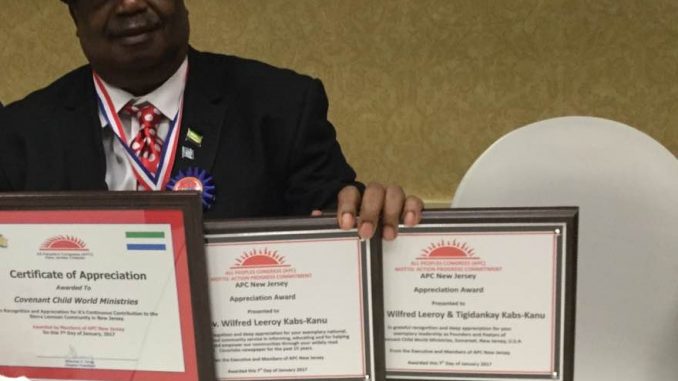 Minister Plenipotentiary and also  Owner and publisher of the COCORIOKO , Leeroy Wilfred Kabs-Kanu was last Saturday honored during the APC-New Jersey Chapter Awards Night , where he was described as THE GODFATHER OF APC-NEW JERSEY ,  by one of the leaders of the women's wing of the party , Mrs. Sana Smith.
The highly-respected and popular women's leader , who is also eloquent and was introducing the Rev. Kabs-Kanu, who chaired the program, outlined all the many contributions Kabs Kanu has made during previous administrations and the reign of the present President , Mr. Alimamy Turay. She said that the Rev. Kabs Kanu can be depended upon at all times to help the Chapter and lauded him for his outstanding work for the party , describing him  not only as one of the people she admires in the community but a highly-respected individual in the society.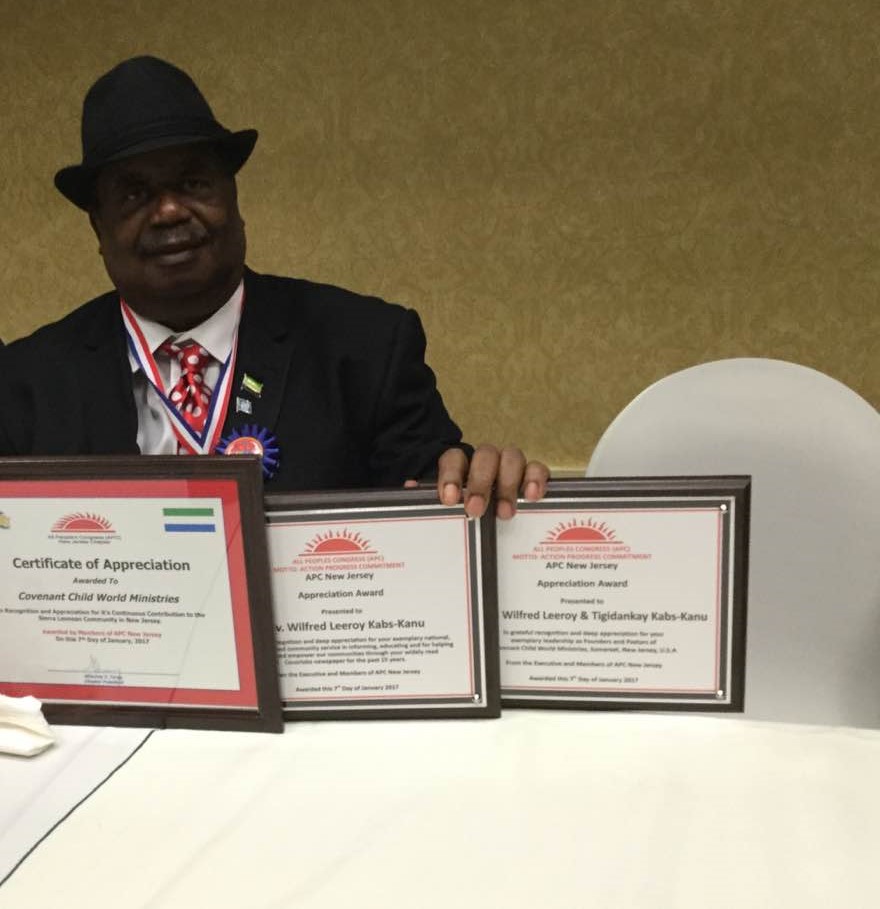 In his statement , the Rev. Kabs Kanu commended the Alimamy Turay government for its hard work for the party and for recognizing the contributions of churches, organizations and individuals in the community and giving them awards. He called on all APC  members to continue striving for the party.
Mr. Kanu said it was not the length of time one has served a party that matters but the valuable contribution he has made to the party , though his participation in the APC  dates back to 1966 when he was a schoolboy and contributed articles to campaign for the APC  during the 1967 elections , 50 years before Alex Mansaray and the late Dauda Bangura called him to pray during the first rally staged in New Jersey in 2002 by the then opposition leader, Mr. Ernest Koroma ( Now President ).
Rev. Kabs-Kanu told some APC  leaders that night that before even the APC Chapter was founded in New Jersey by Alex Mansaray and the 10 people he named at the awards program, he ( Kabs Kanu ) and the likes of Sylvia Blyden, Allieu Iscandari, Abu Mankota Kamara, Foday Morris, Foday Mansaray ,  Abdul Rahman Kamara etc were defending the APC  at Leonenet and the SLIS, NUP and Cocorioko forums around 1996-1999 when nobody wanted to be associated with the APC.
"Even SLPP  supporters can confirm that they started abusing some of us in forums for defending the APC  before even the party started in the U.S" , Rev. Kabs Kanu told Alimamy Turay and other leaders . "So nobody introduced me into the APC. I was already APC  when I was a schoolboy and my elder brother, Max Kanu, can attest to that ".
Rev. Kabs-Kanu received 2 awards ( for Journalism and politics ) and one along with  his wife , Rev. Tigidankay Kabs-Kanu, for opening a church in New Jersey and contributing to the spiritual development of the community.