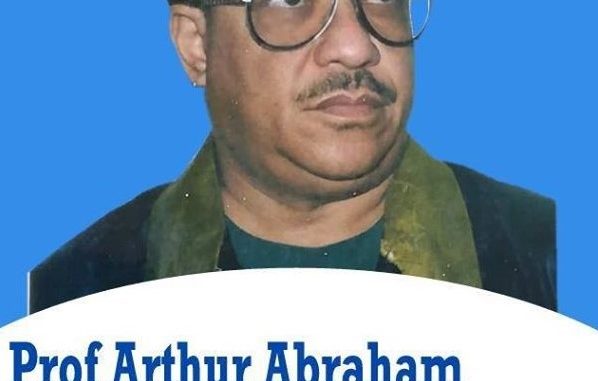 Professor Arthur Abraham, the renowned History lecturer at Fourah Bay College and the Virginia State University in the U.S.  died suddenly in Freetown on Sunday . He got ill overnight and was rushed to the hospital, but died in the morning. He was 75.
Professor Abraham was recently appointed Pro-Chancellor of the Njala University by President Maada Bio.
He will be buried in Daru, Eastern Sierra Leone, on Wednesday.
_________________________
Background
Abraham, Arthur was born on July 12, 1945 in Daru, Sierra Leone.
Education
Bachelor (honours), Durham University, 1967. Master of Arts, University Sierra Leone, 1971. Doctor of Philosophy, Birmingham University, United Kingdom, 1974.
DSocSc, World University RoundTable, 1986.
Career
Lectr, senior lecturer, professor, dean University Sierra Leone, Freetown, 1973-1997. Associate professor Cuttington University College, Liberia, 1978-1980. Ministers of state Governor of Sierra Leone, 1992-1993.
Professor Virginia State University, Petersburg, Virginia, since 1999. Visiting professor Long Island University, New York, 1997-1999. Executive chairman Abco Limited, Seirra Leone, 1986-1992.
Board directors National Insurance Company, 1990-1994, National Agricultural Coordinating Council, 1992-1996.
Achievements
Arthur Abraham has been listed as a noteworthy history professor by Marquis Who's Who.
Works
Membership
Director SOS Children's Village, Lumley, Sierra Leone, 1982-1988, Daru Rural Bank, Sierra Leone, 1988-1997. Chairman Daru Rural Water Supply Project, 1990-1995. President Dukrtight Lawn Tennis Club, 1987-1996.
Justice of the peace State of Sierra Leone, 1992. Member African Studies Association, The Historical Society, African Association of Political Science, Historical Society of Sierra Leone (editor, 1976-1986, executive member).
Interests
Lawn tennis, bicycling, gardening.

Connections

Married Fatu Veronica Sesay, July 10, 1976. Children: Bao, Abdul Hassan, Nadiya.

CREDIT–PRABOOK