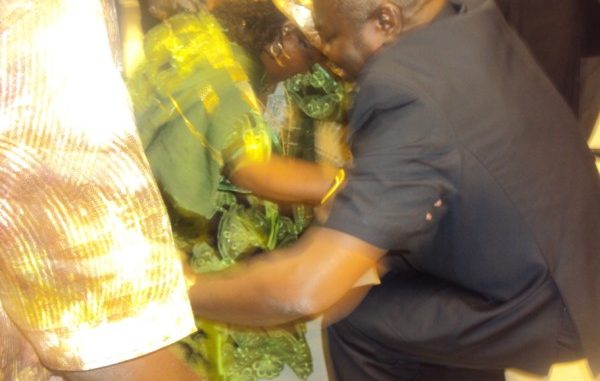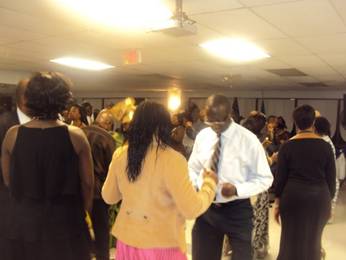 Published on October 6, 2010
By Leeroy Wilfred Kabs-Kanu
The Second Annual Humanitarian Fund Raising Event and Dance  was staged at the Mirage Hall, Langely Park , Maryland last Saturday October 2, 2010 . The much-publicized program lived up to its hype as it was  not only jampacked with distinguished Sierra Leoneans and foreign friends and supporters but it provided lots of fun and excitement and the Organization was able to raise an appreciable amount of funds to further its grand plans to build a state-of-the-art children's hospital in the Sierra Leone capital, Freetown.
The well-organized event started with  Christian prayers rendered by the Minister Plenipotentiary to the United Nations, who is also a religious leader, the Rev. Leeroy Wilfred Kabs-Kanu , and muslim prayers led by Retired Sierra Leone Armed Forces Colonel, Lansana Turay. The national anthems of Sierra Leone and the United States followed, with young singing sensation Janet Bona as lead-singer.
It was then time for Sierra Leone's Ambassador to the U.S, Mr. Bockarie Stevens, to  open the program officially. Arc of Hope is the brainchild of Ambassador Stevens and he wasted no time to express the rationale behind the foundation of the organization. Ambassador Stevens said it was to raise money to help promote efficient health care delivery in Sierra Leone by building a modern children's hospital.project, the dreams of Arc of Hope will be realized. He clarified to his audience that Arc of Hope is non-political , non-regional and non-tribal. It is a national organization with executive and members drawn from the different political parties, regions and tribes in Sierra Leone.
JOHN SANDY MAKES OPENING REMARKS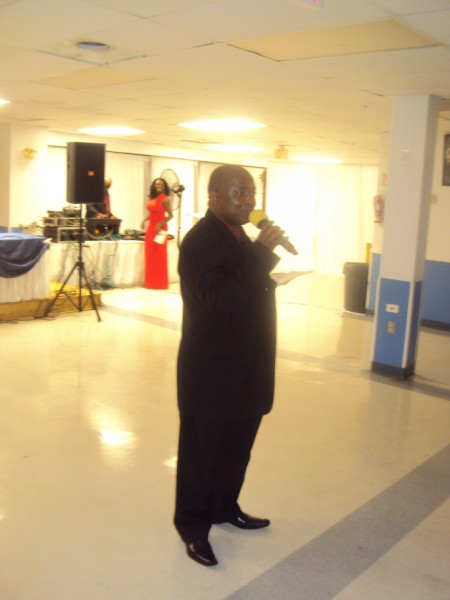 DAVID VANDY SPEAKING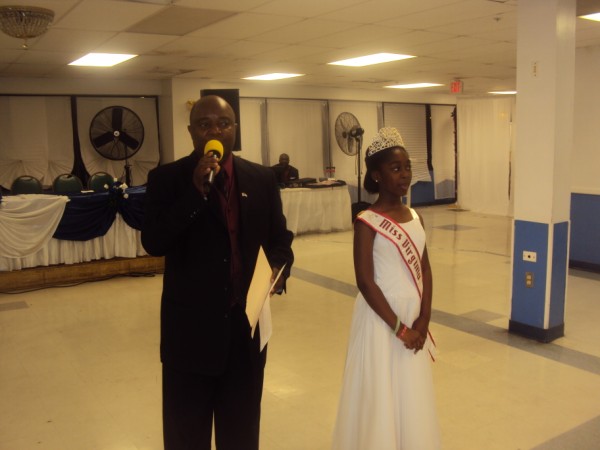 SINGING OF THE NATIONAL ANTHEMS : DAVID VANDY AND YOUNG  JANET BONA
The Chairman of Arc of Hope, Dr. John Sandy , in his remarks , re-echoed the points raised by Ambassador Stevens and  with the opening ceremony over, it was then time for a most outstanding and exciting performance by the two MCs of the occasion, brilliant  radio journalist David Vandy of the Voice of America ( VOA ) and the equally impressive Dr. Noahleen Betts , a medical practitioner  ,  who held the big crowd of guests spellbound with enticing jokes and raps , especially during the fundraising segment .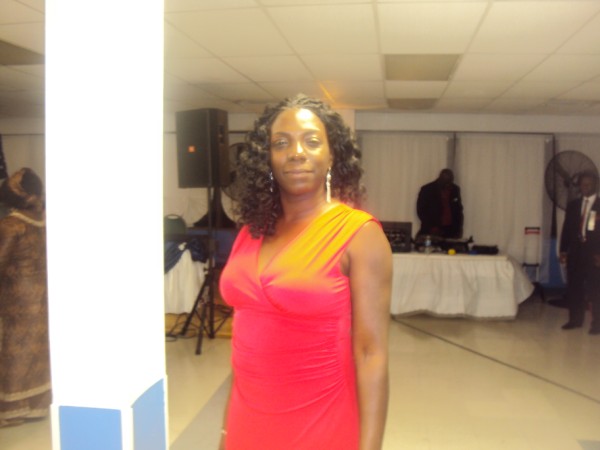 NOAHLEEN BETTS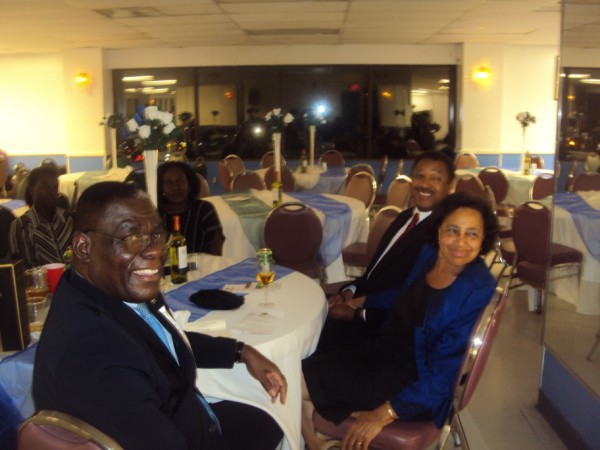 AMBASSADOR RUPERT DAVIES OF THE UN MISSION ENJOYS THE PARTY WITH A DIPLOMATIC COUPLE WHO SERVED IN SIERRA LEONE AND MANY COUNTRIES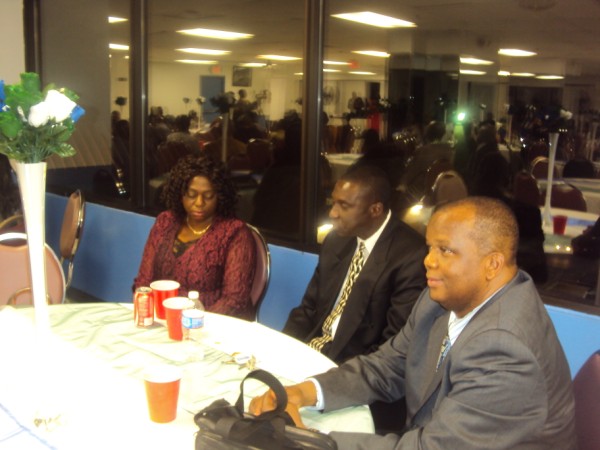 COCORIOKO MAN JOSEPH SHERMAN ( RIGHT ) AND FRIENDS AT THE PARTY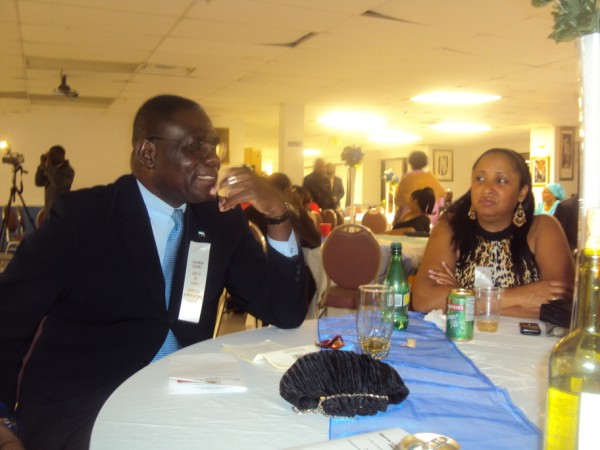 AMBASSADOR DAVIES AND HIS BEAUTIFUL WIFE, MADI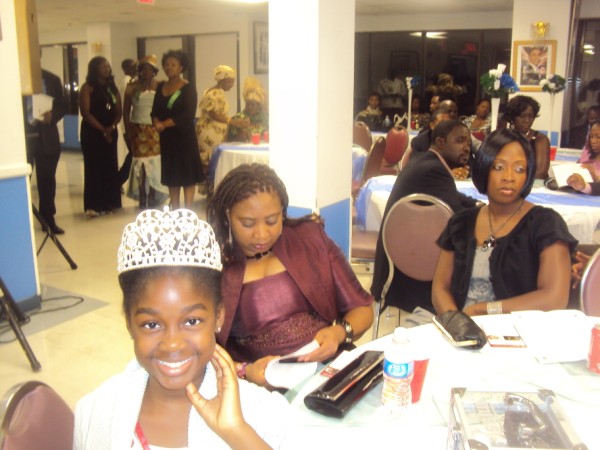 YOUNG SINGER JANET BONA AND OTHER GUESTS
AMBASSADOR STEVENS' PRETTY WIFE , MUSU, WHO MADE SURE OF THE HIGHEST BID TO BE ABLE TO MONOPOLIZE HER HUSBAND EVEN ON THE DANCE FLOOR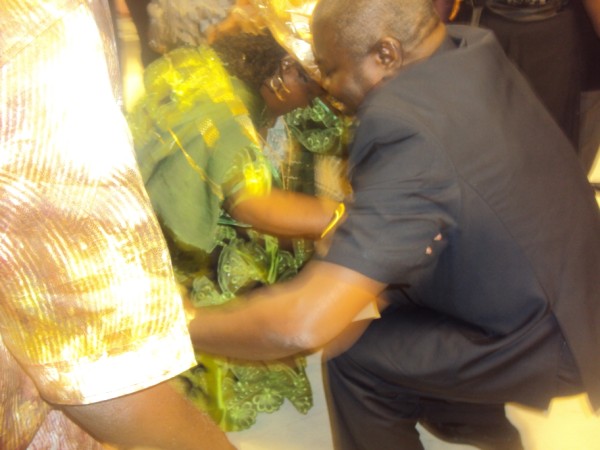 FODAY MORRIS, YOU SABBY DANCE SO ? AMBASSADOR  STEVENS AND HIS WIFE STEAL THE SHOW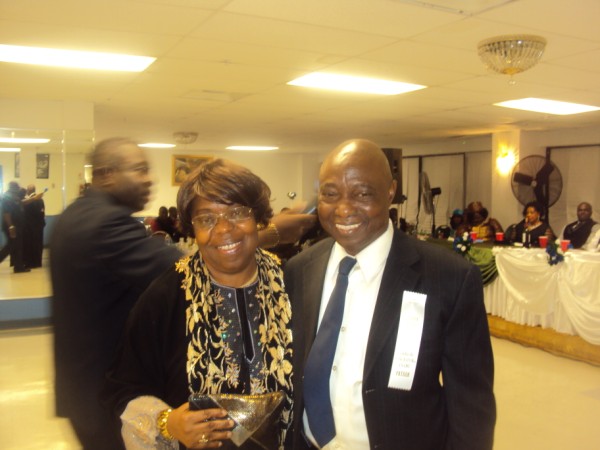 THIS COUPLE WON AN AWARD DURING THE PARTY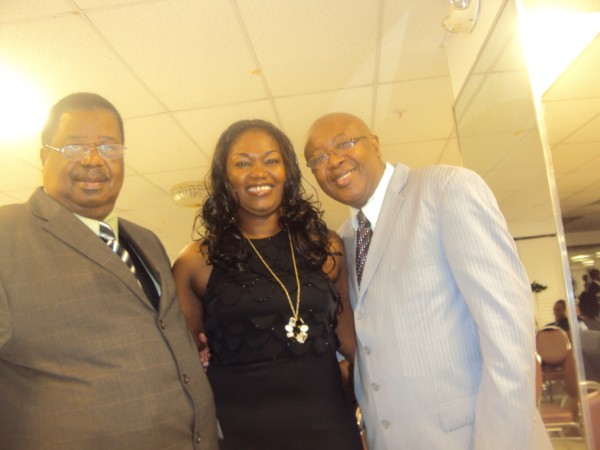 MINISTER PLENIPOTENTIARY KABS-KANU WITH SENSATIONAL SINGER GIILEH AND HER SPOUSE MR. SOLOMON SCHOLZ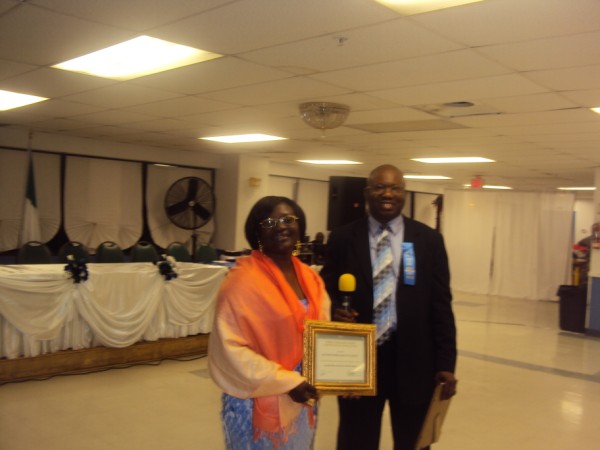 REV. FLORENCE KROMA RECEIVES AWARD ON BEHALF OF MOUNT ZION HEALTH AGENCY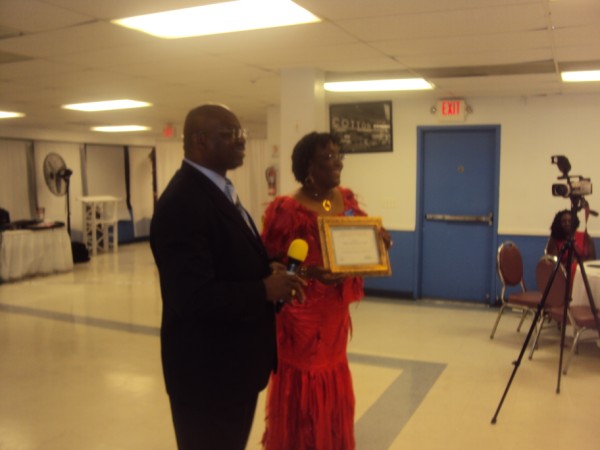 NANETTE THOMAS RECEIVES AN AWARD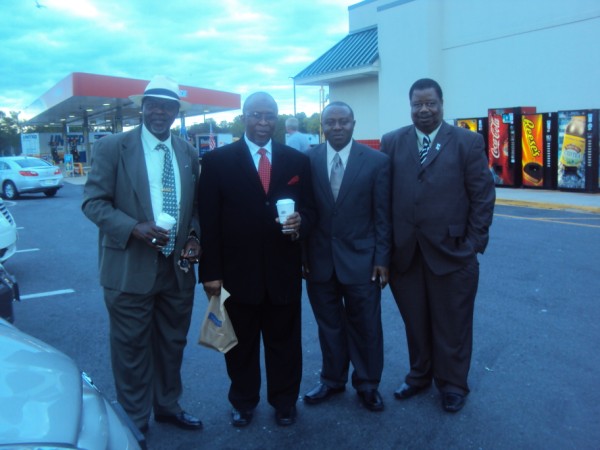 NEW JERSEYANS WHO ATTENDED THE PROGRAM STOPPED BY A CONVENIENCE STORE ON THEIR LONG DRIVE BACK AS DAWN BREAKS TO GET COFFEE : FROM LEFT -ALLIE BADARA KAMARA, AZIZ NABE, PAVI JALLOH AND KABS KANU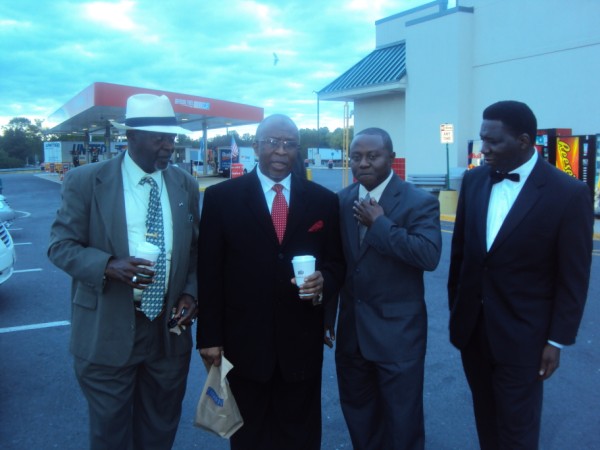 FODAY MANSARAY ( FAR RIGHT ) AND THE OTHER NEW JERSEYANS
Mr. Vandy and Mrs.  Betts displayed an uncanny ability to captivate their audience and they contributed immensely to a night of stupendous fun and enjoyment. Dr. Sandy also gave an eloquent performance each time he took the mike and the magnificient output of the three demonstrated the fact that Arc of Hope  was thoughtful and efficient in choosing the leaders of the organization. It was also demonstrative of the reality that there are many brilliant Sierra Leoneans spread across the diaspora. Sandy, Vandy and Betts were among  my men and women of the show.
There were some enthralling side events apart from the fundraising and dancing  to the delicious music dished out by  top DJ, Donald Moore  , who also deserves praise for his choice of a marvellous mix of contemporary Sierra Leone and African music as well as memorable sounds from the past which evoked nostalgia among the guests .
There was a splendid solo from rising  singer Giileh Scholz , who rocked the packed hall with her composition , "Jesus is the Way"  . Giileh, a Sierra Leonean,  "has been in the musical industry since childhood, winning choreography performances from age 11 until her early teens when  she decided to put her rising career on hold to complete her education. Her songs are a unique mosaic of R&B, Soul, with a touch of African beat blended together to create a melodious musical explosion, " according to her bio prepared to announce a new release. COCORIOKO will conduct  exclusive interviews with  Giileh and indeed Dr.Sandy, David Vandy and Noahleen Betts.
The side event that took the cake was DANCING WITH THE AMBASSADOR, another fundraising  item beside the 50/50 Raffle, Macy's Coupons and personal appeal by Dr. Geli. "Dancing With The Ambassador" was   reserved specially for the woman who would bid the highest to  enjoy the priviledge of dancing with Sierra Leone's Ambassador to the United States, Mr.Bockarie Stevens.  Thrillingly , some beautiful women in the crowd started bidding to win the right to dance with the ambassador whose skills on the dance floor were immediately jokingly challenged by Foday Morris , the P. R.O of Arc of Hope , who was recently tapped by Minister Plenipotentiary Kabs-Kanu to serve as Editor-In-Chief of the online Daily Mail.
While the bidding and challenges were going on, somebody was hatching a plot on the sidelines.
GOD ALMIGHTY , while pronouncing judgement at the Garden of Eden , told Eve, the personification of women  among other things : "…Thy love shall be for thy husband …" (Genesis 3 : 16) .  In consonance with His immortal  pronouncement, the Lord God has put in every woman's heart a yearning and craving for her husband ,which could be interpreted as the reason for the extremes women go to hold fast to their husbands against competing interests from other women.
MADAM AMBASSADOR'S WIFE, Mrs. Musu Stevens, to be exact, purposed that nobody else would steal the show under her nose. As the bidding progressed from $500 to $800 and then to $1,000, Madam Stevens gracefully interjected and began bidding too, going for the jogular and bidding sums higher than the other women's . At first, it appeared as if the women would go toe-to-toe with the ambassador's wife to gain the right to dance with His Excellency .However, the relentless Musu Stevens was determined that  nothing of the sort would happen and she would steal the show instead by having that special dance with the Ambassador, her husband . $1,500 she shouted . A seeming determined lady outbid her and  shouted "$2,000. ! ! " .  But Musu was more determined. "$2,500   ! ! ! " , she countered. At this point, it became clear to all that Madam Ambassador's Wife would not mind to burst her bank account this night to win that special dance with His Excellency, who by this time was standing and  blushing boyishly on the dance floor. And Madam Stevens nailed it when she screamed "$ 3,000  ! ! ! ".There was something about that chant. It was not only higher than any other woman in the hall was prepared to pay to dance with the Ambassador but there was determination in her voice that she was ready to go even higher. Charming and pretty Madam Musu Stevens won the day and a most remarkable drama followed when she took the dance floor, amidst earsplitting cheers , to do that Special piece with the Ambassador, her beloved husband.
The younger and more agile Foday Morris was left standing agape as he watched  the wonderful skills performed on the dance floor by Mr.Ambassador ,who showed that he was not a "Hose Pikin" and 'unsocial man' during  his youth.  Foday Morris could not have won a dancing contest with Mr. Stevens. The crowd cheered and cheered and formed a circle around the couple, dancing too, while some fascinated guests showered the dancing couple with the almighty dollar,which an Arc of Hope member gratefully kept collecting from the floor . It was indeed a night of relaxing fun from the rigors and stress of American life.
More dancing followed later and the enjoyable occasion came to an end with the vote of thanks by Texas-based socialite , Nannette Thomas , who provided more humour when after thanking all those individuals and the guests who contributed to make the fundraiser a success , she ended by thanking and praising herself for her hard work ,as if to jokingly enact the popular belief that one should blow his/her own horn because nobody else would do it in a thankless world( Though it must be said that Nannette is highly appreciated by Arc of Hope ). It was just her own contribution to a night of fun and laughter.
The following  people  received awards at the dinner and dance:
Mount Zion Home Health Agency – Mrs. Florence Kroma
Prelude Health Care _ Mr Sheikh and Mrs. Juliana Daboh
Siera leone International Ship Registry
Mrs. Elizabeth Sandy