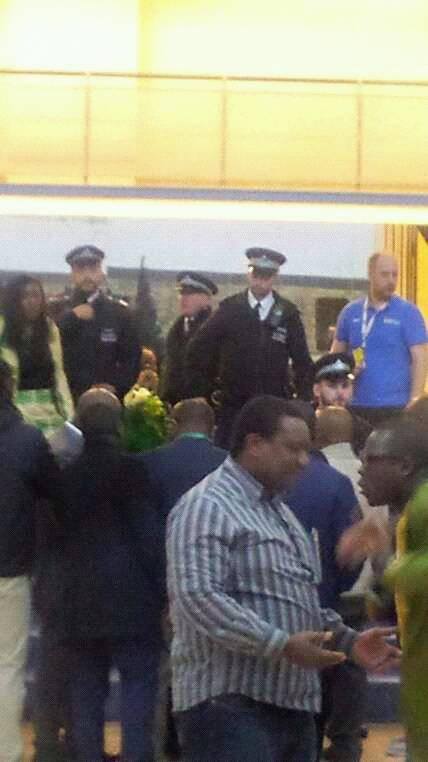 London Metropolitan Police had to be summoned to intervene and break up a  Sierra Leone People's Party ( SLPP)  meeting in the United Kingdom over the weekend.
A social media commentator, Kanthe Knana , described the chaos in these words : "Developing Story!!! SLPP HEADING TO ANARCHY. It is now clear without a shadow of doubt that the Sierra Leone Peoples Party (SLPP) is in the brink of major disasters as party factions extend confrontation and violence across the Country and abroad."
"Many confrontation are being reported also in United Kingdom, United States, Belgium, Canada and Germany. Today, the SLPP is divided into 7 (Seven) Factions with a greater possibility that more polutical tensions and violence will ensue as the party goes to convention. A lot of alliances have been formed in the SLPP making it impossible for the party to function. Meanwhile, the APC is expected to win the forthcoming presidential election with 58% majority votes. Also, it has been revealed that the factional struggle in the SLPP will continue even after the 2018 General Elections… More developing Stories coming up. KNANA KANTHE "
An eye-witness at the turbulent meeting and member of the SLPP  expresses his views below about the rumpus.
"The Lost Cause of the SLPP
I have found the issues of the SLPP disturbing and worrying knowing that the mentality of the SLPP Flagbearer dispute is a fact that highlight the centrality of rebellion within the South-Eastern political cause one that shows that something is going really wrong for the party.
The term 'lost cause' is what I am using to refer to this continued SLPP internal War for leadership that looms over the prospect of such a great party. From an effectively pro-South-Eastern perspective, It is my firm belief that a very bad example of politics have plunged the party into the deep end by a brood of malicious and angry supporters with vexatious spirit ordained to fight each other if their voices are not heard.
The UK SLPP party supporters have strongly embarked on a coherent effort to rebel against themselves and the Party, typical of what happened at the executive handing over ceremony today. This bad example of denialism, especially in regards to the underlying cause of the internal leadership war pre-general election, will undoubtedly be of no surprise to genuine supporters that the SLPP is doomed to lose.
I do however believe that with the stringent intervention of the main leadership contenders will to some extent instil some home manners in their supporter's heads especially those who are very short-sighted to think a general election can be won by having an executive or diaspora position for a party here. It is my opinion that the executive and council of elders are dissolved and a team of people selected to represent the SLPP in the UK.
These two groups have shown that they are both handicap and unable to stop certain violent and irrational supporters of the various leadership groups who are always bent on creating panic and pandemonium at party meetings and conferences like today. It is sad, sad!!!!!"