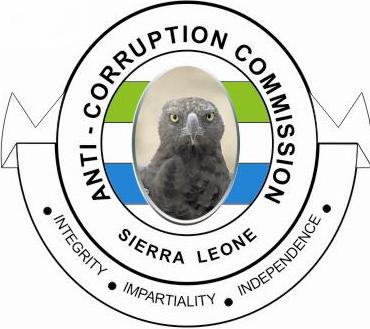 ANTI-CORRUPTION COMMISSION
CATHEDRAL HOUSE
3 GLOUCESTER STREET
FREETOWN
SIERRA LEONE, WEST AFRICA
TEL: 232-22 221468
FAX: 232-22 221900
16th October, 2015    
PRESS RELEASE
ACC SECURES CONVICTION FOR IMPERSONATION AGAINST ONE MOSES ALLIEU.
On today's date of 16th October 2015, the High Court of Freetown, presided over by Justice Abdulai Charm, Justice of the Court of Appeal, convicted one Moses Allieu on two counts of Impersonation contrary to Section 76 and Accepting Advantage to protect offender from legal proceedings contrary to Section 41(1) (a) of the Anti-Corruption Act 2008.
Justice Charm sentenced Moses Allieu to a term of three years imprisonment.
In a related development, the ACC also indicted one Abubakarr M. Kamara on one-count of Impersonation.
The Commission notes with concern the increasing trend of unscrupulous persons impersonating it's officers in order to solicit bribes from unsuspecting members of the public.
The Commission assures the general public of its commitment in the fight against corruption.
In the case of Moses Allieu, ACC was successfully represented by A.R Mansaray.
……………………………………………..
PATRICK SANDI
DEPUTY DIRECTOR, PUBLIC EDUCATION AND OUTREACH