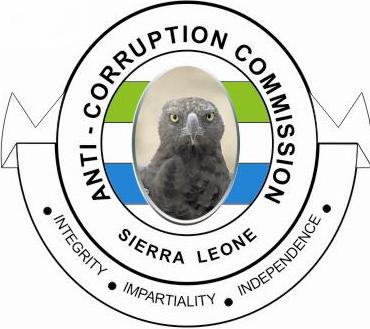 ANTI-CORRUPTION COMMISSION
CATHEDRAL HOUSE
3 GLOUCESTER STREET
FREETOWN
SIERRA LEONE, WEST AFRICA
TEL: 232-22 221468
FAX: 232-22 221900
16th October, 2015   
PRESS RELEASE
ACC ARRESTS TOWN CHIEF IN BUMPE NGAO CHIEFDOM AND A TEACHER FOR ALLEGED CORRUPTION OFFENCES
The Anti-Corruption Commission (ACC) wishes to inform the general public that the town chief of Bumpe town in Bumpe Ngao Chiefdom John Nabib and a teacher Joseph Kposowa have been arrested in respect of allegations of soliciting monies from beneficiaries of the Social Safety Net (SSN) Project.
The Social Safety Net Project is a programme implemented by the National Commission for Social Action (NaCSA) designed to alleviate poverty and targets the rural poor and vulnerable by providing direct cash transfer to improve their livelihoods. The project is being supported by the Government of Sierra Leone, World Bank and UNICEF. The Anti-Corruption Commission is implementing the Grievance Redress Mechanism component of the project.
The town chief of Bumpe town and the teacher were caught directly by ACC officials extorting monies from the beneficiaries that have received payment under the SSN project.
Councilor Michaelson Mawendeh of Ward 253 has reportedly gone into hiding to avoid being arrested by ACC officials for the same offence of soliciting monies from the underprivileged beneficiaries of Bumpe Ngao Chiefdom.
The Commission assures the general public of its commitment in the fight against corruption.
……………………………………………..
PATRICK SANDI
DEPUTY DIRECTOR, PUBLIC EDUCATION AND OUTREACH