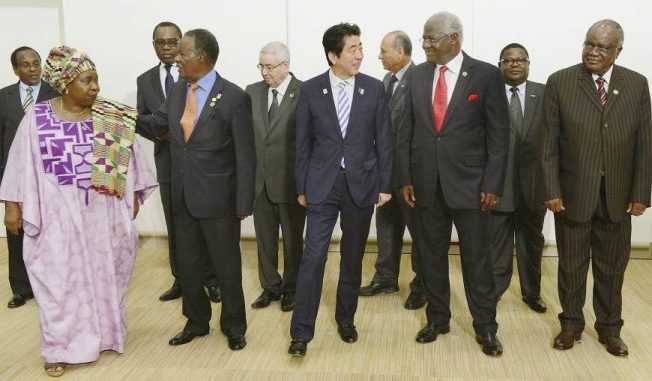 By KABS KANU :
Sierra Leone's President, His Excellency Dr. Ernest Bai Koroma today took centre stage at the  Tokyo International Conference on African Development (TICAD)-5 as he chaired a crucial meeting during which he continued his advocacy for permanent seats  and other rights and prerogatives  for Africa in the United Nations Security Council . President Koroma is the Chairman of the African Union Committee of 10 ( C-10 ) , which is advocating and promoting the African Common Position in the ongoing intergovernmental negotiations for UN Security Council reform.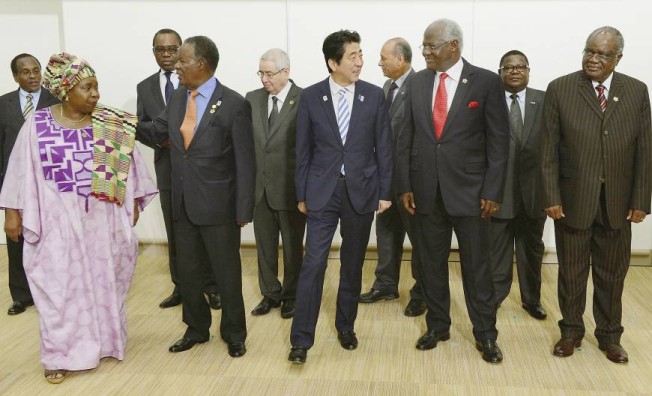 Honored guests: Prime Minister Shinzo Abe escorts Sierra Leone President Ernest Koroma (front row, right), African Union leader Nkosazana Clarice Dlamini-Zuma (front row, left) and other representatives from African countries prior to the Japan-Africa summit Monday on United Nations Security Council reform at the Tokyo International Conference on African Development in Yokohama. PHOTO CREDIT : THE JAPANESE TIMES
In the  first meeting between leaders of Japan and African nations on U.N. Security Council reform, President Koroma was once again certain  to have promoted the African Common Position in consonance with the Ezulwini Consensus and the Sirte Declaration. Africa is advocating  for no less than  2 permanent seats in the Permanent Category with all the rights and privileges of permanent membership, including right to the Veto, if it continues to exist; Secondly, Africa is advocating for five non-permanent seats , with the AU being responsible for the selection of Africa's representatives .
President Koroma's position has always been that "There is an increasing need for the Security Council to be more representative, inclusive, and democratic as well as the need for an improvement in its working methods and its relations with the General Assembly." The President also believes that "The present status quo is increasingly unacceptable and has the potential of undermining the legitimacy, effectiveness and efficiency of the Council's work in maintaining international peace and security ". It is also President Koroma's belief that "A reformed Security Council …would pave the way to correct the historical injustice to Africa through the allocation of two Permanent  seats and five non-Permanent seats to Africa …" ( Statement during the 66th Session of the UN General Assembly in 2011).
The JAPANESE TIMES newspaper said that : "While details of the meeting were not disclosed to the media, a Foreign Ministry official said both sides agreed to intensify efforts and work closely to attain their goals."  Though the media was not told exactly what the leaders discussed , the Yokohama Declaration 2013,  which world leaders at TICAD-5 adopted today stated : "We reaffirm our determination to urgently reform U.N. bodies, including the Security Council, and will maintain political momentum through enhanced dialogue to find the best approach. "
The Special Executive Assistant to the President , Dr.Sylvia Olayinka Blyden, in a remark in the social media told Sierra Leoneans : "You all should have seen your President, the great Ernest Bai Koroma, making us proud as he spectacularly chaired the Summit of Heads of States to discuss UN reform. "