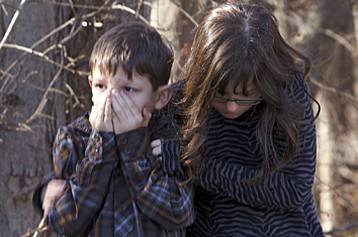 There has been a horrifying massacre  at the Sandy Hook Elementary School in Newtown, Connecticut where a masked gunman has allegedly massacred 20 kids and 6 adults in one of the worst  massacres in the country. The gunman killed himself and a dead body was also found in his home , making a total of 28 deaths.
CHILDREN BEING RESCUED FROM THE SCHOOL
TV stations early this morning started bringing out snippets of the story but at the time it was thought not to have been a very serious incident as it was reported that a principal had been shot in the foot and had been taken to the hospital while the  gunman had been killed. As time went on however , the macabre details started to emerge after it was known that a whole kindergarten class had been unaccounted for, after Police swat team stormed the school and shepherded the students to the safety of a nearby fire station.
There are devastation , sorrow and outrage across the U.S.  right now .
The news is still breaking and we will bring you more details.