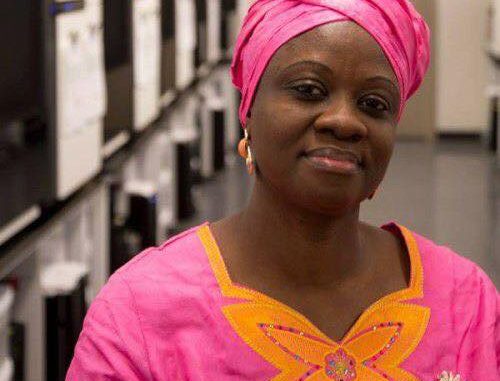 The former Minister of Social Welfare, Gender and Children's Affairs, Dr. Sylvia Blyden, who is a celebrated expert in computer and Information Technology, has raised many red flags about the so-called "enhanced measures in the electoral process " announced yesterday by the Chairman of the National Elections Commission ( NEC ) , Mr. Mohamed Nfa Allie, in the wake of fears that he and some agents of regime change at home and among international stakeholders are planning to rig the presidential runoffs tomorrow on behalf of the opposition Sierra Leone People's Party ( SLPP).
The High Court of Sierra Leone early this week ordered the NEC  to adhere to constitutionally-given procedures in counting and tallying the votes , including manual counting and entry of data, but it is clear that Mr. Nfa Allie is bent on running the show his own way.
This was the NEC PRESS RELEASE YESTERDAY :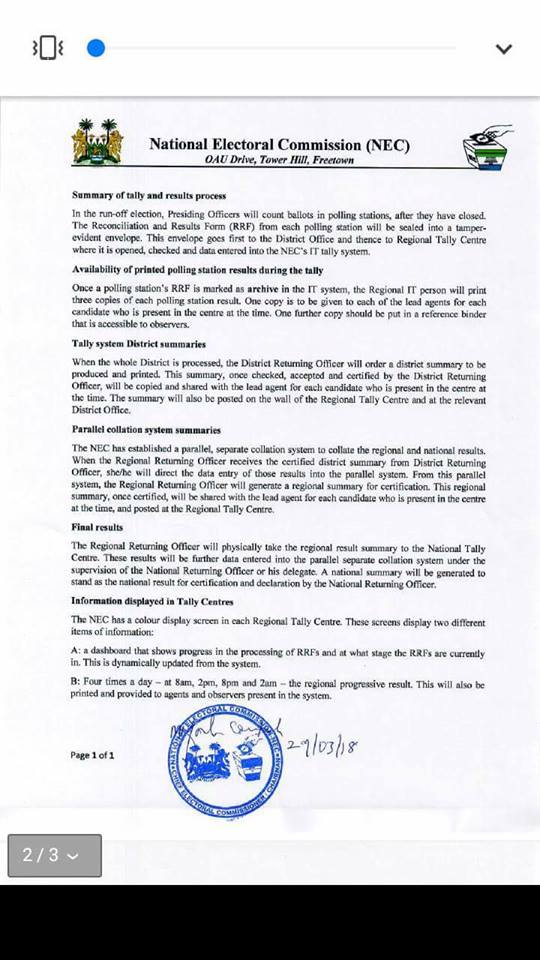 READ WHAT DR. SYLVIA BLYDEN THINKS OF THESE SO-CALLED ENHANCED PRESSURES BY NEC.
FROM DR. SYLVIA OLAYINKA BLYDEN,

‼
‼
‼
I have seen VERY misleading information saying NEC will run a parallel tallying system. Well, it is very wrong and misleading! The current NEC under Nfa Alie Conteh, is one that has a criminal mindset. Very tricky chaps! Read what Conteh states on Page 1 of that his press release and the impression he gives is that the parallel system will be for the ENTIRE PROCESS from primary entry of polling station data at District Levels.

Not so?

Well, turn to Page 2 and see that he only intends to start parallel tallying AFTER THE PRIMARY DATA ENTRY IS DONE VIA VPN!!!! At which point, parallel tallying is useless.
‼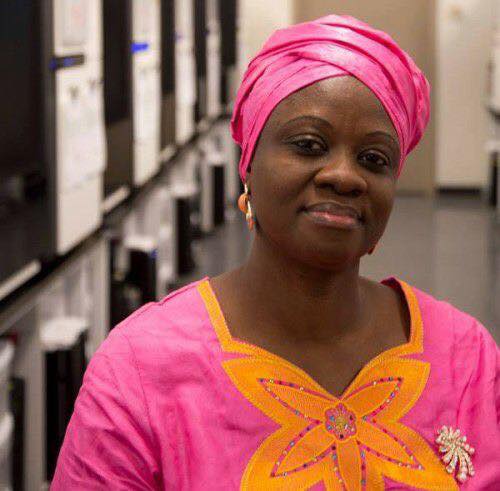 DR. SYLVIA BLYDEN 
You see, at the point of primary data entry level, is where the numbers could be easily changed from Freetown NEC headquarters or via anyone with VPN hacking skills.
NEC has already confirmed to APC that a number of their staff have universal access from Freetown into any tallying done anywhere!!! Yes. They confirmed that they are doing that.

They also confirmed to APC that they have access from Freetown to change any numbers for any polling station after it has been entered into the Tally system!
They however assure us that the ones with universal access to change figures, are NEC staff who have "high integrity" and will not change numbers. Do you believe them? I DON'T!!! 
😡 
😡
HOWEVER, even if we believe they (NEC staff) will not change the figures, what guarantee do we have that someone will not hack the VPN connection with access codes given to the hacker and do the manipulation from an external source which logged on to the VPN?
If we accept this VPN link, we are doomed guys!
And by the way, VPN can be outside of Internet.

♨ So with or without Internet, their VPN can operate!!!
A VPN (Virtual Private Network) can be built on the backbone of ordinary microwave radio links.
The least we can accept is for the parallel tallying to commence from the input of the raw polling station data at district level tallying! NOTHING LESS!!!
Their plan to rig is very simple.
SO SIMPLE HOW THEY DID IT ON MARCH 7TH
Now we know how they did it, we can stop them!!!
As citizens, we can band together to stop them by demanding the primary data entry *OF POLLING STATION RESULTS AT DISTRICT LEVELS* is done outside of all external port access including VPN!
Feel free to share!
*From Dr. Sylvia Olayinka Blyden, OOR.*

‼
‼NB: There is a raised level of fake posts from mischief-makers signing my name under trash articles including one nonsensical untrue piece this morning about mercenaries from South Africa. For those who want to crosscheck, I am releasing my private WhatsApp Number to the public so anyone can crosscheck with me on authenticity of posts with my name. My private WhatsApp number is as follows:- +232-30-999000. I don't pick up that number so don't bother to phone the number but I read most WhatsApp messages sent to it. Thank you.