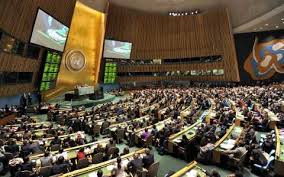 Acting on the recommendations of its General Committee, the General Assembly this morning adopted the work programme and agenda for its sixty-ninth session, which contained 172 items, and endorsed the recommendation that its general debate would be held from 24 to 27 September and from 29 September to 1 October.
The 69th Session of the United Nations General Assembly has started at the UN Headquarters in New York.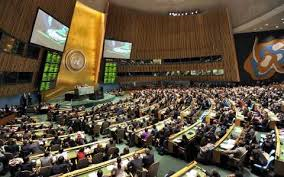 Sierra Leone, though affected  by an Ebola outbeak that is also being fought  in  Liberia, Guinea and Nigeria , has sent a delegation , headed by the Minister of Foreign Affairs and International Cooperation , Dr. Samura Kamara. Among high-level officials in the delegation are the Minister of Finance, Dr. Kaifala Marah, the Director General of the Ministry of Foreign Affairs, Ambassador Andrew G. Bangali , Sierra Leone's Ambassador to the United States, H.E. Bockarie Kortu Stevens and the Permanent Representative to the UN, H.E. Vandi Minah.
According to the UN Department of Public Information,  "Among the topics to be considered in the current Assembly session were several new ones, including:  follow-up to the Programme of Action of the International Conference on Population and Development; no placement of weapons in outer space; cooperation between the United Nations and the Commonwealth of Independent States; and the seventieth anniversary of the end of the Second World War.  It was also decided that items on observer status for the Developing Eight Countries Organization for Economic Cooperation and for the Pacific Community would be included in the work programme. "
The Department disclosed further that "The Question of the Comorian Island of Mayotte was included on the understanding that the matter would not be considered.  The Assembly also deferred consideration of the Question of the Malagasy Islands of Glorieuses, Juan de Nova, Europa and Bassas da India to its seventieth session. "
Continuing, the Department further disclosed that  " During approval of various items in the agenda grouped under Heading B of the document, concerning maintenance of international peace and security, Armenia's representative disassociated his delegation from the consensus to include an item on "The situation in the occupied territories of Azerbaijan".
According to the Department :  "The Assembly decided that the delegations of the Holy See and the State of Palestine would participate in the sixty-ninth session as observer States, and that the European Union would participate in the work of the session as an observer. Lastly, the Assembly decided to appoint the same members of its Credentials Committee for its sixty-ninth session to the Credentials Committee of its twenty-ninth special session on Follow-up to the Programme of Action of the International Conference on Population and Development beyond 2014, scheduled for 22 September 2014.  Those members included:  Brazil, China, Bangladesh, Denmark, Jamaica, Namibia, Senegal, Russian Federation and the United States. "
The Assembly will reconvene at 3 p.m. to consider a draft resolution on global health and foreign policy.