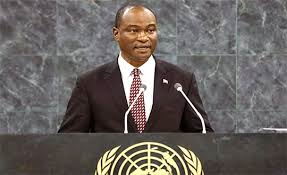 By KABS KANU AND PASCO TEMPLE–
Due to the massive efforts he is engaged in to contain the Ebola scourge in Sierra Leone, His Excellency President Ernest Bai Koroma will not be attending this year' s United  Nations General Assembly.
A strong delegation  representing Sierra Leone at the Assembly has however  arrived in New York.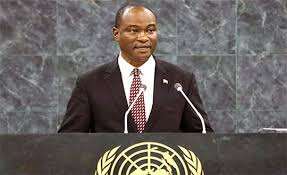 FOREIGN MINISTER SAMURA KAMARA
The delegation is led  by the Minister of Foreign Affairs and International Cooperation, Dr. Samura Kamara. Other members of the delegation include the Minister of Finance, Dr. Kelfala Marah; the Director General of the Ministry of Foreign  Affairs and International Cooperation, Ambassador Andrew G. Bangali ; the Director of the International Division , Mr. Duwai S. Lungay and Mr. Mannah Kpukumu.  Sierra Leone's Ambassador to the United States , Ambassador Bockarie Stevens , the Permanent Representative to the United Nations , Ambassador Vandi Minah ,  the Deputy Permanent Representative ( Political ) Ambassador Amadu Koroma  and Head of Chancery  Mr. Alhusine Sesay will also form part of the delegation. The following dignitaries are also members of the delegation :
Hon. Mr. Augustine B. Torto, MP – Chairman of Parliamentary Oversight Committee for Foreign Affairs
– Hon. Mrs. Helen Kuyembeh, MP – Coordinator of the SL Parliamentary Action Group on Population & Development (SLPAG/PD) Leading the Group (including Dr. Lynda Foray; Mr. Mohamed K. Lebbie of MoFED; and Rev. George-Buannie) attending the International Conference on Population and Development (ICPD)
– Mrs. Haddijatou Jallow, Executive Chairperson of the Environmental Protection Agency (EPA/SL) Leading the group (including Director Mr. Momodu Ankrah Bah of MLCP& the Environment; Mr. Aiah Wurie Kembay; Ms. Fatmata Abu-Bakarr Sesay; and Ms. Asmaa James) attending the SG's Climate Change Summit and related Side Events.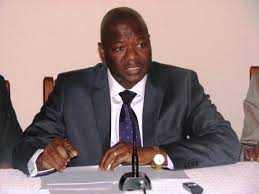 FINANCE MINISTER KELFALA MARAH
The 69th session of the General Assembly  opened at the UN headquarters last  Tuesday and   its first meeting was opened by Session President, Uganda's former Minister of Foreign Affairs Sam Kutesa Kahamba. The Secretary General of the UN, Ban Ki Moon and delegates representing 193 UN Member-Nations attended the first sitting.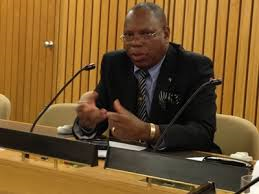 DG ANDREW BANGALI
WE WILL BRING YOU A COMPREHENSIVE COVERAGE OF THE GENERAL ASSEMBLY.