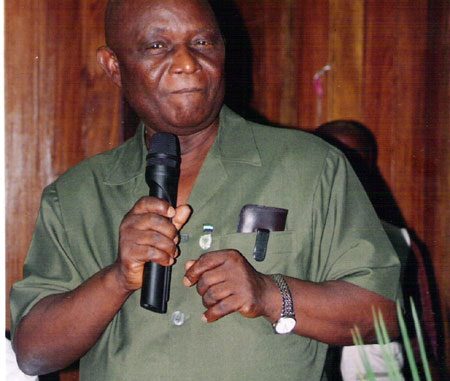 Tribute To Solomon Berewa
By Sorie Fofana
I first met Solomon Berewa in 1996 when he was serving as the de facto spokesman for the SLPP Presidential candidate, Ahmad Tejan Kabbah. I was the News Editor of the Vision Newspaper which was owned and edited by Siaka Massaquoi.
I arrived at the newspaper office one morning only to be asked by Mr. Massaquoi to accompany him to a meeting with Tejan Kabbah's inner circle at their campaign headquarters at Roxy Building on Walpole Street in Freetown. We met Tejan Kabbah, Solomon Berewa, George Banda Thomas and Sulaiman Tejan-Jalloh already waiting to meet with us.
After the usual exchange of pleasantries and formal introductions, Berewa informed us that, they wanted us to meet with the party's flag bearer because he was not getting enough media coverage of his campaign activities.
Tejan Kabbah told us that perhaps he was not getting enough media coverage because the party had no budget for media coverage. He was damn right!
Siaka Massaquoi agreed to publish Tejan Kabbah's profile for a start. This was intended to let people know the man who was flying the SLPP flag in that year's crucial multi-party democratic elections. The headline in our subsequent edition was, "Who Is This Tejan Kabbah?" It sold out like hot loaves of bread. From then onwards, the Vision Newspaper became the greatest supporter of the SLPP Presidential candidate.
Berewa As Attorney General
After the SLPP's Ahmad Tejan Kabbah won the Presidential run-off elections against the UNPP's John Karefa-Smart, Solomon Berewa was appointed Attorney General and Minister of Justice. He held that position throughout the first inning of Tejan Kabbah's Presidency (1996-2002).
After the military coup of 25th May 1997, Berewa fled to Guinea to join his boss in exile. Even in exile, Berewa was still considered as one of Tejan Kabbah's most reliable political allies. He was always with Tejan Kabbah through thick and thin.
When Kabbah returned from exile on 10th March 1998, he sacked nineteen members of his Cabinet. Berewa was among a few Ministers that survived that Cabinet tsunami.
Berewa was the lead prosecutor of all those who collaborated with the AFRC/RUF regime between 25th May, 1997 and 10th March, 1998. As a young Journalist then, I witnessed several of those prosecutions in open court. I recall Berewa's presentation of his case against Pastor Victor Ajisafe of Sanctuary Praise Church who was charged with Treason. Berewa told the court that Pastor Ajisafe was praying fervently for the coup to succeed that's why he was charged with Treason. The trial Judge disagreed with Berewa saying that, "Prayer does not constitute Treason". Berewa was an excellent criminal Lawyer. He was highly respected by his colleagues for his brilliance.
Berewa-The Running Mate
Kabbah had made up his mind to appoint Berewa as his running mate in the 2002 elections. Nobody was going to stop that! Even though the decision was not a popular one within SLPP circles, Kabbah insisted that voters do not normally vote for Vice Presidents. Kabbah got away with that because he was very popular both in the party and in the country.
I had a very difficult encounter with Berewa one evening at Kabbah's Hill Station residence. This was before Berewa was appointed Running mate. Kabbah had invited me for dinner. This was something he did all the time. Berewa joined us for dinner. I thought that was a deliberate move by Kabbah.
After the three of us had had dinner together, Berewa told Kabbah in Krio, "HE, Sorie nor dae for mi oh". Kabbah turned and said, "Sorie, you yeri wae tin Solo say? I retorted by saying that, I was not supporting Pa Berewa because he was not popular in the party. Kabbah said, "Ar want mek oona wok togeda. Solo, nor forget Sorie oh…Na mi man". After that meeting, Pa Berewa and I became very good friends!
VP Solomon Berewa
After the 2002 elections, Solomon Berewa became Vice President of the Republic of Sierra Leone. He was a very powerful Vice President. Kabbah had become very tired. He allowed Berewa to govern the country. On many occasions, Berewa would chair Cabinet meetings. Kabbah trusted Berewa by referring almost all State matters to him. He trusted in Berewa's ability and judgment to effectively govern the country.
When it came to the issue of succession, Kabbah had no one in mind but Berewa. Supporting Berewa to succeed him as leader and flag bearer of the SLPP was a decision that Kabbah did not take lightly. But he later told some of his friends that he wished he had not supported Berewa to succeed him as leader and flag bearer of the SLPP.
Berewa's decision to delay the announcement of his running mate in 2007 was partly responsible for the breakdown of trust between him and Kabbah. Kabbah told me in South Africa in June 2010 that, it was a deal between him and Berewa to appoint Momodu Koroma as running mate.
Berewa told me in London in 2007 that Kabbah forced him to appoint Momodu Koroma as his running mate. His choice was Kanja Sesay, whom he fondly called, Kanjus.
Berewa-The Patriot!
After the disputed 2007 Presidential run-off election results were announced, Berewa immediately conceded defeat, and congratulated the declared winner, Ernest Bai Koroma of the APC. That was the most courageous decision to have been taken at the time by Berewa. He demonstrated love for his country, by putting its interest above his personal interest. Ambassador Dr. Lansana Gberie, in his tribute, described Berewa as "a deeply thoughtful man". It could not have been better put!
Berewa Arrives In London
After accepting the outcome of the flawed 2007 Presidential run-off election, Berewa travelled to the UK to take a well-deserved rest at Bradford University.
When he arrived at Gatwick Airport, I picked him up in my private car and drove him to King's Cross Station where he boarded a train for Bradford.
On our way to King's Cross Station, Berewa told me that, Kabbah's decision to stay neutral in the run-off election cost him the Presidency. He was very furious at the time. I tried to calm him down by saying that, God did not want him to become President. I knew he was a very religious man.
Berewa's loyalty to Kabbah was beyond reproach. I recall a meeting we attended in London with the British Secretary of State for International Development, Hilary Benn. Benn insisted at that meeting that if the Government of Tejan Kabbah refused to allow the ACC to charge a Minister in Kabbah's government, the British Government would slash £5M from the budgetary support they had planned to disburse to the Government of Sierra Leone.
Berewa insisted that there was no way the Government was going to change its position. I admired Berewa's tenacity on that occasion. After the meeting, he telephoned President Kabbah and told him about the outcome of the meeting.
Berewa reported to us (Dr. Kadie Sesay, Ambassador Sulaiman Tejan-Jalloh and Yours truly) the outcome of his telephone conversation with President Kabbah. He said the President was very pleased with the position he took.
We have lost a great Sierra Leonean. Berewa was a patriot and a very selfless man. The SLPP should be proud of his enormous contributions to the Nation. He died as a proud member of the party.
Rest in Peace, Pa Berewa!