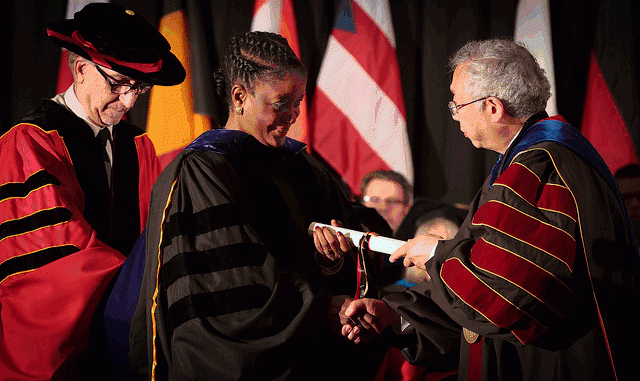 By KABS KANU :
Sierra Leone's Former Minister of Foreign Affairs and International Cooperation who  later became Minister of Health before her international appointment as the Special Representative of the United Nations Secretary General on Sexual Violence in Conflict , Mrs. Zainab Bangura,  was last Friday , conferred the honorary  degree of Doctor of Laws  by Ursinus College, during the institution's Commencement Program at Collegeville in Pennsylvania , USA. The SRSG is now officially Dr. Zainab Bangura.
Dr. Bangura also gave the commencement address .
The Commencement Ceremonies  were followed by a well attended reception hosted by Dr. Fong, President of Ursinus College and Joseph H. Melrose, Jr. former United States Ambassador to Sierra Leone
The colorful ceremony was witnessed by family, friends, well-wishers and workmates of the SRSG . Also present were the Deputy Permanent Representative ( Political ) of the Permanent Mission of Sierra Leone to the UN, Ambassador Amadu Koroma , former U.S. Ambassador to Sierra Leone, H.E. Joseph Melrose  and the President of the All People's Congress ( APC ) New Jersey Chapter, Mr. Pavi Jalloh and the Secretary General, Mr. Alimamy Turay. Also present was Mr. Omar Kuyateh of Maryland.
Asked by this writer to describe Dr. Zainab Hawa Bangura's commencement address, Mr. Pavi Jalloh stated the following : "Her commencement address challenged the graduates to face the world with humility and hope.  To use their education and experiences at Ursinus College to change the world for a better future for all.  Madam Bangura, the United Nations Secretary General's Special Representative for the eradication of sexual violence in conflict, used the opportunity to showcase the life changing and positive transformation taking place in Sierra Leone.  She eloquently shared the opportunities for investment in Sierra Leone and the nation's increased focus on education, business, healthcare, infrastructural development, and a vibrant climate for growth of its citizenry in a democratic and transparent environment".
According  to a review by Google   : "Founded  in 1869, Ursinus  is a private liberal arts college of 1,750 students, most of whom are resident on the 170 acre campus. Ursinus is ranked in the top tier of national liberal arts colleges" .  Ursinus College is  "A highly selective independent, coeducational, four-year liberal arts college. Best known for: pre-professional preparation for the fields of medicine, the sciences, …" 
We will publish  the commencement address delivered by Dr. Bangura in our next installment.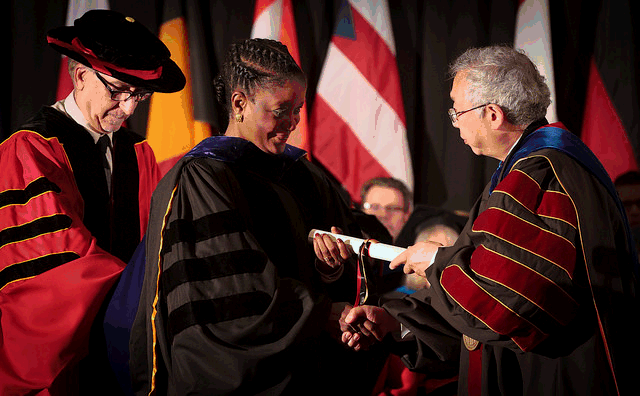 PHOTO : THE DEGREE BEING CONFERRED ON DR. ZAINAB BANGURA :
BELOW IS THE CITATION OF THE AWARD FROM THE COLLEGE :
Ursinus College
Collegeville, Pennsylvania
Commencement Citation
May 16, 2014Zainab Hawa Bangura
Zainab Hawa Bangura  — you have risen from very humble beginnings, as the only child of an illiterate mother in an obscure West African village, to become a champion of oppressed people, particularly women, all over the world.
You have served your community, your country, your continent and the world for over two decades.  While your native Sierra Leone was ravaged by conflict you "stayed the course", and rallied civil society groups to continue supporting the cause.  Your actions inspired others not to despair but to "do something – anything" to help keep the light on during the darkest hour.  You went on to serve your country, first as Minister of Foreign Affairs and International Cooperation and then as Minister of Health and Sanitation where you were instrumental in developing a national program for affordable health.  You served your continent with the United Nations Mission to Liberia where you worked on community reconciliation, creating an active civil society and developing effective governmental institutions.
Now at the United Nations, as Special Representative of the Secretary General on Sexual Violence in Conflict, you serve the world with a mandate to combat the use of rape as a weapon of war and develop a coherent global strategy to fight all forms of sexual violence.  The passage of Security Council Resolution 1960 put into place systems to monitor, analyze and report on conflict related sexual violence so that those responsible could be held accountable.  This was a milestone achievement but it was your appointment and the leadership, commitment and keen sense of fairness you brought to the job that turned a resolution  into a reality.
While it is far less known than your other accomplishments, but no less important, you were  instrumental in helping the world and the Special Court for Sierra Leone to understand and prosecute crimes against women, particularly forced marriages and gender based violence.  There is no doubt that those efforts were a major factor in the passage of recent Security Council and General Assembly Resolutions on this issue.  As you have stated, your goal is nothing less than the eradication of rape in war.  We stand with you today in common cause and applaud your efforts.
Mr. President: in recognition of a life of service to her community, her nation and the world, particularly the many women who suffer from maltreatment and inequality, it is my honor to present Zainab Hawa Bangura that you may confer upon her the honorary degree of Doctor of Laws.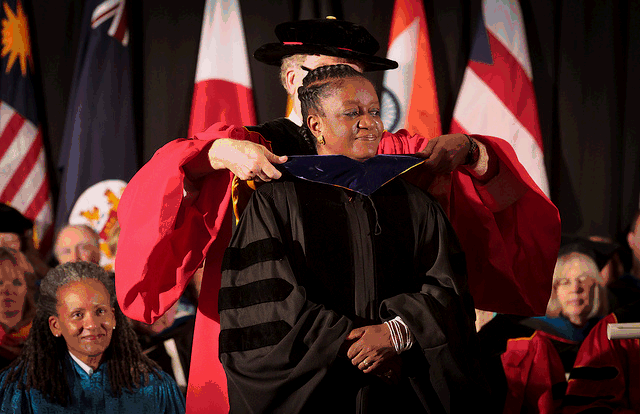 THE HONORARY PH.D DEGREE BEING CONFERRED ON MRS. ZAINAB BANGURA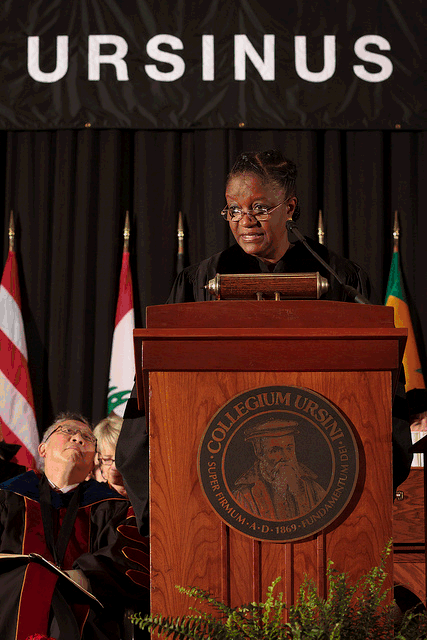 DR. ZAINAB BANGURA GIVING THE COMMENCEMENT ADDRESS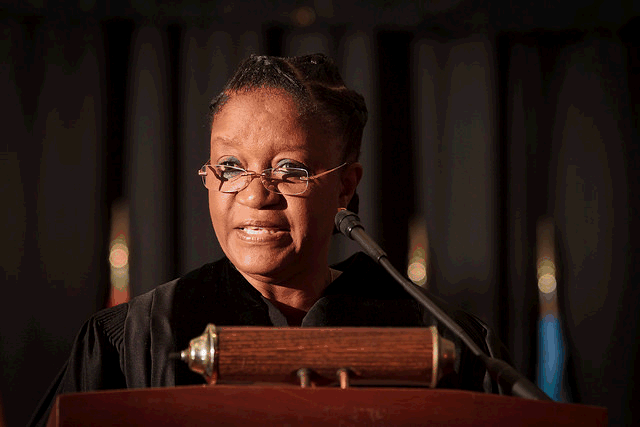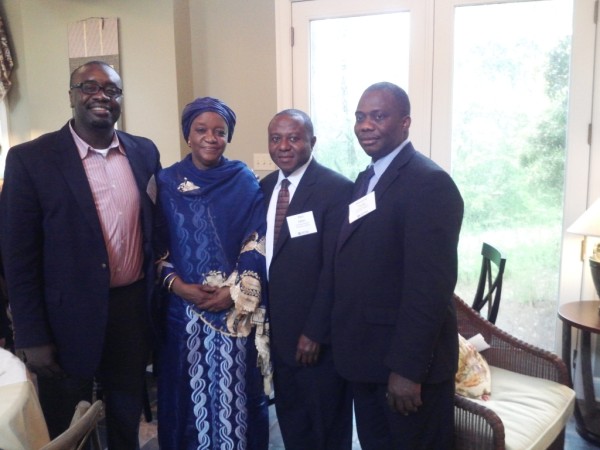 Amara Omar Kuyateh, Dr. Zainab Hawa Bangura, and Messrs  Pavi Jalloh and Alimamy Turay