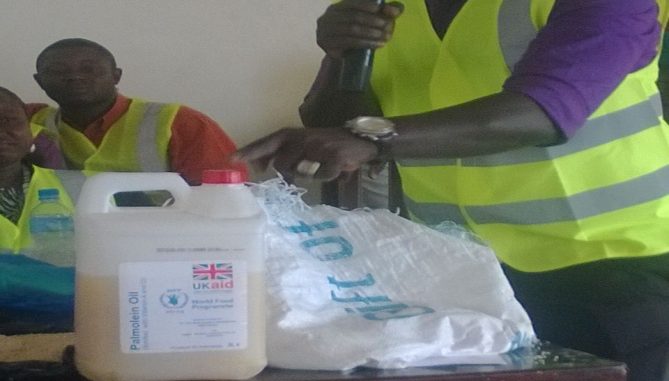 By Tamba Borbor : 
The Chairman of the All Political Parties Association (APPA) in Sierra Leone , Mohamed Bangura,   who also is Leader of the United Democratic Movement (UDM) has publicly accused the World Program (WFP) of supplying inadequate, rotten and substandard food to Ebola affected persons in the country.
Mohamed Bangura during a public disclosure of the findings of the APPA in Freetown said "the food supplied by the World Food Program (WFP) to quarantined homes across the country could serve as the next 'virus' that will kill Sierra Leoneans in droves". According to him, the food provided by the United Nations Agency is of such bad quality that affected persons in quarantined homes across Sierra Leone have started complaining of causing harm to them.
The Acting APPA Chairperson in a very angry mood complained to media men in Freetown that blasted WFP for what he described "fictitious and uncanny" or renowned-world organization such as the WFP to resort to such "horrendous act" of what he referred to as "poisoning victims of the dreaded Ebola crisis facing the country".
Mohamed Bangura made this disclosure after a week-long monitoring process undertaken by the APPA that looked into the welfare of affected persons, especially those in quarantined homes throughout the country.  He explained that the rice among other food items supplied by the international agency of the United Nations is so quality deficient that "it may worsen the conditions of victims rather than aid them, he noted. "We contracted the services of experts who told us that the rice supplied to victims by the Agency is expired, of low quality and had been in warehouses for close to ten years" the Chairman said in awe during the press briefing in Freetown.
The APPA he said, does not regard the food provided the victims as gift from WFP as according to him, "the agency has received millions of dollars from the United Nations and other donor partners around the world to provide quality food support quarantined homes as well as other affected persons in the country." That the agency now resorts to this feeding the people with substandard food begs the question of "requisite appropriation of donor funds" he remarked.
Other findings of the investigation by the APPA reveal that there is no food provision for children under—fives; no medical provision for quarantined pregnant women across the country and that security system for the quarantined homes is inadequate. "People in quarantined homes are still doing their normal trading to other members of the public which is a very dangerous and counterproductive phenomenon to the progress being made by the government and partners in the fight to break the chain of transmission he said.
Meanwhile, local media reports alert that such developments in the ongoing fight against Ebola has the tendency of creating social unrest affected people are blaming the government for supplying them expired and rotten foods they believe in due course kill them if they survived the virus.