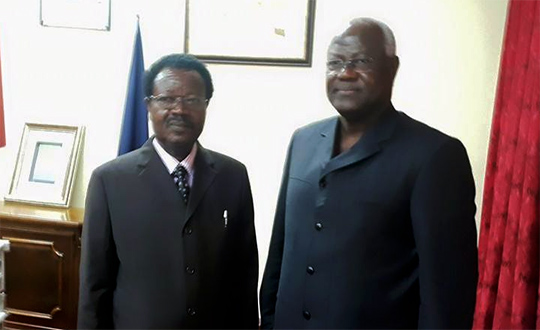 Sierra Leone's Vice President, Ambassador Victor Bockarie Foh has informed indigenes of Port Loko district that the growth and survival of the governing All People's Congress is as a result of the untiring work, commitment and dedication to service by the founding fathers of the party, including, but not limited to people like the late SI Koroma, Siaka Stevens and CA Kamara-Taylor of blessed memories.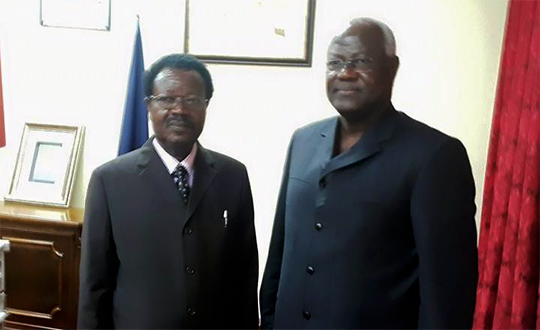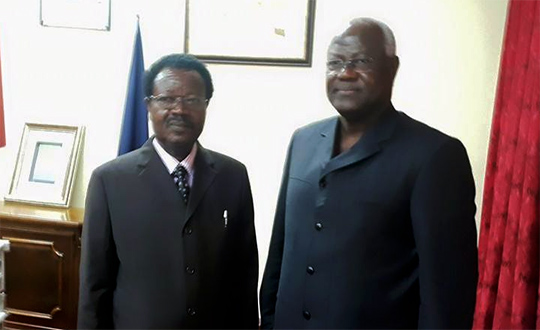 Vice President Foh spoke on Friday, 17th April, in Port Loko Township, during a tour to Kambia and Port Loko Districts being part of the Ebola Social Mobilization drive, which was initiated by His Excellency President Ernest Bai Koroma. The visit was also aimed at visits to Education Institutions in both districts to encourage reopening of all schools and other educational institutions in every corner of Sierra Leone.
Addressing hundreds of indigenes of Port Loko, including Members of Parliament, Ministers, Paramount Chiefs, and party members, VP Foh said, because of the good works of Sorie Ibrahim Koroma for Sierra Leone and the governing All People's Congress (APC), there is need to always remember him and pay outstanding tributes to him (SI- as he was fondly known) and all the Founding Fathers of our glorious party.
"We should be grateful to those who have worked hard for the growth of our Party, and that is why I am here to pay respect to late SI Koroma. My coming here is a home coming for me and my wife who is a citizen of Port Loko". Vice President Foh promised to visit Tonko Limba, the birth place of the late Siaka Stevens and C.A Kamara-Taylor.
Vice President Foh reiterated his promise to be loyal to His Excellency President Ernest Bai Koroma, and the people of Sierra Leone in a bid to execute the President's Agenda for Prosperity and move the country forward especially in line with the country's growth trajectory-the Agenda for Prosperity.
Speaking further, VP Foh underscored the significant role Paramount Chiefs play in state governance, stressing however, that Paramount Chiefs are not politicians "but as a government and party, the APC will always respect the institution of Chieftaincy". He called on the people of Port Loko to continue displaying religious tolerance saying, "…as a country, Sierra Leone has enjoyed tremendous degree of religious tolerance and we should not allow this to disappear"
In both Port Loko and Kambia districts, Vice President Foh commended the people for their resilience in working towards a zero case of Ebola in those parts of the country, saying the efforts of His Excellency the President should be complement by all and sundry.
VP Foh also encouraged parents to send their children to school, whilst promising school administration and students, in all the schools he visited that whatever challenges they now are facing , government will do all it could to address such challenges.
Ambassador Foh also used the meetings in both Port Loko and Kambia to inform people about the efforts of His Excellency the President in eradicating the virus and in working towards ensuring a full post Ebola recovery drive and the recent meeting he had with World Bank and President Obama of the United States of America.
In both Port Loko and Kambia, the Vice President was briefed by the District Ebola Response Centres on the status of the virus in the country. From all indications, Ebola will soon be kicked out of Sierra Leone.
Since April 15, Vice President Foh has embarked on Schools Visitation Exercises in the Western Area in a bid to monitor the effectiveness of attendance and teaching following the reopening of schools on the 14th of April. Schools visited include the Ahmadiyya Secondary School, Muslim Congress, Methodist Boys High School, St Joseph's Convent and the Milton Margai College of Education, amongst many.
During his visit to Kambia and Port Loko districts, Vice President Foh was accompanied by a number of Government Ministers, including Education Minister, Dr Minkailu Bah, Minister of States, VP Office, Ministers of States-North and South, Ministers of Information, Youths Affairs, Social Welfare, and Acting Internal Affairs Minister, Siaka Tarawalie, and a host of Government dignitaries.