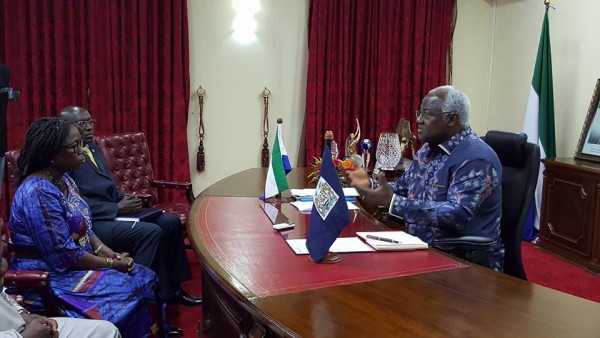 By State House Communication Unit
His Excellency President Dr Ernest Bai Koroma has said that when he assumed office in 2007, he committed himself to promoting and advancing the cause of Sierra Leone. He made this statement today 22nd October on the occasion of the courtesy call on him at State House by the Minority Leadership in Parliament led by the Minority Leader and Vice President of the Pan African Parliament (PAP) Dr Banadette Lahai.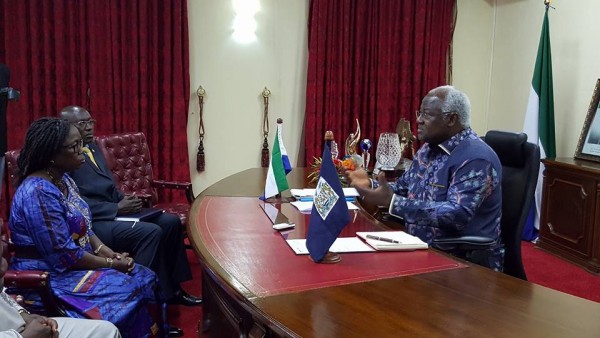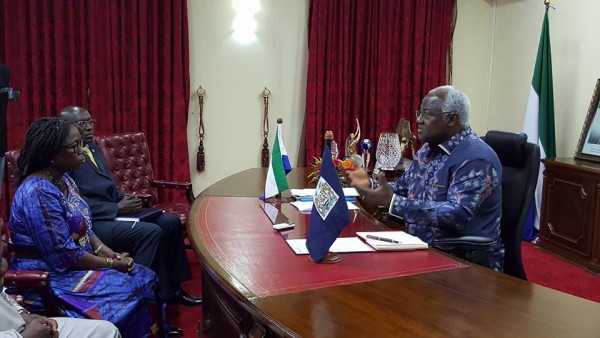 Receiving the delegation, President Koroma noted that Sierra Leoneans are proud of Dr Lahai as Vice President of the PAP, saying that a lot of citizens are now beginning to understand what goes on in the PAP. "These are the kinds of knock on effects that we get as a result of a Sierra Leonean occupying such a high office in the Pan African Parliament," he stressed.
The president assured that government will continue to provide support to citizens to help the country in its rebranding efforts. "We need to tell the world that, yes, we have had challenges, but we are moving forward as our people have shown a lot of resilience and determination," President Koroma pointed out.
He reiterated his commitment to continue to accommodate everybody including members of the opposition because no one region or tribe or political party can rule the country alone. "Politics is not a matter of life and death…Let's change the dynamics and see politics as a means to improve the welfare of our people," he stated.
Dr Banadette Lahai praised President Koroma for showing the highest level of political tolerance by supporting her to occupy such a position. She highlighted the issues discussed during the PAP session ranging from the Maputo protocol and climate change.
Dr Lahai also informed that for the first time she took SLBC to cover the sessions of the Pan African Parliament, which she noted, was very instrumental in letting the public know about the PAP.
She also informed that the presentation by all women delegates went down very well with the parliament which earned Sierra Leone tremendous respect among other member states of the PAP.