Deputy Health Minister Madina Rahman displaying the award she received from the Clinton Foundation for her role in the fight against Ebola
By Jackaria .O. Kargbo
The measure of Life is not in its duration, but in its donation; when you are serving others, life is no longer meaningless as no one achieves greatness without being of service. And it was John Cassis who said, "Nobody cares how much you know until they know how much you care."
It has been her passion from childhood, a passion she has followed through to become a nurse–to care and help save lives.
And when no less a person than the president Dr. Ernest Bai Koroma spotted the exceptional skills and attributes of Madam Madina Rahman, even though she was far away in New Jersey America, he called her home to help in the Ministry of Health and Sanitation.
Barely a year in her appointment as the Deputy Minister of Health and Sanitation II, her outstanding performance and service has not gone unnoticed even at such a difficult time at that Ministry and in the nation when Ebola struck, leaving heavy grief in the hearts of so many families.
She has singled herself so much with her altruistic efforts in the fight against this unprecedented Ebola outbreak that struck Sierra Leone and West Africa, thereby earning international recognition from the Clinton Global Citizens Award Foundation.
The Clinton Foundation embodies President Bill Clinton's Call to action by honouring outstanding individuals who exemplify global citizenship through their vision and leadership; and these citizens have proven that diverse sectors of society can work together successfully to devise solutions that effect positive, lasting social change.
This foundation is also committed to help support the government together with other partners to deal with the Ebola outbreak disease by mobilizing resources, facilities and providing direct relief, all in the direction to contain the virus.
When Madam Madina Rahman joined the Ministry of Health and Sanitation, it was as a Management Consultant in 2013 before being appointed Deputy Ministers II last year. Her appoint came as a result of President Koroma's desire to empower women in the governance structures of the nation. Elizabeth Staton puts it rightly when she said "Social Science affirms that a woman's place in society marks the level of civilization."
Having graduated from the University of Phoenix in 2012 with a Master of Science degree in Nursing after obtaining a Bachelor of Nursing Degree from the College of Saint Elizabeth in 2007 and qualifying as a professional Nurse in 2004, she had worked in different capacities in US organizations, earning a wealth of experience in her noble profession.
That such an honour has been a reward for her tremendous services came as no surprise to many and this speak volumes. Recently, she was also honoured by the West African College of Nursing (WACN) when she received an award of excellence in recognition of her incontrovertible contributions to the nursing profession and in the implementation of her duties as Deputy Minister of Health.
Surely, President Koroma would be feeling  proud of having such a personality as part of his team in not only the drive towards ensuring a viable and health system but also towards achieving the Agenda for Prosperity.
Earning such a popularity and name for herself and the government and in the process being rewarded globally for it is no mean feat and does not come cheap, as some people may want to look at it. It comes as a result of hard work and genuine determination of discharging her duties and responsibilities.
Speaking recently in Washington on the Post Ebola recovery drive at the Milken Institute School of Public Health, George Washington University, Madam Madina Rahman made this great statement, "our people are faced with stigmatization, symptoms such as Insomnia, anemia, visual Impairment, psychological impairment, orphans, high rate of teenage pregnancy, low educational levels, and trauma. We need to take care of them and provide survivors clinics, strengthening of our healthcare systems and regularize the general system to prevent future occurrences."
She has conducted herself in such a way that even the deprived and disadvantaged women on the street feel associated with her. She has made Sierra Leone proud, and we are proud of her.
Serving others is one of life's most awesome privileges as what we do for ourselves alone dies with us; what we do for others is timeless and it was Calvin Coolidge who said that "no man was ever honoured for what he/she received. Honour has been the reward for what he/she renders or gave."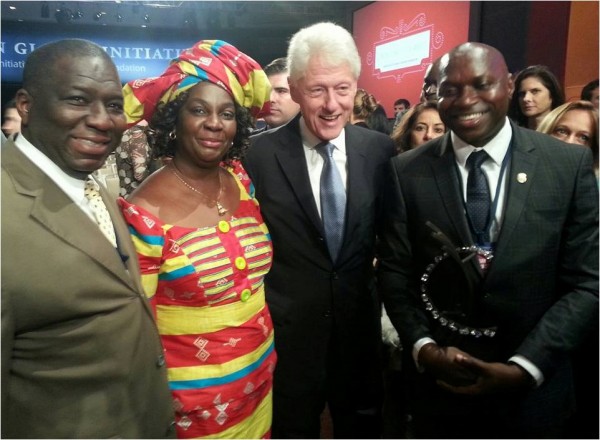 President Bill Clinton flanked by Deputy Health and Sanitation Minister II Madam Madina Rahman (left)