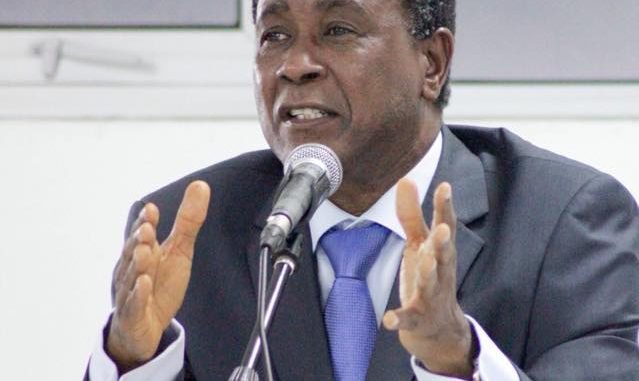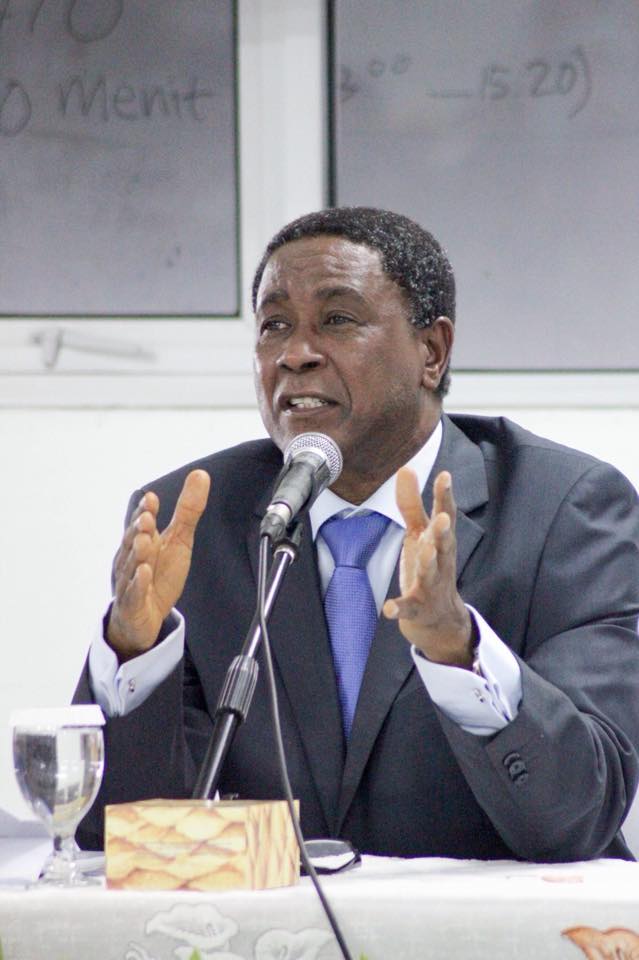 By KABS KANU
Mr. Alpha Sahid Kanu, Sierra Leone's  Minister of Information and Communications, is a man of excellent  intellectual pedigree, like  the other Sierra Leonean politicians given honorary doctorate degrees in recent times.  It is therefore an exercise in futility and irrelevance for anyone to even seek to justify why he deserves the honorary PH.D  he will be receiving from EUCLID University.
Minister Kanu  fully deserves the distinction.
Alpha Khan, as he is popularly known, may be a remarkable orator with a magnificent mastery of the Queen's language, and when he writes, he is a wordsmith . But he did not study liberal arts in college.  Hon. Kanu is an engineer par excellence trained in impressive British universities. He graduated as a science student from St. Francis Secondary School in Makeni . On graduation, he entered Fourah Bay College where he studied science subjects before doing his Masters degree in Geophysics at the University of Nottingham in the UK. Mr. Kanu even lectured at Fourah Bay College.
We therefore congratulate the minister on his achievement.
READ THE CITATION FOR HIS NOMINATION FOR THE DEGREE
In recognition of the remarkable achievements made in the areas of POLITICS AND SOCIAL WELFARE, as well as OUTSTANDING CONTRIBUTION IN THE SERVICE OF THE PEOPLE AND GOVERNMENT OF SIERRA LEONE, EUCLID (Euclid University), have receive nomination by a third party, has decided to award an Honorary Doctorate in Political and Public Affairs to the Honourable Alhaji Alpha Bakarr Sahid Kanu, Minister of Information and Communications and the official Government Spokesman of the Republic of Sierra Leone.
The Chairman of Yayasan Pendidikan Indonesia Wira Tata Buana Datuk Agung Sidayu nominated the above mentioned candidate based on his outstanding reputation, both locally and internationally. The Honorary Doctorate convocation will be organised in Freetown by YPI Wira Tata Buana as nominator, in association with local authorities, on December 2015.
Hon. Alhaji Alpha Bakarr Sahid Kanu is a Sierra Leonean politician and the then Sierra Leone Minister of Presidential and Public Affairs. He is also the official spokesman of the All People's Congress (APC) political party, a position he has held even before the APC came to power.
In January 2012, Hon. Alhaji Alpha Kanu was chosen by His Excellency President Ernest Bai Koroma to serve as Minister of Information and Communication in Koroma's new second term cabinet and is one of the closest and most trusted political advisors to the President.
Hon. Alhaji Alpha Kanu had served as Sierra Leone Minister of Mines and Minerals Resources from February 27, 2009, before he was appointed as Minister of Presidential and Public Affairs in a Cabinet reshuffled on December 3, 2010. Kanu was also an elected member of Sierra Leone House of Parliament representing Port Loko District from 2002 until 2007.
Hon. Alhaji Alpha Kanu is a mining engineer by profession. He graduated with a Master of Philosophy (M.Phil) in Geophysics from the University of Nottingham in the United Kingtom.EUCLID is a specialized intergovernmental organization established in 2008, holding a university mandate and charter published in the United Nations Treaty Series (certificates 49006/49007).
It is among the world's few "international / intergovernmental" universities, and a full member in good standing of the key academic bodies, including the Academic Council on the United Nations Systems (ACUNS), UN Academic Impact, and the Association of African Universities (EUCLID's headquarters being in Banjul, Gambia).
Among other services, EUCLID offers specialized distance-learning and online distance learningprograms to government-sponsored as well as general public students. Its goal is to prepare "expert leaders for international civil service and global careers." EUCLID's academic motto is "Let us also hear the other side (Audi et alteram partem in Latin)" and its vision statement for student development and preparation, both government-sponsored and general public is: "Become Globalized."
EUCLID's flagship program is its standard-setting online master in diplomacy and international affairs, or MDIA which has qualified many diplomats globally. EUCLID also offers doctoral-level programs in diplomacy, sustainable development and international public health, as well as a new joint degree program in international public administration.
Sierra Leone is one of EUCLID's Participating State under the signature of the Honourable Minister of Foreign Affairs and International Cooperation, Dr. Zainab Hawa Bangura who is now an Under Secretary-General of the United Nations. The EUCLID National Point of Contact Mr. Saidu Timbo, Deputy Secretary of the Ministry of Foreign Affairs and International Cooperation, and one of EUCLID's alumni is Dr. Phillip Donald Kargbo who is now serving at the State House of Sierra Leone.
For more information about EUCLID:
Pr. Laurent Cleenewerck, STL, MES, Dsc.