Deputy Permanent Representative for political affairs at the United Nations, Ambassador Amadu Koroma, APC-USA National Interim Chairman, Mr. Ibrahim S. Kamara, APC-USA Chapter Presidents, President of the SLPP in New Jersey (present here this evening), Mr. Saidu Amara, members of the APC-USA, the Sierra Leone Community in New Jersey, Friends of Sierra Leone, ladies and gentlemen – thank you and welcome to New Jersey.
Welcome to the home of the late Mohamed Aziz Nabe, the late Dauda Bangura, the late Ashmed Barrie, and the late Brima Bangura (aka BB) – all founding members of the APC in New Jersey.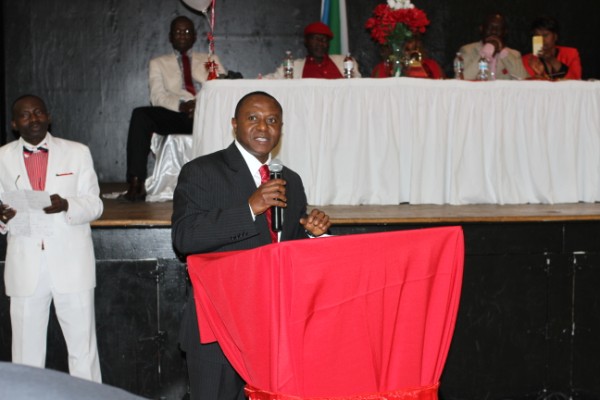 MR. PAVI JALLOH DELIVERING HIS INAUGURAL ADDRESS
Welcome to the state that launched President Koroma's Diaspora campaign for the Presidency of Sierra Leone in 2006.  In 2008, New Jersey hosted President Koroma's first dialogue with Sierra Leaneans in the Diaspora following his 2007 Presidential victory.  An event held at Rutgers University in New Brunswick, NJ that played a pivotal role in helping to re-brand Sierra Leone.
Ladies and gentlemen, The Honorable Ambassador Koroma, Mr. Chairman, Ibrahim S. Kamara, Chapter President's, the grand APC family, you are in APC's stronghold in the Diaspora.  Please feel at home.
Mr. Chairman and members of the APC in NJ, I am humbled to serve and I accept the responsibility to lead the APC NJ Chapter in support of continued transparent and development oriented governance in Sierra Leone.   I must immediately pay homage to our outgoing President and his executive, Alhajie Alie Badara Kamara.   Additionally, I want to recognize the following past national Chairpersons of the APC in North America who are present here this evening:  Mr. Alex Mansaray, Mr. Osman Conteh, and Mr. Leslie Allen.
I also want to recognize here my advisory council that work behind the scenes to make New Jersey the vanguard of APC Diaspora-based chapters.   Please stand up and be recognized as I announce your name:  Haja Khadijatu Saccoh, Mr. John Samba, Alhajie Alie Badara kamara, unavoidably absent this evening, Dr. Abdul Rahman Kamara, also unavoidably absent is Ambassador Plenipotentiary and Coordinator of the African Union Committee of 10 in the United Nations Security Council, our very own Rev. Kabs-Kanu.  Thank you for the work you do every day.
This evening, Mr. Chairman, I report to you that APC NJ is proud of the accomplishments of the APC under the leadership of President Dr. Ernest Bai Koroma.  And I will tell you why…
Under President Koroma, Sierra Leone has moved from absolute reliance on thermal energy for electricity generation to diversified sources including hydro and solar.
This government, under President Koroma has built more standard roads in 6 years than the nation accomplished during the previous 46 years.
For the first time in our history, our nation has free health care for children under five and pregnant women.
The APC government under President Koroma increased investment in the agricultural sector from 1.6% to 10% in 2007.  This is an area that makes up 46% of our GDP (gross domestic product) and makes up one fourth of our exports.
Under the leadership of President Koroma and the APC, we now have more women serving in leadership roles in government than in any other time in our history.   And these roles include the Chief Justice and the Commissioner General of the National Revenue Authority.
This government has strengthened the Anti- Corruption Commission.  In fact, just this week, the ACC prosecuted and found a government functionary guilty of corruption based on unexplained wealth.  Only a government focused on transparency and ensuring that social services are available to the population will create an environment that makes unexplained wealth a chargeable offence.
We as APC members have everything to be proud of.  And Sierra Leoneans have a lot to be proud of.
Our President was just voted African President of the Year (applause).  Yes, our President out performed more than 50 heads of states on our continent to receive this recognition.
This is because the people of Sierra Leone and the international community recognize the APC for its increased intensity in transforming the country.
Mr. Chairman, the APC NJ Chapter is prepared to work hard to make APC-USA, the strongest branch in the APC at home and abroad.  This goal, we believe in New Jersey, is in line with the President's Agenda for Prosperity and the roles we must play as Sierra Leoneans to develop our nation.
We will play our role in the implementation of this Agenda for Prosperity, our nation's blueprint to transition to a middleclass economy.
As we continue our festivities this evening, I leave you with this quote from President Koroma during UN Secretary General Ban Ki Moon's visit to Sierra Leone last month to close the Peacekeeping and Peace building Commission.
"A country that once received peacekeepers is now contributing peacekeepers to other nations, a country that once was a by-word for humanitarian crises now has one of the fastest growing economies in the world, a country that succumbed to military dictatorship has held a succession of free and fair elections".
As members of the APC and as Sierra Leoneans, it is our responsibility to carry this torch.  It is our responsibility to increase our intensity to help educate our people in other to elevate their standard of living and commitment to the rule of law.
We must increase our intensity to provide solutions-based programs that provide non-budgetary support to our MDA's. (Ministries, Departments, & Agencies).
Indeed, we must increase our intensity to secure and implement value-added projects that lead to job creation for our youth – the future leaders of Sierra Leone.
This is the role we must all play as Sierra Leoneans and members of the All People's Congress to support the Agenda for Prosperity.
These are values that embody the qualities that Sierra Leoneans desire.
Indeed, the success of our citizens will increasingly define our nation's economic strength and the potential for social and economic mobility for all Sierra Leoneans.
That responsibility is yours, it belongs to you, and it belongs to me.  So join the APC tonight and take full ownership of your role in the new Sierra Leone.
For development in Sierra Leone today extends from Tinkonko Road in Bo, to Tekoh Road in Makeni.  From feeder roads in Kailahun to local streets in Freetown.  From a brand new stadium just outside of the beautiful city of Bo, to international standard highways from Freetown to Pamalap on the border with Guinea and across the country.
Ladies and gentlemen, let's be proud of our nation and government.  And let us take our rightful role in moving Sierra Leone to a middle class economy under the APC.
God bless you, God bless our nation, and Long Live the APC