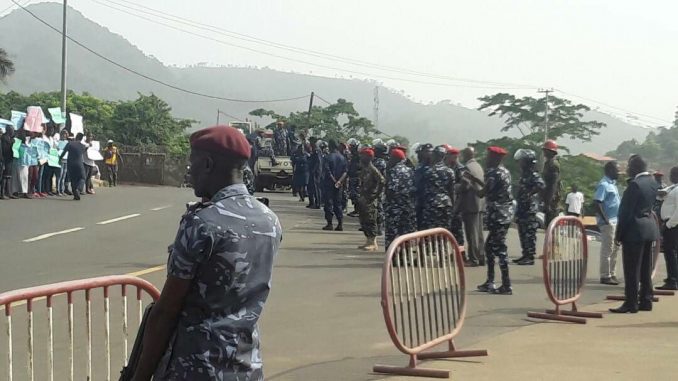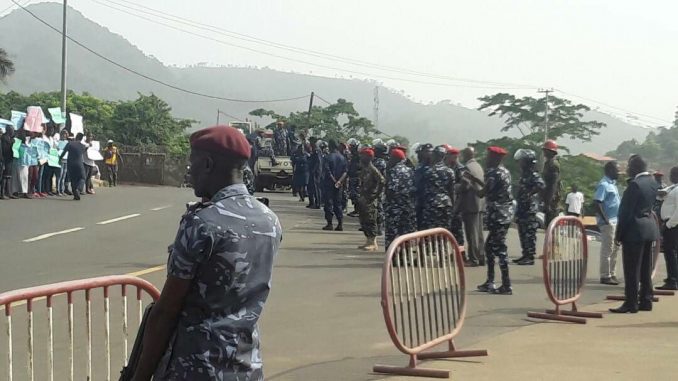 Sierra Leone's Democracy is now set to fall. Intimidation and acts of terror are the order of the day, the once voiceferous civil societies have suddenly gone quiet. Heads of MDAs and supporters particularly of the now opposition APC Party have been marked for axe. Many people have left and continue leaving the country. Sierra Leone looks like it's under a military junta.
On Sunday 22nd April 2018 a truckload of Police officers gatecrashed the entrance of the residence of Former Minister of Trade and Industry Captain M. A Pat-Sowe, stating that according to ORDERS FROM ABOVE, that Residents of the premises were ordered to attend to a call from the LUC Lumley Police Station. They were all carried away to the Lumley Police Station where they were detained but not kept behind bars since and informed that they will sleep at the Lumley station because the LUC will speak to them the following morning (Monday 23rd April 2018).
Harassment and intimidation continues as people continue to flee Sierra Leone. There is now a lack of procedure everywhere and there are fears that very soon people will begin to disappear on orders from above. Relatives and friends of APC Party functionaries are no longer safe. All efforts to get to the innocent victims and to have them released are proving futile. It could be recalled that there were series of clashes between security forces stationed at President Bio's residence and that of the Former Minister Pat Sowe's house which involved constant harassment and intimidation by SLPP supporters which is now used as a reason for all this mess however they are residents of the said premises. Is it not normally the case that if someone is accused of any offences police procedures have to be followed and also their work should have been conducted professionally?
An eye witness confirmed to this medium that no charges have been made and that the rights of these people are being violated presently due to the fact they being held against their will from yesterday with Little or no clear information given to them.
The LUC of Lumley Police Station is confused and does not know if he should follow the wishes of politicians or go act according to the laws of Sierra Leone which so far since haven't been followed. Sad state in Sierra Leone.
Is the So called international community looking?
There is a clear sign that Sierra Leone is no longer respecting the rule of law, the Police we expect to act professionally though there's a clear sign they're are afraid of losing their jobs under this unpredictable state.
A Star TV Journalist / Reporter who went to Lumley Police Station to conduct an interview was harassed by the LUC of Lumley Police Station. The journalist was placed under arrest and forced to delete all interview materials from his devices. Words on the streets is that Sierra Leone's democracy is under attack.
All attempts by this medium to get in touch with the LUC Lumley Police Station has not been successful however we are following the story and further updates will be provided.
©️Forward Ever Media.