The young Editor-In-Chief of the opposition SLPP  online newspaper, The New People,  Mr. Abdul Fonti Kabia,  has stirred the hornet's nest .
As the Government fights to stop the Ebola outbreak in Sierra Leone, Mr. Fonti Kabia wrote on FACEBOOK and in his newspaper that the Minister of Health, Hon. Miatta Kargbo , had ordered all patients who have tested positive for the Ebola virus to be kidnapped, killed and buried.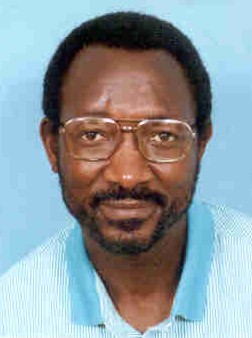 In an exclusive interview with COCORIOKO  last night, the minister condemned the story without naming Fonti. She said that certain journalists wanted to incite the people of Sierra Leone by spreading dangerous and misleading reports in the social media to create chaos that has the potential to engulf the whole country. The minister doubted the sanity of any journalist who would sit down and fabricate such a wicked story.
Well, it appears the minister is not the only one who has taken up issue with Fonti.
Dr. Aiah Gbakima , who was appointed Principal of Fourah Bay College during the reign of the late President Tejan Kabbah of the opposition SLPP,  has come out strongly against Fonti's report.  Dr. Gbakima spoke to the  SEWA NEWS  outlet , which wrote a detailed report on the pressures being put on the Health Minister since the Ebola outbreak was confirmed.
We bring you excerpts of the SEWA NEWS  report — The portion addressing Fonti's allegations against Health Minister Miatta Kargbo.
READ :
"This sort of message does not help," remarked Aiah A. Gbakima, a biologist and country director at Global Viral Testing. Dr. Gbakima, onetime vice chancellor and principal of the University of Sierra Leone and before that an associate professor in the Department of Biology at Morgan State University in Baltimore, Maryland, called Fonti's story "misleading."
There has been vigorous preparation to stop this virus from entering Sierra Leone by the Ministry of Health and Sanitation, development partners, non-governmental organizations and many others, Gbakima asserted. There is no drug for treatment and no vaccine, he added.
On learning about the crisis Monday night from the team in Kenema, Gbakima said the health minister was kept informed as were a group of people from the Ministry of Health people who stayed up in meetings till 2:00 AM.
Because it was late, the specially adapted ambulance left Kenema by dawn for Kissi Teng, Gbakima said.
"Bear in mind, he explained, Kenema is the only hospital in the country with a special isolation unit to handle all viral hemorrhagic fevers. The ambulance was to bring the confirmed case for hospitalization. Meanwhile, the contact of this patient (7-8 people) were identified and were also put in health centers pending their samples being tested. When the ambulance and the health surveillance team got to Kissi Teng, the chief apparently refused to cooperate with the team and refused to allow the ambulance to take the patient to Kenema for admission and to be given supportive treatment and possibly save her life. They did not stop at this but forcibly removed all the contacts who were beginning to show signs of Ebola (vomiting, diarrhea, high fever, and body pains) and took them away and hid them."
"Before this confirmed case, a lot of training had been done for most health workers and they were all given personal protective equipment's, gloves, masks, etc. The border post health workers were trained and these Train the Trainers were also supported to train others in their areas. There was a lot of sensitization about Ebola. These programs were all presented and discussed at the National Task Force meetings every week and that was chaired by the Minister of Health and Sanitation herself. I am a member of this task Force. I do not see reason for the writer to say that there was lack of preparedness.
"On Monday, May 26th, there was a an emergency Task Force meeting to announce we have a confirmed case and that there were patients admitted with diarrhea and vomiting–4 (four) others were admitted later on. There were four deaths. The minister did not hide anything from the Task Force and we all discussed the approach to this outbreak.
"The Index case was a lady and all those who attended the funeral and the 40th day ceremony were requested to be seen by trained surveillance officers and to possibly take a blood sample from each if there was a need to do so. The idea was to eliminate those who were positive from those who were not at that point in time.
"When the Minister was told of the removal of  the patients from the Hospital/clinic in Kissi Teng chiefdom, she alerted the stakeholders and summoned another Task Force meeting today, Tuesday May 27th.  Before that meeting, she met with all Members of Parliament from Kailahun District and other stakeholders from that district to solicit their assistance in identifying these patients and to stop the spread of this deadly virus.
The teams from Kailahun, Kenema and Kono depart tomorrow morning (Wednesday, May 28) to have meetings with their chiefs and people in these border districts.
"As far as I know, and I was at both Task Force meetings on Monday and Tuesday, at no time did the Minister of Health say or even suggest that these patients should be kidnapped and brought to Kenema to die. In fact, it was decided by the Task Force that we should set up an isolation unit in Koindu to stop people being transported to Kenema for the distance.
"In addition, all samples will be sent to the mobile lab in Gbakedu on the border to be tested instead of Kenema due to distance. Tents have been donated by MSF (Medecins Sans Frontieres or Doctors without Borders) to set the isolation Unit in Koindu and to expand the ward in Kenema in case we are overwhelmed. The health workers in all the border districts were trained on how to set up an isolation unit during the three weeks of training preparedness response.
Let me tell you why these patients were taken away by their relatives.
"They live very close to Guinea and most use the Guinean currency, they buy from and sell in Guinea and have relatives in Guinea. During the outbreak in Guinea, the news going around was that when they take
one's relatives to take blood, they never come back. This created fear that if they take their relatives to either take samples or take them to Kenema for treatment, they will not come back.
There are no patients dying in Kenema. In fact, there was no Ebola patient in Kenema on Monday, but three of those who disappeared fromKissi Teng came by themselves to the Kenema Government Hospital for treatment for diarrhea and vomiting. Because of the alertness of staff there, they were immediately referred to the isolation ward and we now have three patients confirmed for Ebola; admitted and they are all alive.
The World Health Organization is sending expert physicians and anthropologists to help educate these people on Ebola. The posting yy Abdul Fonti is really false and very unfortunate. The minister and her team have been working very hard to contain this outbreak. I am sure you will hear from them," Gbakima said.
© 2014, COCORIOKO. All rights reserved. – Discuss this and other related articles on the Salone Forum