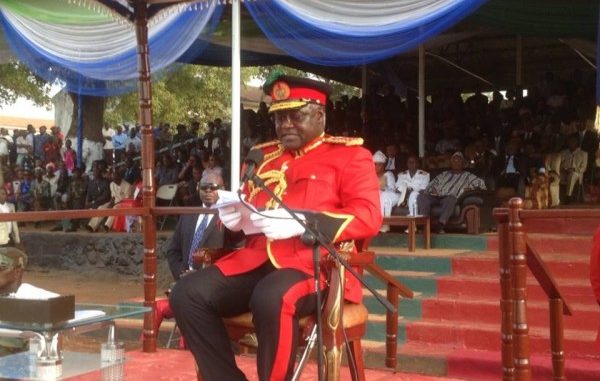 PRESIDENT ERNEST BAI KOROMA'S ADDRESS TO MEMBERS OF SIERRA LEONE ARMED FORCES DURING ARMED FORCES DAY ON TUESDAY FEBRUARY 18, 2014
We are gathered here today to honor Sierra Leoneans who truly deserve honor. These were the gallant men and women who were ready to lay down their lives for this country. No obligation to country could be higher than that; no duty could be nobler, and no service more estimable. And it was for this reason that my Government set out a day in their honor; it is for this reason that we are here today; and it is for this reason that we will always hold on high the memory of their great service to our nation.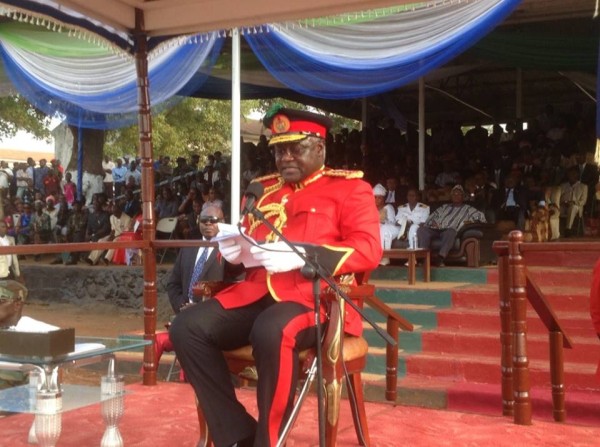 PRESSIDENT KOROMA DELIVERING HIS ADDRESS : CREDIT–JARRAH KAWUSU-KONTEH
In honoring them we honor ourselves, for they who give honor to those who deserve it are themselves estimable. Appreciation is a divine virtue; especially when it is appreciation of the gifts of peace, charity and selfless service bestowed unto our generation by those who paid the supreme sacrifice. We honor these gallant men and women of our Armed Forces because their selfless services also inspire us; we celebrate them because we want to learn from the lessons of their lives.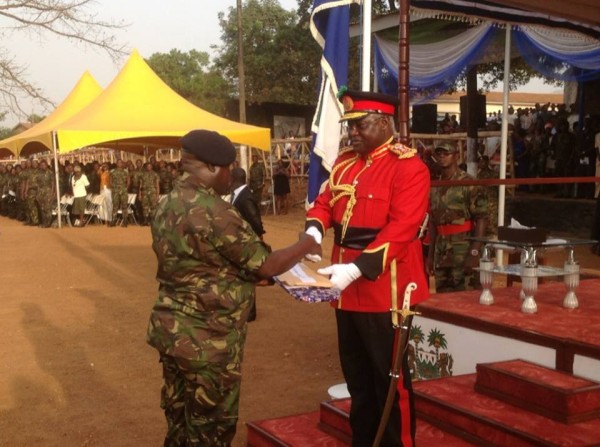 They faced challenges, they overcame many odds; they had their low moments; there were times when a few amongst them did not live to the ideals of their oath. But the overwhelming majority of the members of the armed forces served this country with distinction. Today the example of this great service is inspiring us to be servants of peace all over Africa. Our gallant men and women are esteemed contingents for peace in Somalia, Sudan and other places, the members of our armed forces are the pride of our democracy, on oath of loyalty to the democratic order, accountable to the civilian leadership of this country, maintaining peace, securing our borders, contributing to national development.
PRESIDENT ERNEST KOROMA TALKS WITH DEFENCE MINISTER PARLOR CONTEH
As commander in chief, I am honored by the achievements of my gallant men and women; as President of this Republic I acknowledge their fidelity to their oaths of loyalty to the constitutional and democratic order of our nation; and as a citizen I celebrate their laurels as peacekeepers in Africa. Due to the outstanding performance of our troops, we have been called upon to provide a Sector Commander in the Kismayo Sector in Somalia. In addition, we currently have more than 30 officers serving both as Military Observers and Staff Officers in various UN Missions around the world. As I speak, there are RSLAF staff officers deployed on AFISMA operation in Mali.
Our country is on the move. And the armed forces are also marching with us into a brighter future. That is why, under our democratic leadership, they are securing the peace. That is why, with our support, they have established agricultural farms to enhance our food security. That is why, with our guidance, the Armed Forces Engineering Unit are partnering with a civil engineering company to support our infrastructural development. That is why, with the people's resources, and our commitment to their welfare, we have restored their rice supplies, increased their salaries and commenced the building of new accommodation blocks at Gondama and other places.
THE PRESIDENT AND THE COMMANDER-IN-CHIEF OF THE ARMED FORCES DR. ERNEST BAI KOROMA
With increasing revenues, we shall do more for our Armed Forces because they are also doing more for this nation. My Government will relentlessly continue to capacitate the RSLAF to meet the growing demand for addressing local security issues as well as participation in International Peace Support Operations. As training is a hallmark of professionalism, lots of training opportunities are now open to members of the RSLAF, and these run across all ranks. We are creating more opportunities for women to be enlisted both as officers and other ranks and be able to compete with their male counterparts.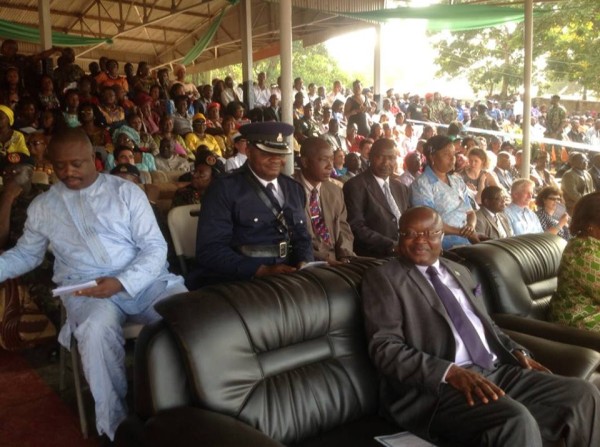 VICE-PRESIDENT SAM SUMANA AND OTHER OFFICIALS OF GOVERNMENT AND MEMBERS OF THE PUBLIC AT THE OCCASION
Due to our involvement in trying to keep the peace in Somalia and the presence of terrorist related groups within the Sub–region, my Government has put in place various counter terrorism measures to forestall any terrorist threat to the peace and security of our beloved nation. I want to assure all Sierra Leoneans and our visiting friends that the counter terrorism measures put in place by the security apparatus also reflects the sub – regional approach to such threats.
Gallant officers, men and women of our armed forces, under the guidance of the democratically elected government, you are, in conjunction with the Sierra Leone Police (SLP) and other state security agencies, custodians of security. We recognize and commend your support to the SLP in various internal security operations. Let me also take this opportunity to equally extend my Government's sincere appreciation for the diverse and invaluable support rendered to MOD/RSLAF by the United Kingdom, the United States of America, The Peoples Republic of China, the Federal Republic of Nigeria, the Republic of Ghana and other friendly nations.
Gallant officers, men and women of our Armed Forces, I commend you for your discipline. We must continue to maintain discipline and improve on it to become the most professional, most effective in peace operations, and most accountable to democratic leadership in all Africa.
The achievement of these objectives is within our reach. Our Defense Forces served with distinctions in Myohaung, Congo, Sierra Leone, Liberia, Somalia and Sudan. Our soldiers, in conjunction with the police provided security that was globally praised during the 2012 elections in our country. The seeds of accomplishment have long been planted in our Armed Forces, and they must continue to grow. As Commander in Chief, I firmly believe that our gallant men and women will continue to increase our accomplishments with more discipline, more professionalism, and more accountability. The march is unstoppable; Sierra Leone is rising again with its armed forces as fortresses of peace, service, loyalty and democratic accountability. I wish you all a happy Armed Forces Week Celebration. I thank you all for your audience.