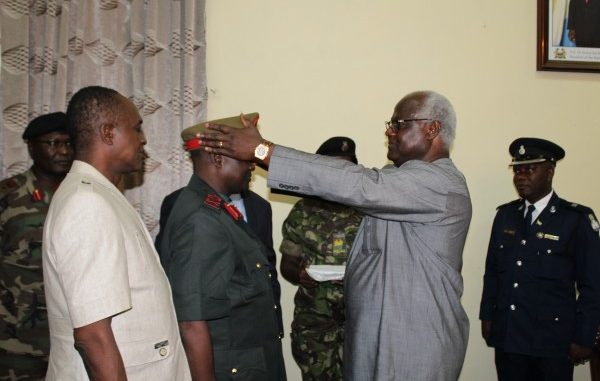 By State House Communication Unit
President Dr Ernest Bai Koroma Thursday 14 April administered the oath of office to another batch of ministers following their parliamentary approval.
The newly appointed ministers are Mr Momodu L. Kargbo – Minister of Finance and Economic Development, Major (Rtd) Palo Conteh – Minister of Internal Affairs, and Dr Christiana Thorpe – Deputy Minister of Education 1.
In his congratulatory remarks, President Koroma cheered them for completing the appointment process. He described their batch as unique set of people who are expected to hit the ground running.
The president urged the Minister of Finance and Economic Development to use his experience and work very hard to improve on the current economic situation in the country. He also encouraged Dr Thorpe to continue her good work in the Ministry of Education, especially now that she has been given more responsibility as Deputy Minister 1. To the Minister of Internal Affairs, Major (Rtd) Palo Conteh, President Koroma urged him to prove his mettle as he did in the fight against Ebola.
Speaking on behalf of his colleagues, the newly appointed Minister of Finance and Economic Development promised to execute their jobs with diligence and honesty, assuring that they would drive the president's agenda to prosperity. "We are privileged to have been appointed as ministers and we will live up to expectations," he assured.
In a related development, President Koroma also on Thursday 14 April decorated the newly approved Chief of Defence Staff (CDS) Lieutenant General John Milton at State House.
Congratulating the Chief of Defence Staff, the president said that he was coming in at a time when Sierra Leoneans are pleased with the military owing to their outstanding performances in both the UN Peacekeeping Mission and during the unprecedented Ebola outbreak in the country.
President Koroma expressed hope that there will be an increase in more battalions in the UN peacekeeping mission, construction of new military barracks, improving on the engineering and medical wings of the Republic of Sierra Leone Armed Forces (RSLAF) among others. He urged the new CDS to work hard as the people of Sierra Leone including the military have high expectations. 
Lieutenant General John Milton referred to his appointment as additional responsibility, quoting the adage; "To whom much is given, much is expected." He promised to diligently discharge his duties in the best interest of the nation. The CDS thanked his colleague officers and called on them to work as a unit.