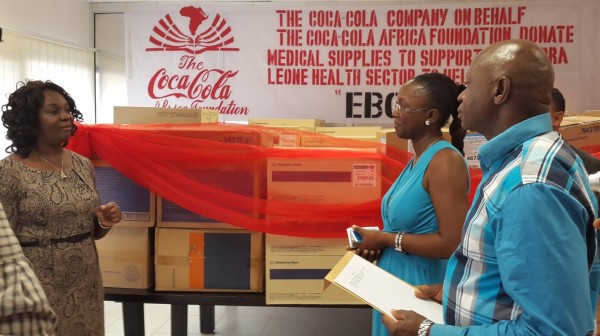 Freetown, Sept. 16, 014 (MOHS) Coca-Cola Africa Foundation in collaboration with the Sierra Leone Bottling Company and Medshire has donated the first consignment of Personal Protective Equipment as part of a two-20 feet container to the government of Sierra Leone for use during the Ebola crisis in the country.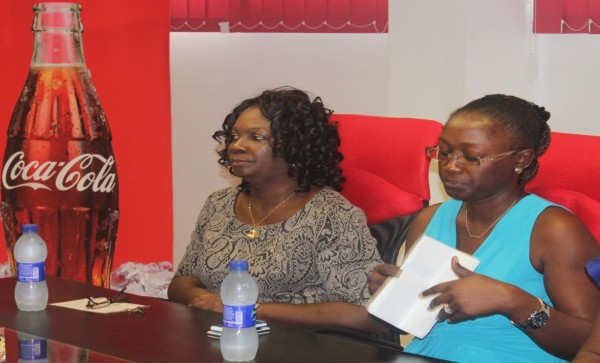 (L-R) Deputy Minister II Madam Madina Rahman and Finance Manager (SLBC)
Madam Rebecca Priddy
Making her address at the handover ceremony held at the company's George Brook office in Freetown, the Finance Manager of the company, Rebecca Priddy said they decided to airfreight some of the consignment as a result of the urgent need to compliment government's efforts.
She said this is the fourth time that Coca-Cola has donated medical supplies to Sierra Leone over the past six years. One of which she disclosed was done in July 2014.
The Finance Manager told her audience that Coca-Cola firmly believes that they can only have sustainable and successful business if the communities in which they operate are healthy and viable.
Madam Priddy expressed gratitude to the government of Sierra Leone for the remarkable and continued support to the operations of the Coca-Cola Company and its subsidiary.
Receiving the donation, Deputy Minister II (Two), Madam Madina Rahman described the gesture as an invaluable treasure that is necessary for universal precaution against the deadly Ebola virus disease.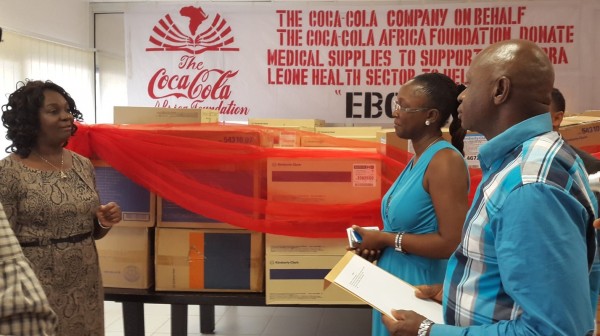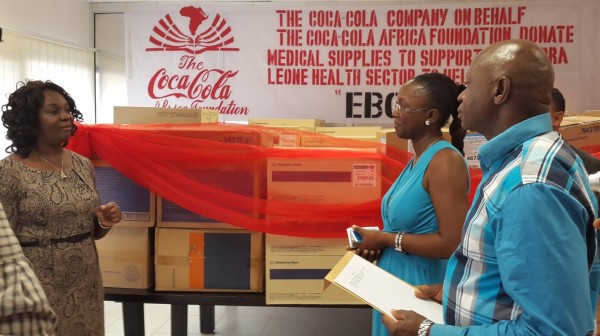 Deputy Minister II, Madam Madina Rahman receiving the donation from Madam Rebecca Priddy
The Deputy Minister spoke on trainings done for senior and junior nurses on infection and prevention control practice, and the preparedness plans for the establishment of additional holding and treatment centres with adequate bed capacity at the Jui hospital and Hastings Training Schools,
ahead of the three days House to House sensitization Ebola awareness raising campaign.
Madam Rahman on behalf of the Ministry, the government and people of Sierra Leone, thanked the donor for the gesture and looks forward to a continued partnership.
She noted the serious growing trend of the disease and call on Sierra Leoneans to remain united in the fight against the disease.
JAK/KK/MOHS