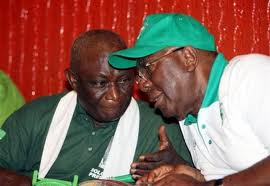 Monday May 30, 2005 
The long-awaited SLPP Convention , where President Ahmad Tejan Kabbah's successor as Standard Bearer of the ruling party will be decided, looks like the arbiter of Sierra Leone's destiny .
 Whatever happens at that convention will have a long-term  impact  on Sierra Leone's socio-economic and political future in an era of national recovery and national reconstruction.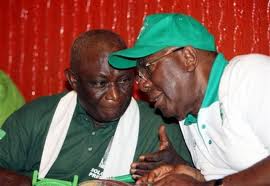 KABBAH AND BEREWA : WHAT ARE THEY COOKING ?
The first issue that will become clear after the convention is whether the SLPP  will win the 2007 General Elections. The choice of Standard Bearer is everything for the ruling party. Sierra Leoneans appear stoic and disinterested presently, but they are not sleeping. They will be looking out for an SLPP Flagbearer that cuts across all regions like President Tejan Kabbah , whose political personna appealed to all regions in the country. This is presumably why SLPP supporters are being urged to go to the convention and vote with their hearts and minds , not with their sentiments. The fate of the party is at stake.
Any mistake emanating from the SLPP Convention will be capitalized upon by the opposition, though they are in disarray presently and the political prostitutes among them are looking for every opportunity to cross over to the the place where the bread is buttered presently–The SLPP camp. The dramatic and epic events of 1967 are starring ominously at the SLPP. They cannot afford to suffer another stunning defeat caused by internal problems.
But the convention has every genuflection of significance more so for the future of our country. The Sierra Leonean people are crying for a change . They are tired of the empty promises of their politicians since Independence 44 years ago. They want to see progress, real tangible and measurable developments that will transform the lives of a people who presently have no pipe-borne water, good roads, well-equipped hospitals, or electricity. They desire to see an upliftment in their socio-economic status so that they can go to bed with their stomachs full and their children able to attend school without any fear of being driven out for their fees.
After all, we are a very rich nation.For our size, the superfluous concentration of mineral and other natural resources in our country is second to none in Africa. A small country like Sierra Leone has all imaginable mineral resources like diamonds, gold, bauxite, iron ore and a generous expanse of virgin forests , rivers and streams.We are even blessed with brilliant weather , with droughts unknown in our country.
Therefore, if we are suffering in Sierra Leone, we have nobody to blame but our unprogressive leaders and corrupt citizens .And so when SLPP supporters go to their convention to vote in their presidential candidate,  they must bear all these facts in mind, not just the destiny of their party.
Do we need another 5 years of the Kabbah legacy ? Will Solomon Berewa make the difference that Kabbah failed to make ? Will he deliver the goods that Kabbah failed to utilize ? It is up to SLPP supporters to decide. At this initial stage, the onus is on them to showcase the best possible Standard Bearer that the nation will accept and cast their votes for in the elections.
There is a cry for change in our country–Change to our mentality as a people ; change to our priorities ; change to our national goals and aspirations ; change to our level of patriotism and commitment; and  change to a nation that has all the trappings of modern civilization ( Civil society, good roads, water, electricity, excellent communication –TV  ,  radio, internet technolgy-better health facilities and top -class educational system ).
Do the new breed of aspiring leaders,  whose war cries have cut the stillness of the Sierra Leonean atmosphere lately,  have the political will, experience and panache to usher in this much-needed change in our country ?
The nation is looking up to the SLPP . Their choice of Standard Bearer means everything to our future aspirations .We hope they will vote for the man who is not only best for the SLPP,  but somebody who will ensure a free -and-fair elections in which the opposition too must have a stake. Who knows ? They could provide the leadership the SLPP  has failed to give the nation.