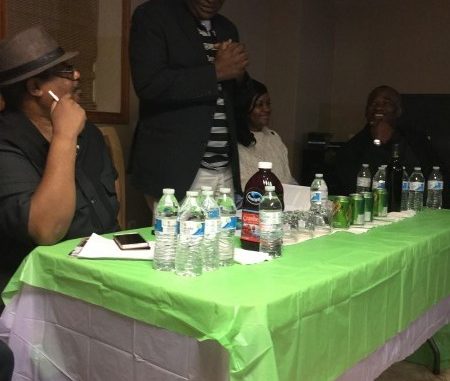 By KABS KANU :
The Governor of the Bank of Sierra Leone, Mr. Momodu Kargbo,  last Friday admonished  Sierra Leoneans in New Jersey to cash in on the abundant investment and business opportunities back home .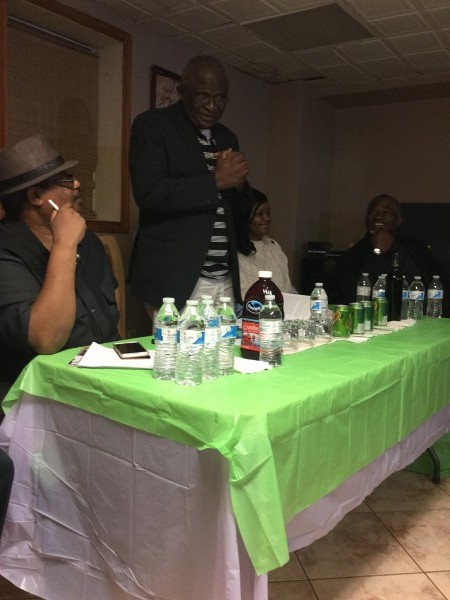 THE GOVERNOR ADDRESSING SIERRA LEONEANS IN NJ
The Governor , who was in the U.S. last week to attend a meeting of the International Monetary Fund ( IMF ) in Washington DC, was addressing a cross-section of the New Jersey community at the home of Mr. Foday Mansaray at Benett Lane, Franklin Township , Somerset. Businessmen and women and Sierra Leoneans eager to return home to invest attended the meeting.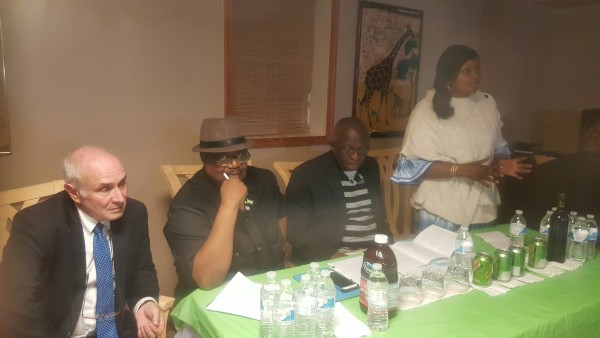 MP ISATA KABIA MAKING A STATEMENT
Governor Kargbo addressed the attendees on the topic : " Partners in the Ebola Recovery Program : Going below the surface in Sierra Leone . "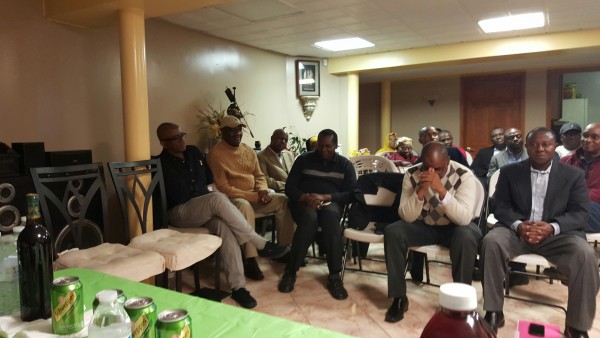 A COMPOSITE VIEW OF ATTENDEES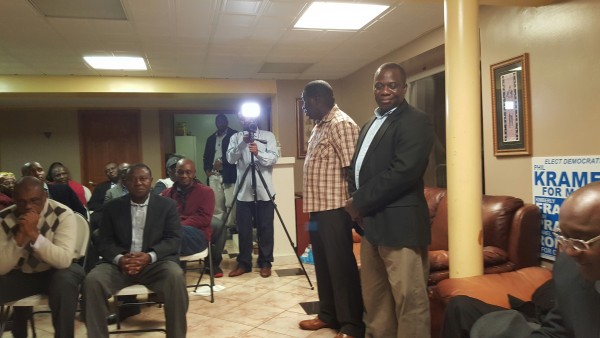 MR. PAVI JALLOH ( SEATED NEAR RIGHT ) AND STANDING ARE MESSRS FODAY MANSARAY AND ALIMAMY TURAY
The Governor,  who said Sierra Leone was there for the taking ,  tried to disabuse the minds of diasporans from notions of discouragement over reports filtering abroad about weak infrastructure, lack of electricity and water , capital challenges and difficulty in finding supplies, conceding that "Diaspora capital is impeded by numerous perceived impediments. " He also advised them to built trust between themselves, between them and the government and between them and friends and relatives and manifest interest in Sierra Leone. He lamented that when relatives to whom diasporan commit funds to help them do business or build homes embezzle their money, they turn around and blame the country.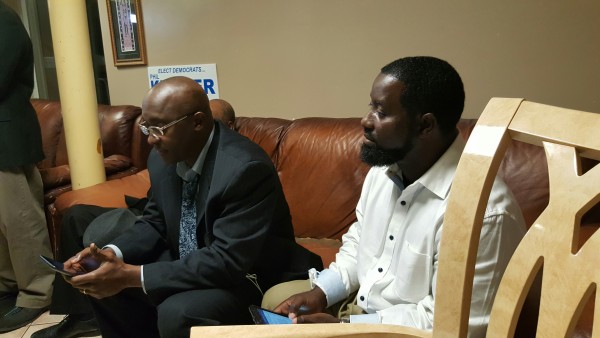 MR. JESMED SUMA ( WITH PHONE ) AND ANOTHER ATTENDEE
Governor Kargbo said that though Sierra Leone has problems, she is a virgin country. He said that the country has abundant opportunities for business and commerce. The Foulahs are cashing in, he told his attentive audience. Though Sierra Leoneans once looked down upon them, he went on, the Foulahs today control 80% of pharmaceutical companies in Sierra Leone. The Lebanese have done the same, he continued . "Because it is now a four-lane highway, Wilkinson Road has now become a little Beruit with businesses and shops spanning both sides of the highway.  "What are you Sierra Leoneans waiting for ? ", he asked.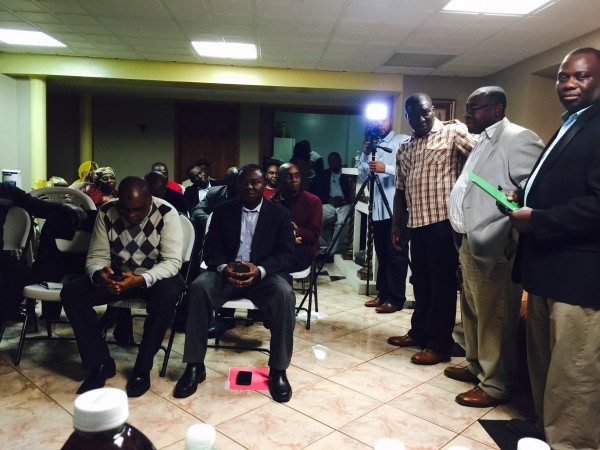 ATTENDEES 
The Governor told attendees : "Businesses run by the Foulahs and Lebanese are flourishing , and we complain that Sierra Leone is bad. I am not saying there are no challenges. The Nigerians saved Sierra Leone during the war .We should be always grateful to them. But they showed us their craftiness. They studied our country .They went home, took off their ECOMOG  military uniforms, collected their benefits and returned to Sierra Leone and today they control businesses on Sackville Street. What are you waiting for ? "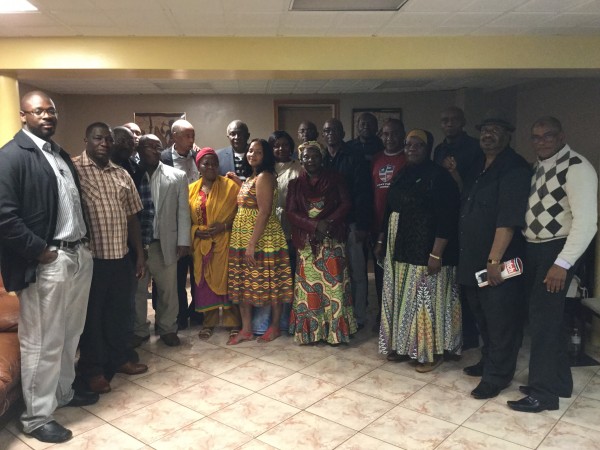 THE GOVERNOR TAKES A PHOTO WITH ATTENDEES . 
The Bank Governor disclosed that in 2014 the bank sold U. S. $ 166 to rice importers. Last year, Sierra Leone's total import of food was U.S $700. He pointed out that it was another flourishing business opportunity to take advantage of to make a good living.  He also stated that the jinks clothes business is lucrative. Because salaries are now high, the Chinese no longer find it a profitable business and so Sierra Leoneans should take over from them.
The Governor informed diasporans that as it happened after the war when money was poured into Sierra Leone through the DDR Program, money will again be poured in for the Ebola Recovery Program . "There are various funds. Go beyond the surface. Do not go to Sierra Leone just to enjoy the clubs and beaches. Look beyond. What you see on the surface is not all. You people need to go back to Sierra Leone to raise the development of the country. If you want to go into politics, go into business and that's where you will get the money to flourish in politics" , he added.
The meeting was attended by the Minister Plenipotentiary to the United Nations, Leeroy Wilfred Kabs-Kanu, the MP for Constituency 50   in Port Loko, Hon. Isata Kabia, the Deputy Mayor of Newark , Mr. Ugo Nwaokoro, the Democratic Party Mayoral nominee for Somerset, Mr. Phil Kramer,  and other distinguished personalities including Messrs Foday Mansaray, Pavi Jalloh, Alimamy Turay, Sigismond Ogoo , Prof. Ben Jalloh, Mr. Lamin Alharazim ( Chairman of the Sierra Leone Community in New Jersey –SLCNJ ), Mr. Melbourne Garber, among others.
WE WILL BRING YOU PART 2 DEALING WITH THE QUESTION-AND-ANSWER PERIOD