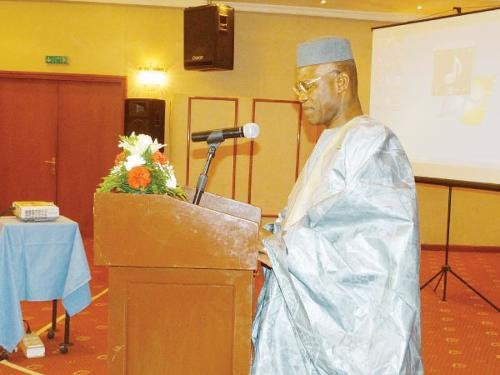 By Alhaji Jalloh :
It is just a little over a month since His Excellency, President Dr. Ernest  Bai Koroma's new envoy to the Kingdom of Saudi Arabia stepped his feet on the Saudi soil.   (Photo: Ambassador Kargbo addressing diplomats and investors)
Since his arrival in the Kingdom, Ambassador Alhaji M.S. Kargbo has not had any time to rest. He has been putting his staff and Sierra Leoneans together and telling them to represent their country in a way that will make them proud.
Ambassador Kargbo has also expressed his determination to work amicably and collectively with them with the objective of selling Sierra Leone in the Arab World and even beyond.
However, due to his mindset, which is focused on wooing businessmen and investors to Sierra Leone, he viewed the just concluded 53rd independence anniversary of Sierra Leone as a timely and golden opportunity to showcase Sierra Leone's numerous investment opportunities to Saudis.
To realize this goal, he and his able diplomatic team came to a conclusion that the short cut to getting this message across to the locals was to celebrate the 53rd anniversary in a grand style, whereby potential investors and businessmen would be cordially invited to participate in the celebration of our national day.
In spite of all the hurdles on the ground and the time constraints which  made the actualization of such a national dream seem as an impossible mission, Ambassador Kargbo and his formidable team proved, beyond all reasonable doubts, that where there is a will, there is always a way out. They brainstormed, cracked the brains, utilized their God-given intellect and worked out solutions in frenzy, leaving no stone unturned until they were eventually able to stage, for the first time in the history of the Embassy  of Sierra Leone in Saudi Arabia, a befitting ceremony whereby Saudi Government Officials, businessmen, investors, members of the diplomatic and consular corps, members of sister African communities in Riyadh were fervently but cordially invited at a very short notice to grace the occasion, and indeed, they did. The celebration was staged at the prestigious Palace Hotel in downtown Riyadh.
Truth to tell, former Sierra Leone's envoys to the Kingdom each used to observe our national day by involving Sierra Leone nationals in a number of meaningful activities varying from reciting the holy Quran to offer prayers for our country, engaging Sierra Leonean children in rehearsals to committing intellectuals among the Sierra Leone nationals in the Kingdom  to prepare brief historic, educative, and informative facts on Sierra Leone, or any topics of interest to the Diaspora compatriots which used to be of a huge benefit to all, especially Sierra Leonean children born in the Kingdom. This had been more or less the norm and pattern by which our independence anniversaries used to be observed over the years.
Nonetheless, the manner and tempo in which our 53rd independence anniversary, which also marked Ambassador Kargbo's first celebration of the occasion in the Kingdom, was observed on Sunday, 27th April, 2014 was indeed unprecedented since diplomatic relations were established between Sierra Leone and the Kingdom of Saudi Arabia over thirty years ago.
Hence, as far as Sierra Leone nationals in the Kingdom are concerned, their celebration of the 53rd independence anniversary in Riyadh, the beautiful capital of Saudi Arabia, shall by all means remain historic. It shall be historic because never before had they observed their national day in such a jubilating, flamboyant and magnificent atmosphere of togetherness and national pride.
Sierra Leoneans celebrated their national day this year in the midst of top Saudi officials, diplomats, expatriates and African brothers and sisters. This mixed nature of guests, coupled with the venue of the occasion, gave a special flavour to the celebration.
After attentively listening to the Ambassador's speech on the occasion in which he highlighted the historic, political backgrounds, developmental programs, and investment opportunities of Sierra Leone, the attendees became so eager and curious to inquire much about Sierra Leone. A few days after the occasion, a final year student from Sierra Leone at the Faculty of Economics and Political Science, Qatar University, Doha had this to say: "Sierra Leone will soon start witnessing potential investors going to make feasibility studies to find out how far it is conducive to invest in Sierra Leone and I am pretty sure that the just concluded celebrations will pay dividends to both Sierra Leone and Sierra Leoneans."
And indeed, it has started paying dividends – this is being manifested by the numerous seekers of visit visas to Sierra Leone coming to the Embassy almost on a daily basis since the celebration took place.
Like the Student at Qatar University, a Sierra Leonean Lecturer at the King Saud University in Riyadh has undoubtedly attributed the surge in the number of visa applicants to the grand and flamboyant style in which the Independence anniversary was observe