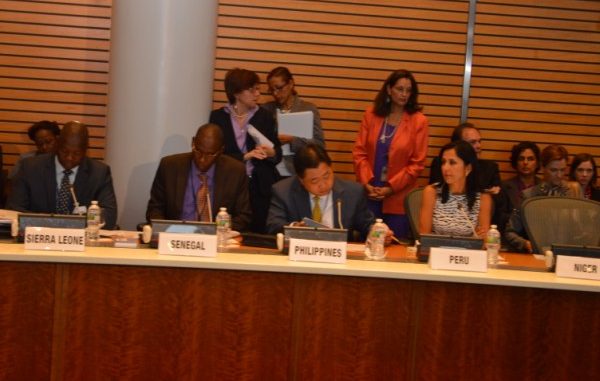 A fifteen Man High powered Sierra Leonean delegation consisting financial and Economic experts from the Ministry of Finance and Economic Development, led by its Hon. Minister Dr. Kaifala Marah have made known their presence  at this year's World Bank /IMF Spring meeting in Washington DC USA through their active participations and respective meaningful contributions in not only defending the West African Country's fiscal policy, but also showcasing some of the factors that are responsible for Sierra Leone's economy to be described as one of the fastest growing in the world.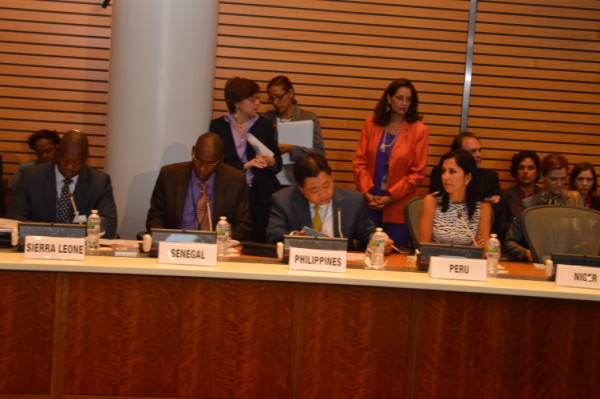 This came few days after the World Bank forecasted 5.2 percent Economic rise in 2014, from 4.7 % in 2013 in Sub Saharan Africa including Sierra Leone, and further credited "rising investment in natural resources and infrastructure coupled with Strong household spending.
The first day of the Spring meeting saw members of the delegation including Mrs. Mabinty Daramy Deputy Minister of Finance, Dr. Sheku Samba Deen Sesay Central Bank Governor, Madam Haja Kallah Kamara commissioner General National Revenue Authority, Mr. Alimamy Bangura Director Economic Policy& Research Unit, Mr. Matthew Dingie Director of Budget, Mr. Sahr L. Jusu Director Public Debt Management Division, Mr. Alpha Bangura Director Public Investment Management Unit, Mr. Mohamed Mansaray Director of search Bank of Sierra Leone, Mr. Ibrahim K Lamin Director Financial Markets Bank of Sierra Leone attending different meetings.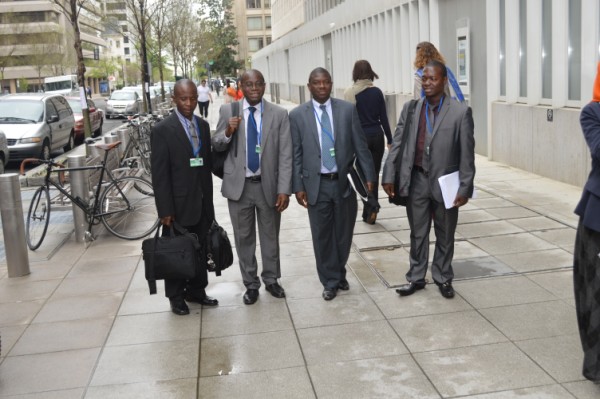 It also saw Other members of the delegation including Dr. Philip Kargbo Director Research Monitoring and Planning National Revenue Authority, Mrs. Abie Elizabeth Kamara Deputy Director of Development, Lansanah Fofanah Senior Economist , Ministry of Finance and Economic Development, Nathan Graham Economic Advisor, Stephen Prior  Economic Advisor, Mohamed Ben Omar Ndiaye – Director General  West African Monetary Agency, Alpha I Diallo Payment System and Financial Market integration participating in different meetings.
Accordingly, they attended several IMF seminars and meetings including "Africa Rising: Building to the Future", meetings on "Digital Finance innovation at the core of Big Development Challenges", IMF Seminar " Fund Surveillance in an Interconnected World", meeting  on "Sustainable path for Hydropower", IMF Seminar "Africa Rising – Policies for Sustained and Inclusive Growth" and  a "Meeting on Global infrastructure facility". Thursday April 10, Friday 11, Saturday 12 and Sunday 13th April 13 2014 will see members of the Sierra Leonean delegation attending several bilateral and multilateral meetings with officials of different Governments and institutions within and outside the United States.
  The Hon. Minister of Finance will also meet with Kamran Khan vice President – Compact operations and Senior Millennium Challenge Corporation (MCC).
Dr. Marah and other Finance Ministers will also have a meeting with Ambassador Michael Froman United States Trade Representative and Marisa Lago, United States Treasury Assistant Secretary for International Markets and Development and some Senior United States Government officials to discuss United States –Africa trade and Investment issues in the lead up to the United States –Africa Leaders' Summit.
According to the program of events, they will discuss AGOA renewal and Utilization, Bilateral and Regional Investment treaties and World Trade Organization (WTO) Trade Facilitation Agreement Implementation.
They will also discuss Africa's priorities to improve economic performance and regional integration including Tariff Structures, Customs Unions and Common external tariffs: and Trade Supporting Infrastructure development.
The Hon. Minister will also attend a meeting on Gender Parity to be hosted by the United States government. It will be a round table discussion with approximately fifteen finance ministers to promote gender equality.
Pasco Gerald Temple
Information attaché
Embassy of Sierra Leone
Washington DC
20009 USA
Tel- 2024466958
pasco_temple@outlook.com