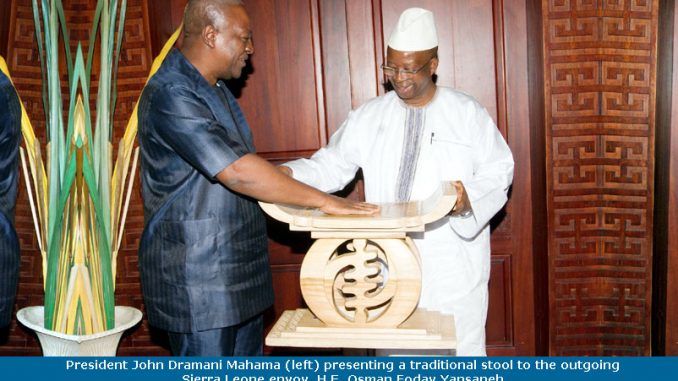 Ambassador Extraordinary and Plenipotentiary His Excellency Osman Foday Yansaneh was at Flagstaff House, Accra last week to bid farewell to the President of the Republic of Ghana , His Excellency John Dramani Mahama.
This farewell courtesy call on the Ghanaian leader by  H.E. Yansaneh marked the end of the diplomat's  tour of duty as Sierra Leone's Ambassador to Ghana. The  impressive ceremony was  graced by high-ranking officials of the Ghanaian Government.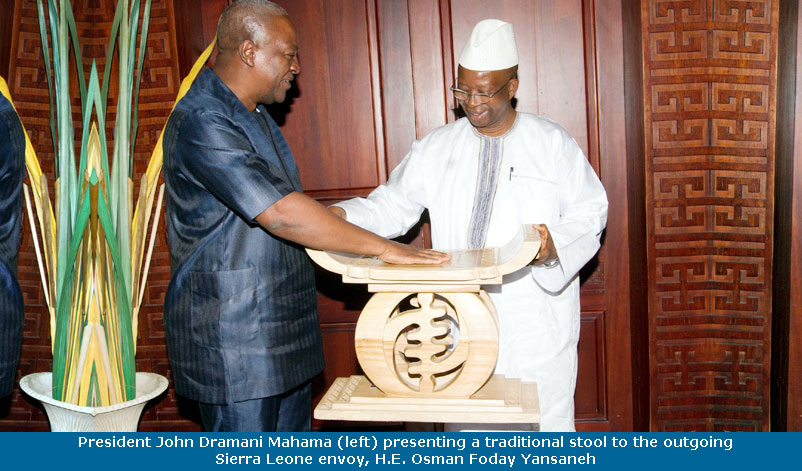 According to the Ghana News Agency, President Mahama in his remarks encouraged Ambassador Yansaneh to remain a good ambassador of Ghana wherever he goes, describing relations between Ghana and Sierra Leone as a very fruitful one.
Mr Mahama noted that Ghana's intervention in the fight against the Ebola Virus has today yielded good dividend for countries like Sierra Leone, which has been declared Ebola free.
WE BRING YOU THE FULL STATEMENT DELIVERED BY AMBASSADOR YANSANEH AT THE FAREWELL CEREMONY.
STATEMENT BY AMBASSADOR ALHAJI OSMAN FODAY YANSANEH OUT-GOING SIERRA LEONE HIGH COMMISSIONER TO GHANA ON THE OCCASION OF HIS FAREWELL COURTESY CALL ON HIS EXCELLENCY JOHN DRAMANI MAHAMA, PRESIDENT OF THE REPUBLIC OF GHANA  – 13TH JANUARY 2016 AT THE FLAG STAFF HOUSE, ACCRA
Your Excellency
May I take this opportunity to express my sincere thanks and appreciation for graciously granting me this audience to take formal leave of your Excellency at the end of my tour of duty as High Commissioner of Sierra Leone to Ghana.
May I equally take the opportunity to extend to Your Excellency, best wishes and salutations for the New Year from your brother and colleague, His Excellency Dr. Ernest Bai Koroma, President of the Republic of Sierra Leone.
Your Excellency, I wish to now personally inform you that His Excellency President Dr. Ernest Bai Koroma Koroma in his wisdom has decided to re-assign me to another function in Sierra Leone.  He has also accredited Madam Umu Hawa Tejan Jalloh, former Chief Justice of Sierra Leone as my replacement.
Your Excellency, during my tour of duty over the last eight years, I have had excellent working relationship with the Office of the President, the Ministry of Foreign Affairs and other MDAs in Ghana.  I wish to therefore take this opportunity to extend my heartfelt thanks and appreciation for all the support I received from all sectors of Ghanaian society.  I have always felt at home and regarded Ghana as a second home.  It might interest Your Excellency to know that in fact during my tour of duty, I had the opportunity to register and read Law at the University of Ghana, Legon as a part time student. I graduated in 2011 with an LLB Hons degree.
The government and people of Ghana have always supported the socio-economic and security needs of Sierra Leone.  Your government supported and actively participated and contributed a sizeable contingent to the ECOMOG Force during Sierra Leone rebel war. More recently the government of Ghana contributed immensely towards the fight and eradication of the Ebola Virus Disease.  Ghana was one of the countries that never imposed travel restrictions on our citizens during the out-break and it served as the Regional Coordinating Centre for the Ebola Response for the International Community and the UN Agencies.  Your Excellency also personally visited Sierra Leone and donated medicaments, food items and cash in addition to the deployment of personnel. We are eternally grateful to you, your government and the people of Ghana.
Furthermore, over the years, Ghanaian MDAs have played host to a good number of Study Tour Groups of MDAs from Sierra Leone; the latest of which is the visit to Ghana by the Constitutional Review Committee (CRC) of Sierra Leone.  Therefore, Your Excellency, on behalf of the government and people of Sierra Leone, I wish to express my sincere thanks and appreciation to Your Excellency, the government and people of Ghana for their support to Sierra Leone.  I also wish to reaffirm Sierra Leone's support for and cooperation with Ghana at all times.
I want to particularly express my sincere thanks to the doctors and other medical staff at the Korle Bu Teaching Hospital for their excellent service to our Sierra Leonean compatriots who are always referred to the hospital for specialist treatment.  Over the years, Korle Bu has served as a referral Hospital for nearly 90% of Sierra Leoneans who were referred overseas for further medical attention.
Finally Your Excellency, I wish to assure Your Excellency that I will do all in my new capacity to maintain and enhance the cordial and brotherly relation existing between our two countries and peoples.  I will return to Sierra Leone with fond memories of Ghana. But as I have stated earlier, Ghana being my second home, I will always be back.
I thank Your Excellency for your kind attention.