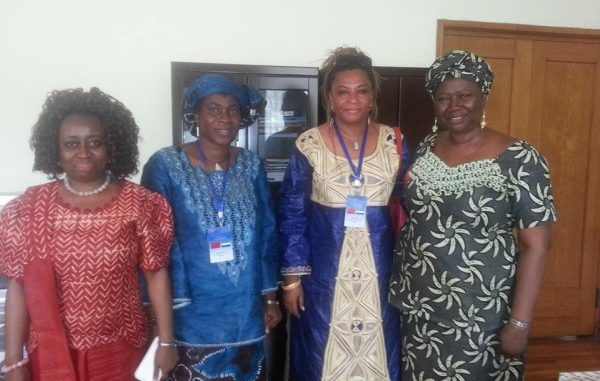 Madam Elizabeth Manns, Women's Leader, All Peoples Congress, Sierra Leone is in Beijing, 
capital of the People's Republic of China, attending a seminar on Social Management Capacity Building for Female Officials from English speaking African countries. Also attending the seminar is Madam Nancy Tengbeh, Sierra Leone's Permanent Secretary in the Ministry of Tourism.
The programme is organized by China Women's University, with sponsorship by the Ministry of Commerce, People's Republic of China.
During a visit to the Embassy of the Republic of Sierra Leone in the People's Republic of China, they both informed the Deputy Ambassador, Madam Kumba Alice Momoh about how impressed they were, following what they had discovered in China's is utilization of their tourism sector in its revenue generation efforts.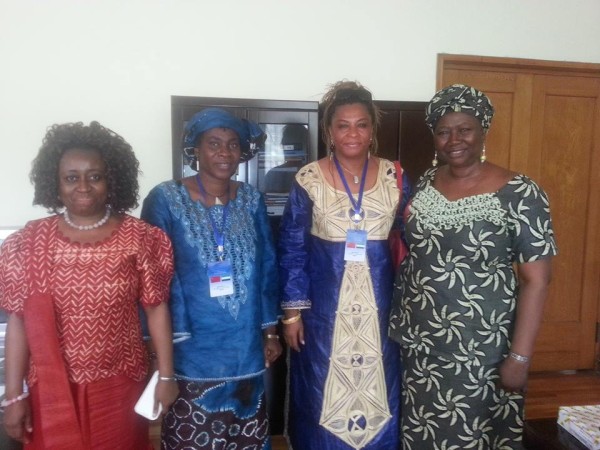 Madam Nancy Tengbeh underscored that, given lessons learnt and with Sierra Leone's potentials in her tourism sector, she is sure, a lot can be learned from China. Madam Elizabeth Manns specifically spoke about her passion for women issues and that what she has learnt will surely be taken to Sierra Leone and see how such could be used in promoting women and gender issues.
They both also used the meeting with the Deputy Ambassador to congratulate her on her appointment and wished her success throughout her tenure in China, as Sierra Leone's Deputy Ambassador.
Envoy Kumba Momoh in her remarks welcomed both Madam Manns and Madam Tengbeh to China. She encouraged both to continue giving their best to Sierra Leone's growth, as in her words, "Sierra Leoneans are proud with your contribution to the country's development path" Madam Momoh described both Madam Manns and Madam Tengbeh as "women of substance that Sierra Leone relies on."
Energy Director attends Development of Renewal Energy Technology
Sierra Leone's Director of Energy, Ministry of Energy and Power, Benjamin Kamara is in the People's Republic of China, attending a training session for developing nations on the Development of Renewable Energy Technology.
Organized by the Ministry of Commerce, People's Republic of China, in collaboration with the Foreign Economic Cooperation Center, Training Division of the Ministry of Agriculture, the session draws participants from countries like Sierra Leone, Cambodia, Tanzania, Egypt, Philippians Vietnam, amongst others.
The session, slated to end on the 4th May, captured various issues around the development of energy, especially in using Biomass as a source of energy. The use of solar energy for rural communities especially for lighting also formed part of the training session.
Benjamin Kamara has visited various energy renewable institutions in China and is currently in Chengdu to see other energy institutions which demonstrate the use of renewable energy technology for sustainable development.
The programme is mainly geared towards the reduction of co2 emissions "in an effort to have a Clean Development Mechanism", he said. He has also been able to compare policies of renewable energy technologies of china to that of Sierra Leone.
Four SLBC journalists arrive for 6 weeks training
Four broadcast media practitioners from the Sierra Leone Broadcasting Cooperation (SLBC) are in the People's Republic of China for a six week long training.
The four, Alpha Amadu Bah (Producer, News and Current Affairs, SLBC Radio and TV), Fatu Kamara Ibrahim Mansaray and Hawa Tucker are attending the 2014 training course on TV Broadcasting organized by CRTV in Beijing.
The training is meant to introduce broadcast media practitioner s from English speaking countries to digital media technology. Participants, including Engineers, Journalists, Technicians and Video Editors are drawn from several developing nations.
Development of media cooperation between Africa and China has been one of major pillars within the Forum of China-Africa Cooperation (FOCAC) framework.
In 2012, during the Fifth FOCAC Ministerial Conference in Beijing, China, both China and Africa agreed to continue with efforts aimed at enhancing exchanges and cooperation in press and media; encourage press and organizations of the two sides to step up objective and fair coverage of each other and intensify the communication of information on FOCAC.
According to the Beijing Action Plan (2013-2015), a China-Africa Press Exchanges center will be established in China and the two sides will promote exchanges and mutual visits between Chinese and African journalists and press professionals and support exchange of correspondents by their media.
China also, at the time, agreed to share with African countries its experience and good practice in the digitalization of radio and television and provide support in personnel training and technology application.
The recent training session for media people from Africa, to which Sierra Leone is participating is in line with this commitment made during the 2012 FOCAC Ministerial Conference, in Beijing, China.