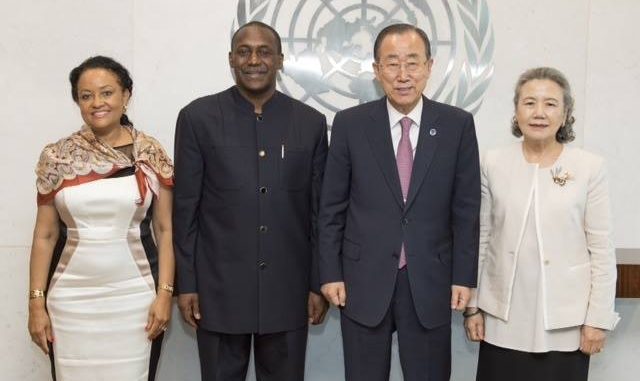 United Nations Secretary-General Ban Ki-moon and wife, Madan Yoo (Ban) Soon-taek, today hosted a farewell luncheon for Dr. and Mrs. Kandeh Yumkella in appreciation of his outstanding services to the United Nations.
Yumkella whose tenure ended yesterday, 31st July previously served two four-year terms as director-general of UNIDO, following which he served as United Nations Under-Secretary-General and Special Representative of the Secretary-General for Sustainable Energy for All and CEO of the initiative on Sustainable Energy for All.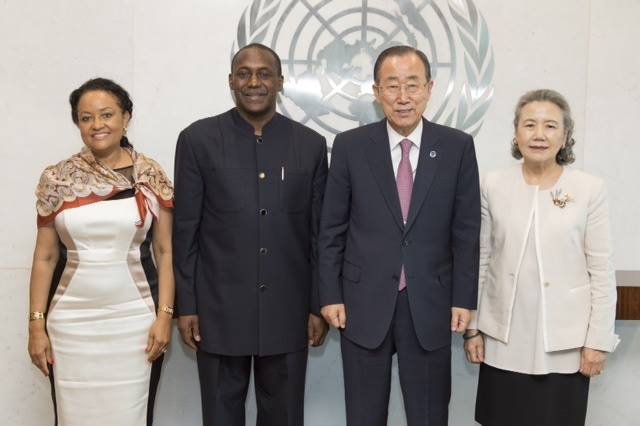 Since Mr. Ban's election as the eighth secretary-general of the United Nations, he has appointed Kandeh Yumkella to many positions in the UN system including as Chairman of UN-Energy, the coordination body of United Nations agencies dealing with energy-related issues, a position he has held until his last day. As its chairman, Mr. Yumkella brought a renewed and vital focus to global energy issues and he helped to coordinate the United Nations response to energy issues.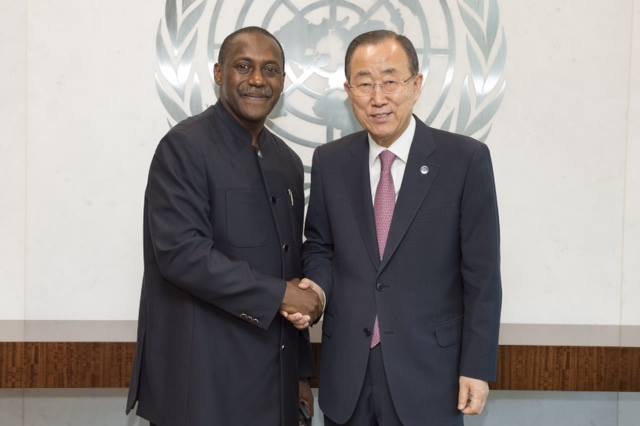 From 2008-2010, Secretary Ban also appointed him to chair his Advisory Group on Energy and Climate Change (AGECC). In this role, Yumkella played a leading international role in identifying the lack of access to energy as a crucial constraint for development efforts. The Group's report, which was issued in April 2010, confirmed the need to increase energy access, energy efficiency and renewable energy options in order to deal with the climate change challenge and realize the Millennium Development Goals.
In September 2011, Secretary-General appointed Chad Holliday and Kandeh Yumkella as co-Chair of the High-level Group on Sustainable Energy for All. This followed a decision by the United Nations General Assembly to designate 2012 as the International Year for Sustainable Energy for All. As co-Chair of this High-level Group, Kandeh Yumkella helped to guide the initiative aimed at highlighting the need for universal access to energy as well as increased energy efficiency and enhanced deployment of renewable sources of energy.
Yumkella was also a member of the Rio+20 Principals Group, a group that played a crucial role in the preparations for the 2012 United Nations Conference on Sustainable Development and served as an active member of the United Nations Development Group (UNDG), which helps to set and coordinate the global development priorities of the United Nations.
Even as many commend his distinguished two-decade service to the global community, they equally applaud his courage to leave the UN at the "height of such a very successful career.
"Our quest for a safe and prosperous Sierra Leone must now be my full-time vocation. Given our natural resources and our wealth, our people deserve a better future. As tough as it is, I hope to listen to our peoples' concerns and help build a progressive coalition of Sierra Leoneans who believe that regardless of our tribes and regions, Sierra Leone must always come first," Yumkella noted in his brief farewell message.
Reflecting on his experience over the past two decades, he emphasized that the UN-system has taught him many things including institution building, respect for human rights and the rule of law, and the critical importance of public-private partnerships for the transition to a low carbon and inclusive global community. These are all skills required to end poverty in developing countries and secure peace and stability in the world.
In the context of Sierra Leone, he noted that "the UN-system will be there to defend our quest for a more lasting democracy, rule of law, human rights and prosperity for the people of Sierra Leone. The UN invested a lot to restore peace and democracy after 11 years of a brutal civil war. It is imperative that the UN and the people of Sierra Leone defend the integrity and functionality of the democratic institutions created over the past decade to avoid a slippage into conflict. The current Ebola crisis has exposed the fragility of our governance institutions, and its long term consequences could wipe out most of our economic and social development gains."