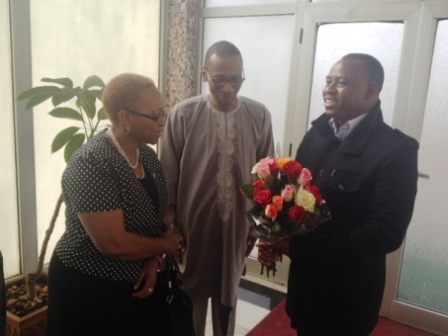 Sierra Leone's Ambassador-Designate to the Federal Democratic Republic of Ethiopia, Mr. Osman Keh Kamara arrived on Friday 13th June 2014 in Addis Ababa via Washington D.C to assume duty at post.
Prior to his posting, he served as Deputy Permanent Representative to Sierra Leone's Permanent Mission to the United Nations in New York.
Ambassador Kamara was received on arrival at the Bole International Airport by a cross section of the Diplomatic Community headed by the Dean of the ECOWAS Group of Ambassadors and Gambia's Envoy to Ethiopia, His Excellency Mr. Momodou Sajo Jallow.
In his remarks, Ambassador Kamara had this to say: "I am very glad and impressed by the reception accorded to me and thank you very much."
He informed that the US State Department also practices the same protocol courtesies to the incoming Ambassadors who are posted to the US.
The presence of the home based staff of the Embassy of the Republic of Sierra Leone in Addis Ababa climaxed the ceremony at the airport.
Ambassador Kamara will also be accredited as Sierra Leone's Permanent Representative to the African Union Commission and the United Nations Economic Commission for Africa or ECA.
PHOTO : AMBASSADOR KAMARA RECEIVING A BOUQUET OF FLOWERS ON ARRIVAL