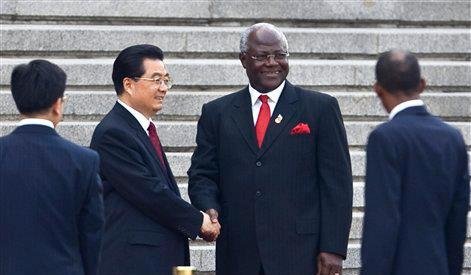 PHOTO : PRESIDENT ERNEST KOROMA WHOSE INSPIRING LEADERSHIP INSPIRES  CONFIDENCE IN INVESTORS IS SEEN HERE SHAKING HANDS WITH THE CHINESE LEADER  XI JINPING DURING HIS VISIT TO BEIJING LAST YEAR
China will expand trade with Sierra Leone this year to a record $2 billion as the world's largest user of iron ore seeks more of the material for steel-making.
Trade will rise 33 per cent from about $1.5 billion in 2013, Johnson Jiang, commercial secretary at the Chinese embassy, said in an interview in Sierra Leone's capital, Freetown. Trade in the first nine months of last year totaled $1.18 billion. China, which imports about 60 per cent of global iron-ore output, increased purchases to a record last year as demand for steel from the car and construction industries climbed. Rising consumption of the commodity benefits producing countries such as Sierra Leone, which expects its economy to expand more than twice as fast as the average in sub-Saharan Africa this year. The West African country began shipping iron ore in 2011 following the development of the Tonkolili and Marampa mines. Its iron-ore riches have lured Chinese companies including Shandong Iron & Steel Group Co. , which has a 25 per cent stake in Sierra Leone's biggest iron-ore producer, African Minerals Ltd. Investors in the country must contend with an unreliable power supply, which can disrupt operations. To improve electricity production and distribution, Chinese businesses are studying investing in generation projects, according to Johnson. Bumbuna Project Chinese companies could help expand the Bumbuna hydropower project, 80 kilometers (50 miles) north of the capital, he said  in January. 15. While the 50-megawatt plant is already due to add 202 megawatts following a deal between the Sierra Leone government, Joule Africa and Endeavor Energy, the agreement may not come to fruition, he said. "We are still waiting for the outcome if the memorandum of understanding with Joule Africa can be carried out," Johnson said. "If the MOU can be canceled, then a Chinese company can step in." China is already building three small hydropower dams as a gift to the government. "This is free of charge but small hydros cannot supply the factories," he said. China displaced South Africa as Sierra Leone's biggest partner in 2011 as it increased investments in the mining industry, according to data compiled by Bloomberg.