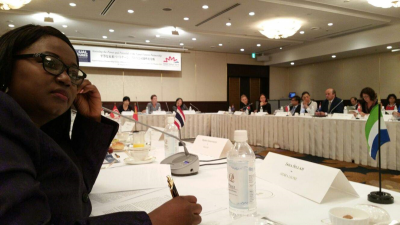 Sierra Leone was appropriately represented at this year's Equal Futures Partnership Special partnership meeting at World Assembly for women in Tokyo, Japan.
The meeting which was held at the "Crown" Room  Grand Prince Hotel Takanawa, saw more than One hundred and forty leaders and very senior and high profiled representatives of different fields from about forty Countries including some members of international organizations who deliberated  on "work Life Balance Management" and "Women in Peace Building" .
Sierra Leone was represented by Mrs. Isatu Sillah, Minister Counselor Embassy of Sierra Leone in Washington DC.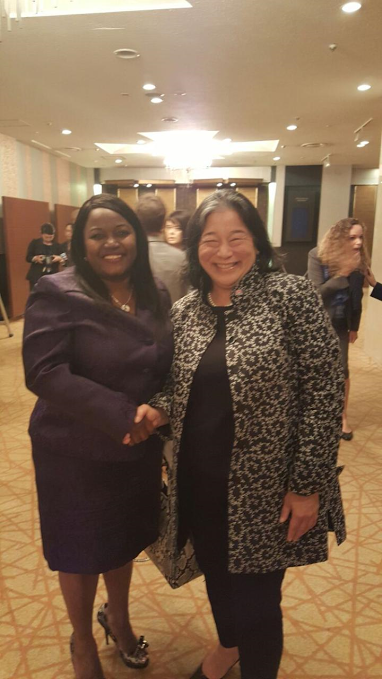 Mrs. Sillah and
According to her, several topics that could facilitate discussions on the promotion of women's participation in society from a broad perspective including Youth Table, Implementing Diversity and Innovation, Improvement of Women's quality of life and Restroom, Gender and Disaster Risk Reduction were discussed.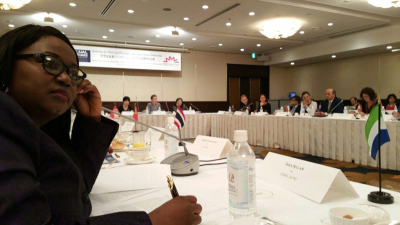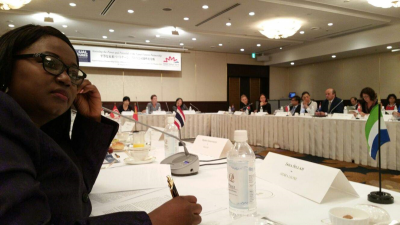 Mrs. Sillah at the conference in Japan and Christina M. Tina Tchen , Executive Director of the White House on Women and Girls
The two days meeting also saw extensive deliberations on "assessing the power and potential of the Equal Futures Partnership".
According to the concept note, participants tried to find answers to several questions: why women's participation is important, how to ensure that government and the private sector are developing and implementing policies in this regard.
On Friday August 28th, Japanese Prime Minister Abe delivered the opening statement of the Conference, while Mrs. Ellen Johnson Sirleaf, Liberia's President delivered the key note address.
The United States launched the Equal Futures Partnership in September 2012 to help galvanize efforts by governments around the world to address barriers to women's economic and political participation. 
"The Equal Futures Partnership is an innovative multilateral initiative that encourages member countries to empower women politically and economically.  Equal Futures partner countries commit to taking actions including legal, regulatory, and policy reforms to ensure women lead and benefit from inclusive economic growth, and that they fully participate in public life."
Equal Futures partners include Australia, Bangladesh, Belgium, Benin, Chile, Croatia, Denmark, the European Union, Finland, Indonesia, Italy, Japan, Jordan, Latvia, Mexico, Morocco, Netherlands, New Zealand, Peru, Senegal, Sierra Leone, Switzerland, Thailand, Timor Leste, Tunisia, the United Kingdom, and the United States.  Multilateral stakeholders including UN Women and the World Bank and leading businesses and non-profit institutions also support the Partnership.
Pasco Gerald Temple
Information Attache
Embassy of Sierra Leone to the United States
1701 19th St. NW
Washington, DC
20009
Tel:+202 4466958