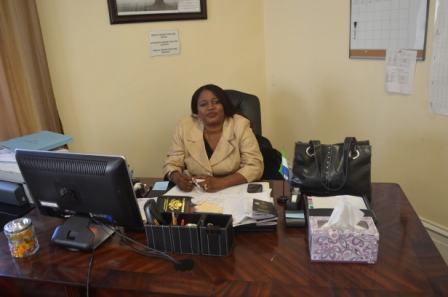 By KABS KANU :
Mrs. Isha Sillah, the Minister Counselor/ Head of Chancery of the Sierra Leone Embassy to the United States, will leave  Washington DC for  New York today to attend the Commission For the Status of Women ( CSW ) session,  which starts at the UN .
She will be a delegate for the Equal Futures Partnership, an initiative of President Barak Obama, which  is "an innovative multilateral initiative that encourages member countries to empower women politically and economically. Equal Futures partner countries commit to taking actions including legal, regulatory, and policy reforms to ensure women lead and benefit from inclusive economic growth, and that they fully participate in public life, " according to a FACT SHEET on the partnership from the White House.
Giving further details of the Equal Futures Partnership, the FACT SHEET further indicates "Each country participating in the Equal Futures Partnership works closely with key stakeholders in their countries, including civil society, to identify policy and program priorities. They then set achievable goals as commitments within the Partnership, exchange best practices and lessons learned, and report on progress." The Partnership also works with member states to help oversee the rollover from the Millennium Development Goals ( MDGs ) to the Sustainable Development Goals ( SDGs ).
Sierra Leone is the Chair for the Subcommittee for Equal Futures Partnership for Sub-Saharan Africa, which Mrs. Sillah is coordinating in Washington . Mrs.Sillah told  COCORIOKO  that "We coordinate with African ambassadors to make sure that they cover all the issues affecting women. The Equal Futures Partnership helps countries complete the legal and domestic issues affecting women and the girl-child in Sub-Saharan Africa ".
Tomorrow, on the margins of the CSW, members of the partnership  will hold the expert level meeting to discuss Equal Futures' work and achievements, possibilities for joint action and address common challenges in the implementation of national commitments.The expert level meeting will be an excellent opportunity for all members to engage in an open discussion on Equal Futures efforts. There will be meetings as well as a reception.
The reception will be honoring Equal Futures and Croatia at the Café Vienna, UN Building.
There will then be an open forum on the topic , "Tackling Violence Against Women as a Prerequisite for Sustainable Development – Challenges for Equal Futures Partners " and the moderator will be Ambassador Cathy Russell of the USG.
Speakers will include  the following :
Valerie Jarrett, Senior Advisor to the President of the United States 
Tina Tchen, Assistant to the President of the United States and Executive Director of the White House Council on Women and Girls 
Jasna Ognjanovac, Assistant Minister of Foreign and European Affairs, Croatia
Dubravka Šimonović, United Nations Special Rapporteur on violence against women, its causes and consequences
Ellen Trane Nørby, Minister for Children, Education and Gender, Denmark
Bassima Hakkaoui, Minister of Solidarity, Women, Family and Social Development, Morocco
WE WILL BRING YOU MORE DETAILS.