The Maiden Bulletin of the EOC weekly bulletin from the Emergency Operations Center. This bulletin will be produced every week to capture key decision from the EOC and give weekly pillar status.
Key Decisions: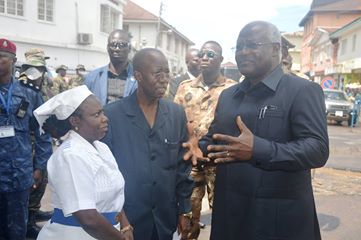 Major Achievements in the Fight Against Ebola:
 Following a visit of the monitoring team to Port Loko to field test their monitoring strategy and checklist, the EOC has sent the Director of Primary Healthcare to Port Loko to implement the recommendations.
 Surveillance team to rationalize and normalize data to show clear disease trends for accurate decision making.
 EOC approved involvement of the Emergency Hospital in co-managing a treatment centre.
 EOC accepted representatives from the Sierra Leone Medical and Dental Association and West African Col-lege of Physicians.
Contents:
 P2 – Statistics in Detail
 P3 – Managing Cases and Supplies
 P4 – Financing the Response
 P5 – Understanding Ebola
Highlights of the Week:
| | |
| --- | --- |
| Cumulative number of admissions | 904 |
| Cumulative total deaths | 336 |
| Cumulative total survivors | 240 |